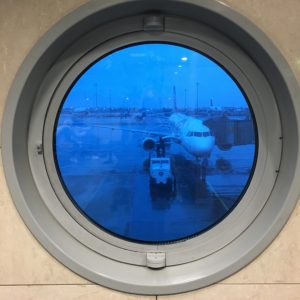 Luxor Egypt has been on my travel list forever. Like seriously years. I've dreamed of going hot air ballooning over the Valley of the Kings. Now I'm sure you know that I love to travel. But I don't do great in the heat, so I knew I needed to go to Luxor before it got too hot. I invited a few girlfriends to go and at the beginning of February we flew via Cairo to Luxor. We had a 4am flight so we arrived to Luxor tired and in need of a nap. That first day would be the only down time we would have and we booked ourselves in for massages and relaxed next to the pool.
I have been to Egypt before. Once to Cairo for a day and then for a long weekend in Sharm el Sheikh. I remember Cairo being overwhelming. While seeing the pyramids at Giza and the Sphynx were really cool, I remember never having a moment to ourselves. In my memory I recall it being similar to India where it felt like someone was trying to sell you something literally every second of every day. Luxor, by comparison was more chill. I had prepped myself and the three other girls I was traveling with for this type of choatic atmosphere. We were pleasantly surprised. That's not to say that we were approached to buy things, because we were, but far less often that I had anticipated. Within the first 30 min of the first temple we visited we knew that when a random dude says "Hey lady look at this" you didn't follow him or else you'd be pressured to giving said old man money for showing you whatever random thing it was that he desired to point out. Luxor felt safe. Well as safe as Egypt can feel. There is a large Coptic Christian population in the city, and they live side by side with the Muslim majority. There is a notable security presence.
I had booked a guide for us thru Aladin tours who sent us a lovely local woman named Azza who would be our guide for the next two days. As a tour group of four women I especially like that a woman would be the one guiding us around! Our first stop was to visit Karnak temple. This temple is one of the largest religious structures ever built and it was constructed over some 2000 years from 2055BC to 100AD. The entrance into the site is lined with all these statues of lion bodies with ram heads known as Criosphinx symbolizing a shield. Hypostyle hall is filled with engraved columns which make for really cool pictures. The complex is full of obelisks, small temples, chapels and courts, as well hieroglyphs. We spend easily an hour there wandering the site and taking photos. Later we visited the Luxor museum which is well worth the trip and houses a collections of well preserved statues, mummies, and different artifacts.
Later that day we visited Luxor Temple. Our trip coincided with an Egyptian school holiday, so the vast majority of other tourists were actually Egyptians. There were several school trips happening and the teenage girls were very excited to practice their English with us and take photos. I'm not a fan of being asked to have my picture taken with people, but I will make an exception for girls. Especially teenage girls! We had a full on paparazzi photo shoot at the ticket booth. Luxor temple was built between 1100-1600BC. The outer walls of the temple loom high overhead guarded by enormous statues on either side of the entrance with a massive obelisk. Originally there were two but the other one stands in the Place de la Concorde in Paris. Outside of the main entrance was an avenue of sphinx which used to connect Luxor and Karnak temples. On the left hand side as you walk in is an active mosque built overlooking one of the courtyards. It's pretty surreal to be there when the call to prayer is called out. There are some very well preserved hieroglyphs and sets of columns similar to Karnak although I thought Karnak pillars were more interesting. There were also some carvings of Egyptian men with large genitalia which naturally I needed to take pictures of, but I won't share them here as not all my readers may appreciate this. I will say that from an anatomy standpoint certain body parts may have been chiselled  inaccurately in comparison to the rest of the body if you get my drift. The other really cool thing I liked was in the outer courtyard of this temple is a partially hidden statue of the goddess Isis. She is headless and dressed in Greek clothing. We were all very taken with her. On our last night we made a point of going back to Luxor temple after dark. The temple is lit up and it casts a magical feel to the whole area. As if Egypt doesn't already feel magical enough I was completely entranced with the temple after dark. Karnak Temple also is open in the evenings, but from what I understand it is more of a touristy light-show type thing which isn't really my cup of tea.
We ended that first day of touring Luxor with a sunset cruise along the Nile River in a traditional wooden felucca. It was so relaxing. We just sipped tea with the wind blowing thru our hair taking pictures as the sun dipped below the horizon. All four of us expressed gratitude of this shared experience. Egypt is a place that people read about in history books and see art exhibits from in countries around the world. But to walk be able to on Egypt's soil and float along the waters is an entirely surreal and heart-filling experience.
Day 2 of our Luxor exploration involved us getting up before sunrise to board a minivan that took us to a boat, that was supposed to take us across the Nile River to another minivan that would take us to a hot air balloon. That was the plan. Hot air ballooning is very weather dependent. If it's too windy or not windy enough or the skies aren't clear then you don't go. This was how we found ourselves freezing our unprepared butts off while sipping tea on a docked boat waiting to see if the visibility would clear. The Gods weren't in our favour that day, so as the sun was coming up we were back in a van being driven across the Nile to the West bank. You've probably heard of the East Bank and West Bank and unless you are really really into Egyptology you might not really know what the difference is. Well thank goodness you're reading this blog post then so I can give you what little research/knowledge I have on the topic! Basically the East bank of the Nile River was where the people lived and worshipped. This is where the temples are. The West bank by contrast was where the dead are buried. This is where the tombs are. There are temples on the West Bank of course but they were for the purpose of being mortuary temples.
So we drove to the West Bank and our first stop was Hatshepsut Temple. This temple is really remarkable as it's quite large and built at the base of a rock cliff. There's a large and imposing ramp that connects the ground floor to the first floor and another ramp that connects up to the second floor and the entire front of the temple is garnished with columns (some with the remnants of statues). Hatshepsut was a pharaoh who was born in 1507 BC and died at the age of 50. It's believed that she reined for 21 years and that she was the longest ruling woman from that time. She has been credited with building hundreds of construction projects during her lifetime- this temple though was the most significant. Interestingly her body was not officially confirmed until 2007- it had previously been mislabeled as the mummy of her wet nurse. We spent about an hour exploring the temple- there was some very well preserved carvings and the cliffs towering to the back of the temple gave it a cool perspective. There was also a chapel dedicated to the goddess Hathor with a few remaining Hathor headed columns. She was referred to as the "Mistress of Heaven."
From Hatshepsut Temple we stopped off at a small artisan family's shop to see how alabaster vases and figurines were made. We then drove to the VALLEY OF THE KINGS. Sorry for yelling but I was pretty damn excited about it. It's a place I have long read about and seen in movies so it was amazing to actually step foot there. To date there are 63 known tombs. The last ones were discovered as recently as 2008 and new tombs are being discovered all the time in the hills in the surrounding area. Some of the tombs are just single rooms where as others are enormous with multiple chambers- the largest totaling 120 rooms. The Pharaohs and nobles and their servants and priests were buried here over a 500 year period from the 16-11th century BC. When you enter the site you can buy varying tickets to several different tombs. Ours included three and on the advice of our guide we did not purchase the additional photography ticket of like $15 U.S. Now in hindsight I so wish I'd bought it because the tombs that we saw were very well preserved and wouldv'e taken great photos. Obviously people don't buy the photography ticket and still try to take pictures, but there are employees watching for this type of thing and we saw one lady being escorted out with her phone being confiscated. Personally I'd just pay the $15 instead of trying to be sneaky.
From here we visited Habu Temple the mortuary temple dedicated to Ramesses III. For some strange reason this temple reminded me of Vegas. If you've ever visited Luxor hotel in Vegas than you will understand. The outer temple walls of Hubu temple were so imposing and well preserved that my immediate thoughts were that it had to be fake. Like it was so cool there was no way that it could be real if that makes any sense at all. The outer hieroglyphs were so well preserved my brain and eyes didn't know what to make of it. After I realized that I was in fact in Egypt and not in Las Vegas we walked into the temple which equally blew my mind. I took some video where I'm standing in the middle getting a 360 degree view of the temple and it was amazing. The columns were intricate and parts of the archway had remnants of bright colours. Blue and reds were the most visible but you could easily imagine how concentrated those colours must have been in it's originality. One of the inner courtyards had a row of statues supposedly in dedications to Rameses. Funfact: there is a portion of engraving on part of the temple wall that represents people (men) getting their heads cut off and then below it men getting their penises chopped off and a bunch of these body parts laying on top of each other. This made a great backdrop for selfies. FYI.
On our way back to the East Bank we stopped off at Colossi of Memnon which consists of two statues from 1350 BC. The statues are of Pharaoh Amenhotep III and are in varying states of decay but quite cool to see nonetheless. If you've followed my blog for a while then you know that I have a love of three wheeled auto rickshaws. Like I will literally go out of my way to drive one if they are within a 50km radius. Lucky for me on the outskirts of Luxor city there are rickshaws, and after lunch our guide Azza was able to arrange for me to drive one around the neighbourhood. Naturally, it was a bit of a spectacle and I stalled it a few times until my suppressed rickshaw skills took over and I drove like a pro. Well a pro who once drove one 3000km across India!
Early the next morning we woke up early for hot air ballooning attempt number 2. This time proved successful. It should be noted that Egypt in December and January isn't hot. It's actually quite cold in the early morning and evening and we were less than prepared. So after freezing the previous morning on hot air ballooning attempt number 1 we were much better prepared. We "borrowed" our hotel robes and wore them to keep warm. We are nothing if not resourceful and plus we looked hella cool. We got compliments on our geniusness from the locals and looks of confusion from the Asian tourists who were also hot air ballooning. Anyways, enough about our wardrobes and more about the hot air ballooning. We arrived to the launch site (I'm not sure it's called that but it sounds extra cool so let's just call it that.) The sun was just starting to come up and you could hear the intermittent "whoosh" as the balloons were filled with hot air. All around us colourful balloons started to take shape and rise. We eagerly watched with equal parts fear and excitement. There ended up being about 18 of us in our balloon split between 4 compartments. We ended up flying near to the Valley of the Kings and then over some excavations sites and then a village and some farmlands before facing the River Nile as the sun poked up over the horizon. The colours as the sky changed were mesmerizing and we took a ton of pictures. This is something else I would highly, highly recommend doing if weather and time permit.
I know Egypt hasn't had the best rep for tourists in recent years and it's really struggling economically, but I still wouldn't let that deter you from going. Our weekend was a very reasonable. There are not direct flights from Riyadh but Flynas operates flights a few times a week direct from Jeddah, or you can fly via Cairo on EgyptAir. We stayed at the Hilton which ended up being under $200 U.S. a person for 3 nights. Our 2 day tour via Aladin tours was $125 U.S. a person. We brought U.S. dollars with us to pay our tour and for tips and such. If drinking alcohol is your thing I would recommend bringing it with you (for those of you outside of Saudi) or buying it at the Duty Free in Cairo. While you can easily find alcohol in Luxor it was either A. wickedly overpriced. B. Awful tasting. or C. Both. Mostly I'm referring to the wine of which I'm picky about. That's just a friendly tip from me to you.
Happy adventuring….