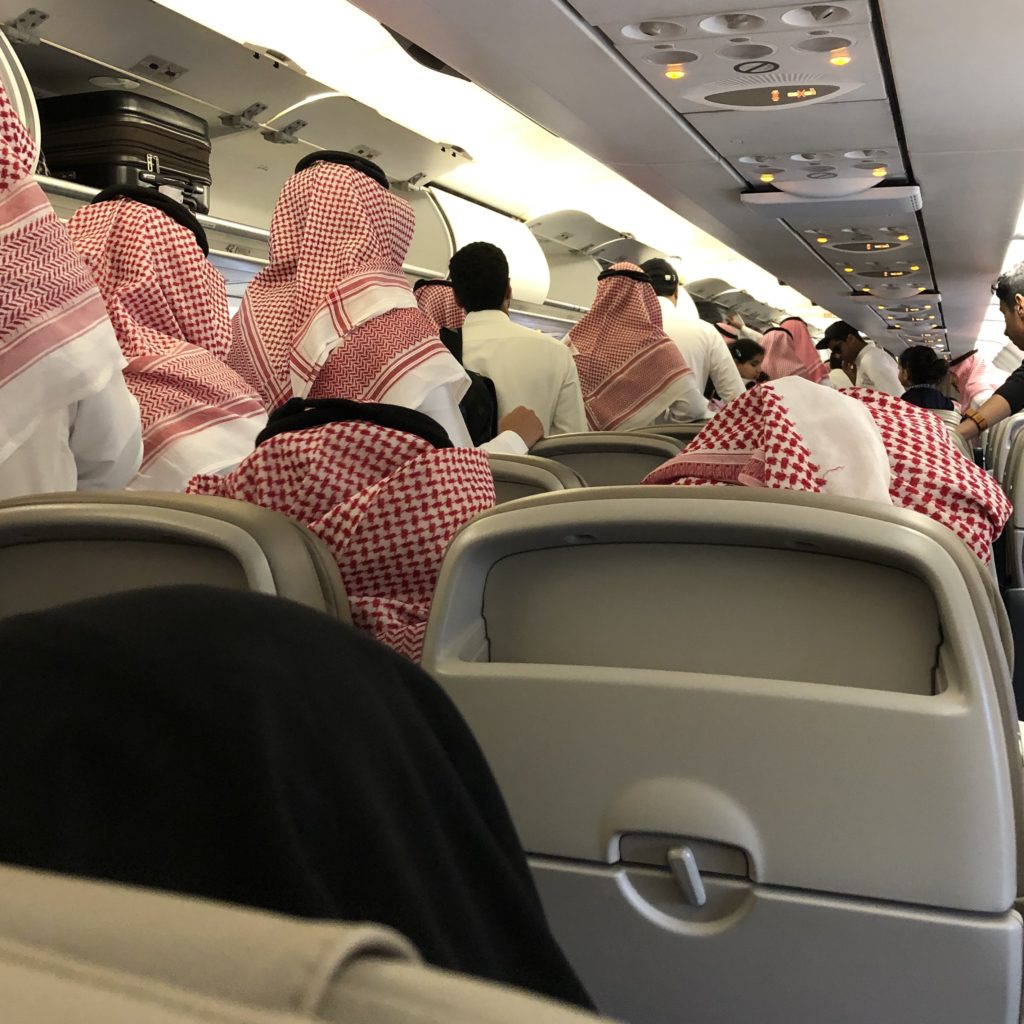 A couple weekends ago I joined a tour with a group of friends to go to Taif in Saudi Arabia. Taif is an easy 1hr direct flight from Riyadh to the southwest. It's about 90km to Mecca just to put it into geographic context. Taif is located in the mountains of the Mecca province and was previously used as a summer capital for the Royals due to cooler temperatures. It is also famous for its Rose Festival which was the main reason we visited.
The Rose Festival takes place every year from mid March till the end of April. These Damask roses were originally brought to Saudi Arabia by the Ottomans in the 16th century. The climate and fertile soil of this region make it the prefect place to grow roses, but they also produce some of the country's best honey, grapes, and pomegranate. The roses are hand picked in the early morning as they start to bloom as that's when they have the most oil. If they are collected too late the oil evaporates and that's a loss of profit. After they're collected the rose petals (around 12000-18000 petals) are poured into large copper pots and a super-secret amount of distilled rose water is added and the pot is covered and sealed. Then it's heated to a temperature specific to each distillery. Kinda like following a recipe. It then drains into large glass containers and the oil collects on top of the water. If a distiller is lucky 18000 petals will produce about 10ml of rose oil (called 1 tawlah.)
The price of the rose oil is based off the weight of 1000 petals and it changes from year to year. Last year it was 60 riyals (16 USD). This year it is 45 riyals (12 USD) as there are more farms which as per economics drives down the price. Taif rose oil has been used in perfumes by Lancome, Givenchy, and Bvlgari to name a few. While in Taif you will have the opportunity to buy a variety of rose products to take home. Rose oil. Rose lotions. Rose water. You get the idea.
Our group tour was not only to visit the roses, but also the see the area. Our tour guide Khalid organized a jam-packed itinerary so we could maximize our time. If you want to visit Taif I would highly recommend booking a tour with him. He was professional and super knowledgeable and I'd book him again. Our tour started on Thursday night and we were greeted at the airport and taken for a late dinner of mezze (mixed salads) and grilled meat before crawling into bed for an early morning start.
Friday morning we had a quick breakfast and headed off towards the Al Hada mountains. The road passes by many amusement parks with what looks like day rental cabins. Taif is a summer tourist destination for Saudi Arabians looking to beat the scorching heat of most of the country. These amusement parks looked kinda apocalyptic as they are dated (think 1980's) and weren't open so were empty when we were there. We stopped at a roadside fruit market to sample and buy some of the regions best fruit and then Khalid surprised us with a scenic viewpoint. From that elevation you are able to see the winding Alkurr road below. Just looking at it made me car sick. Besides roses the Taif area is known for …….red-butted baboons. Run for your lives!!! Just kidding, but baboons and monkey's make me nervous as hell so needless to say there was a lot of screaming while other tourists fed them. On a clear day it is possible to see the clock tower in Mecca in the distance. Sadly, the day was hazy and we couldn't see it but that would've been hella cool.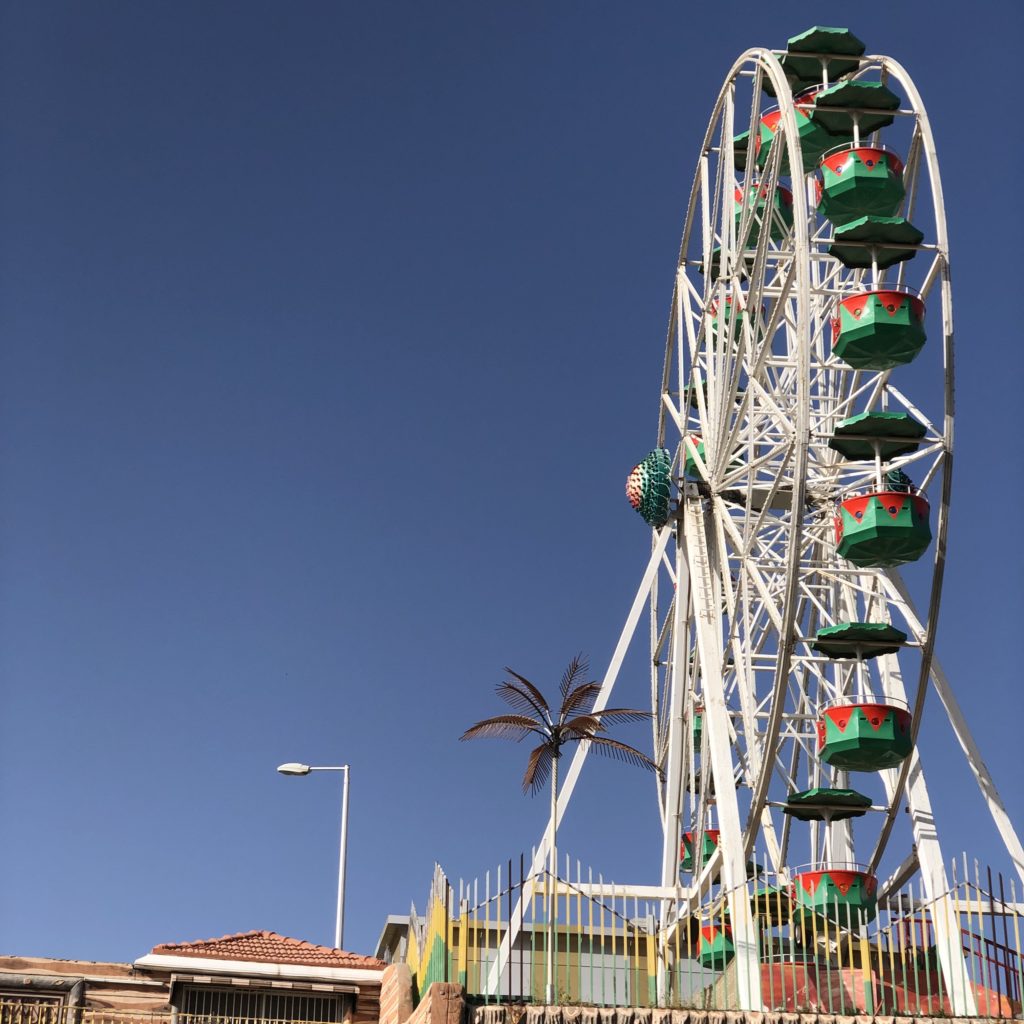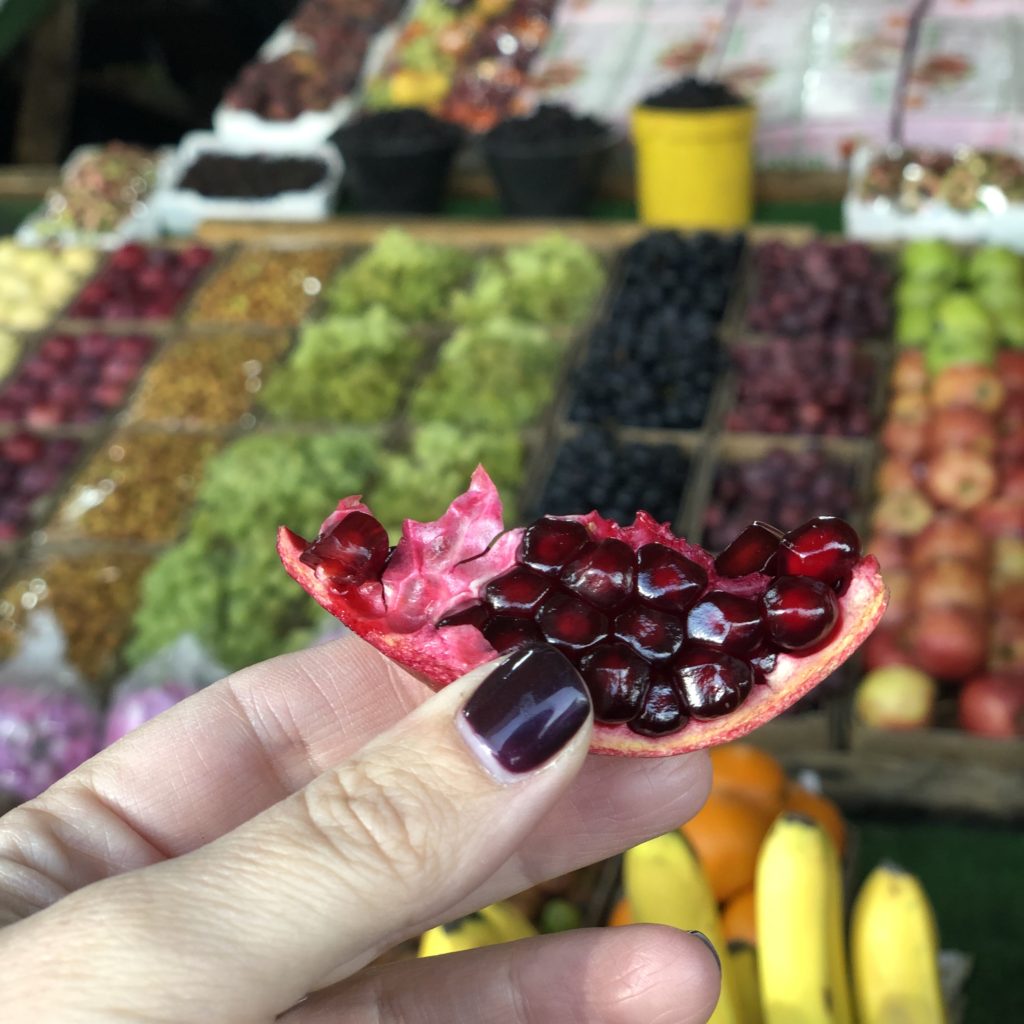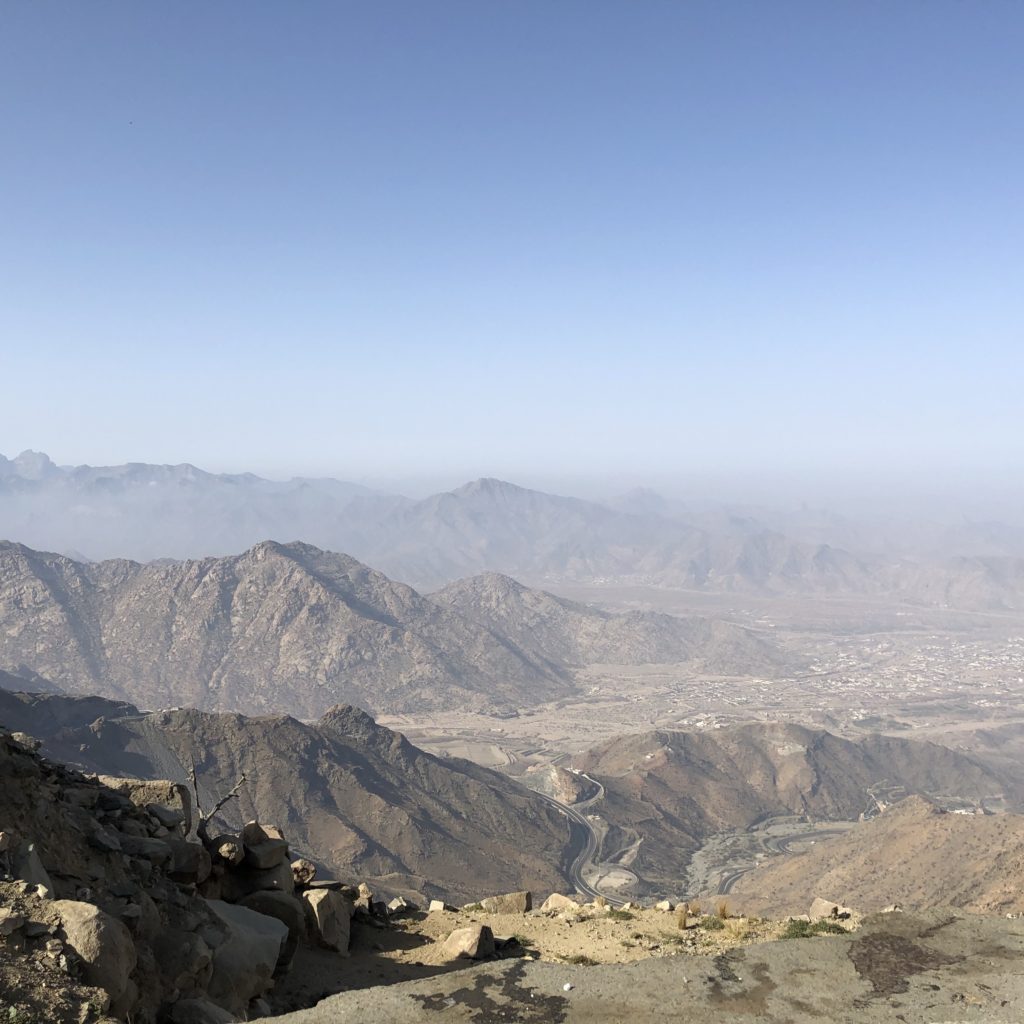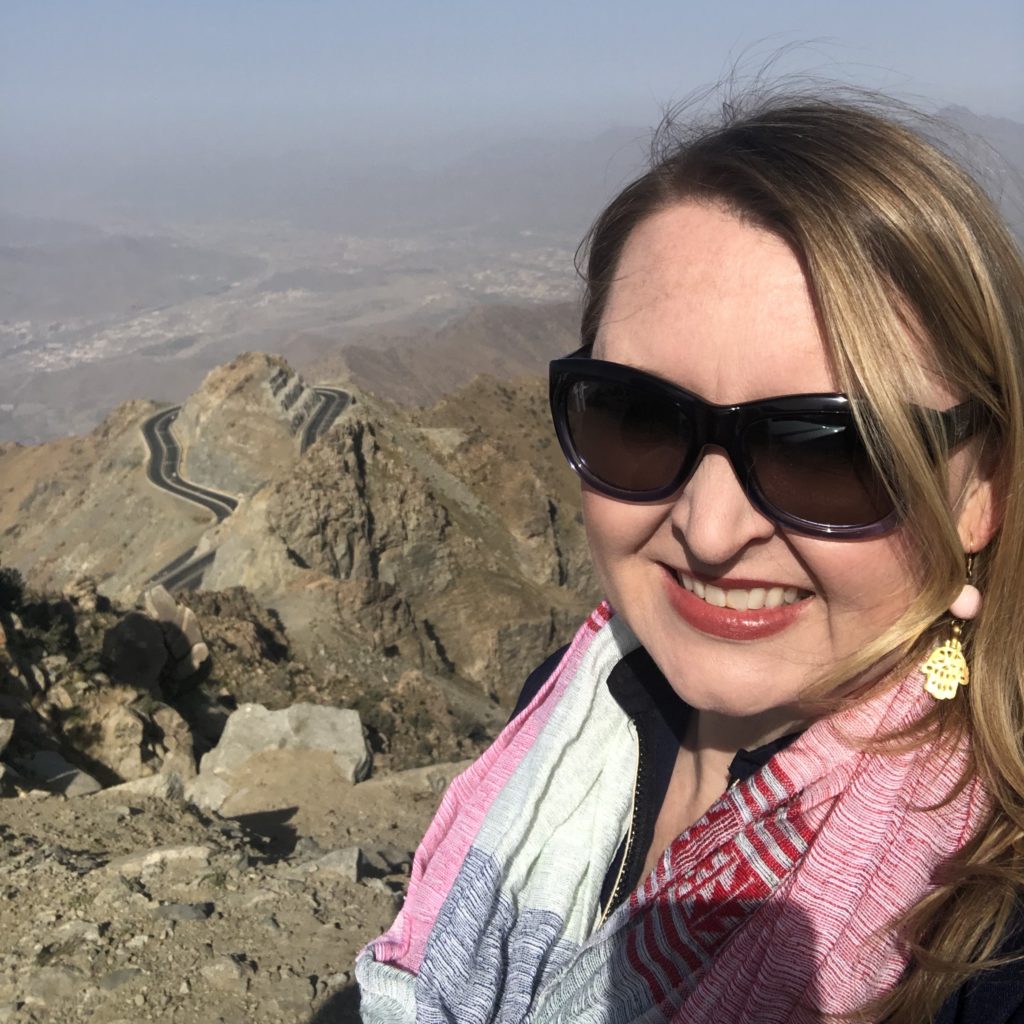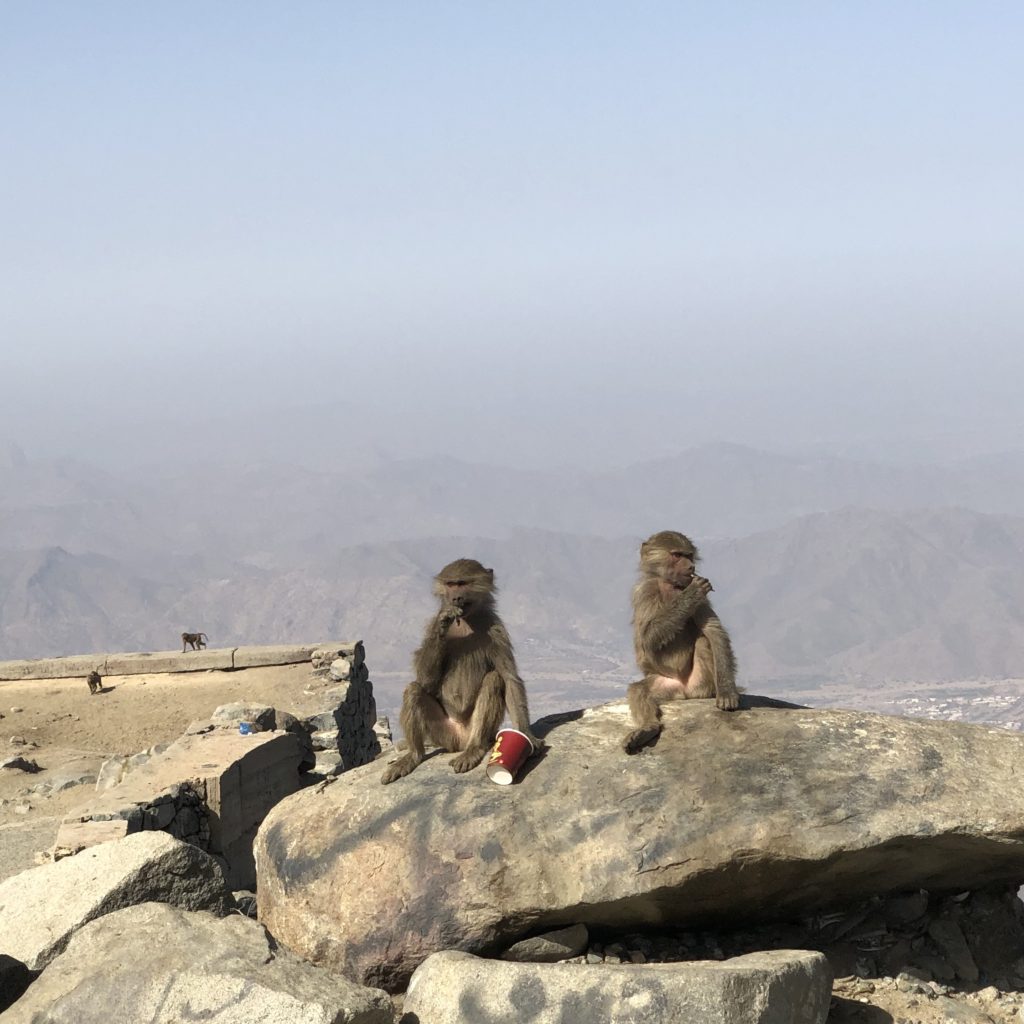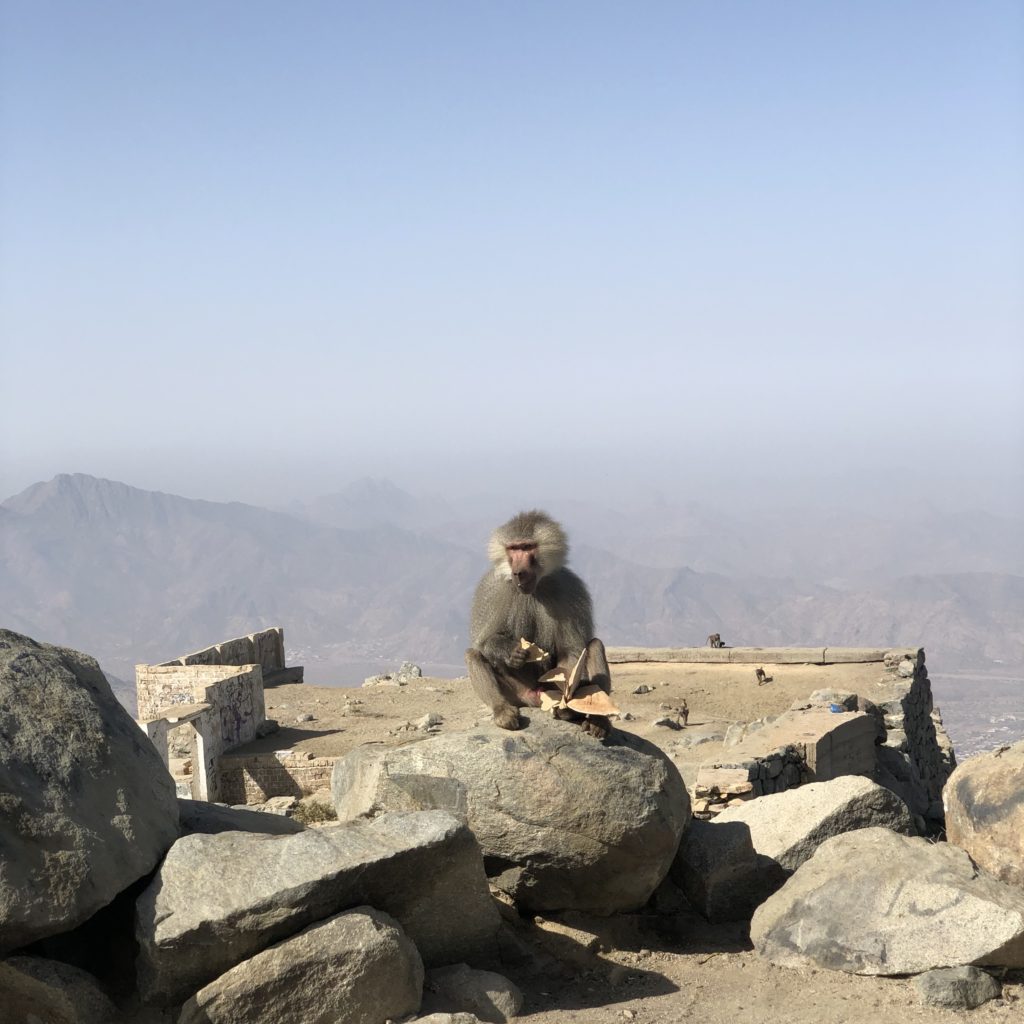 We then visited the first of two rose distilleries and got to sample the local Taif bread. Taif bread is made from 7 different types of flour. Being domestically challenged I wasn't aware that there were more flour options than white or brown. Who knew?! It's quite a dense bread and paired very well with local honey and rose tea. After an informative explanation of the rose distillery process we had the option of being showered with rose petals. Hellloooooo Instagram. When opportunity comes a knocking I happily accept.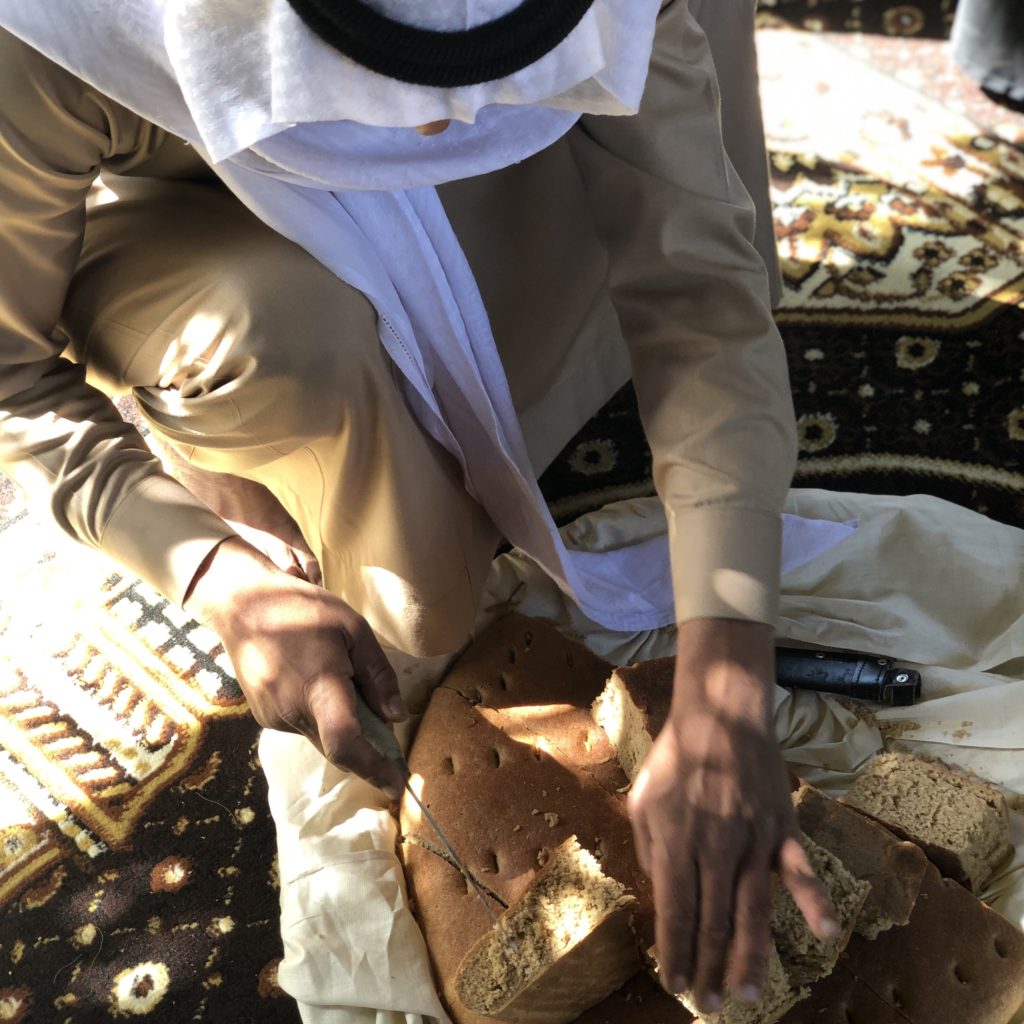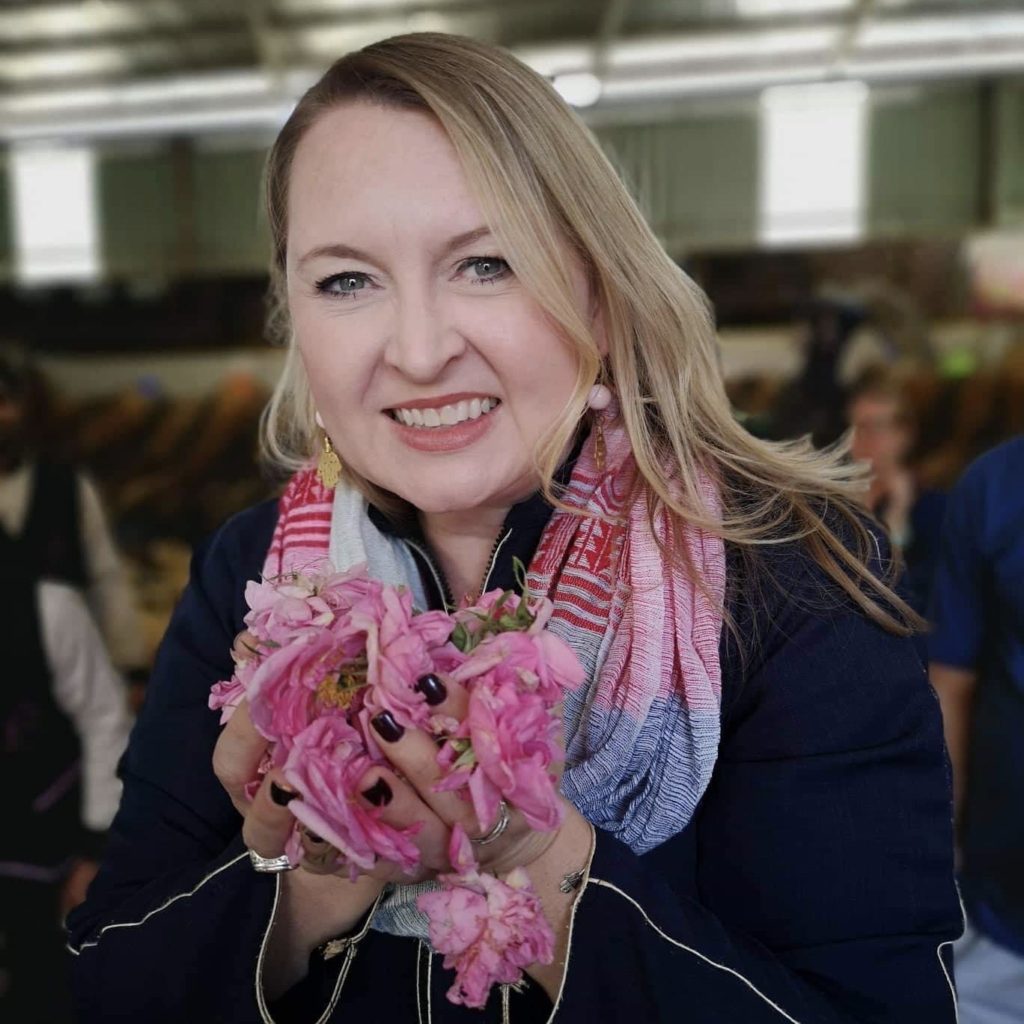 From here we visited the regional Al-Shareef museum which has a great display of old historical artifacts such as traditional tea and coffee pots. Clothing and textiles of the region and how meals of the past were prepared and stored. The museum also gives you a feel for what traditional Taif buildings looked like. We then visited Alarfa Fortress which is about 200 years old. On some of the rocks outside of the fort are petroglyphs (rock carvings) of cows, dogs and gazelles. They are said to be 3000 years old. We also visited the nearby camel market and learned some introductory information about camels. The male camels are rather frisky and are kept tied up outside separate from the pens containing the female and baby camels. The males are also separated from each other as they will fight to the death. It was baby camel season so we got to see the babies up close.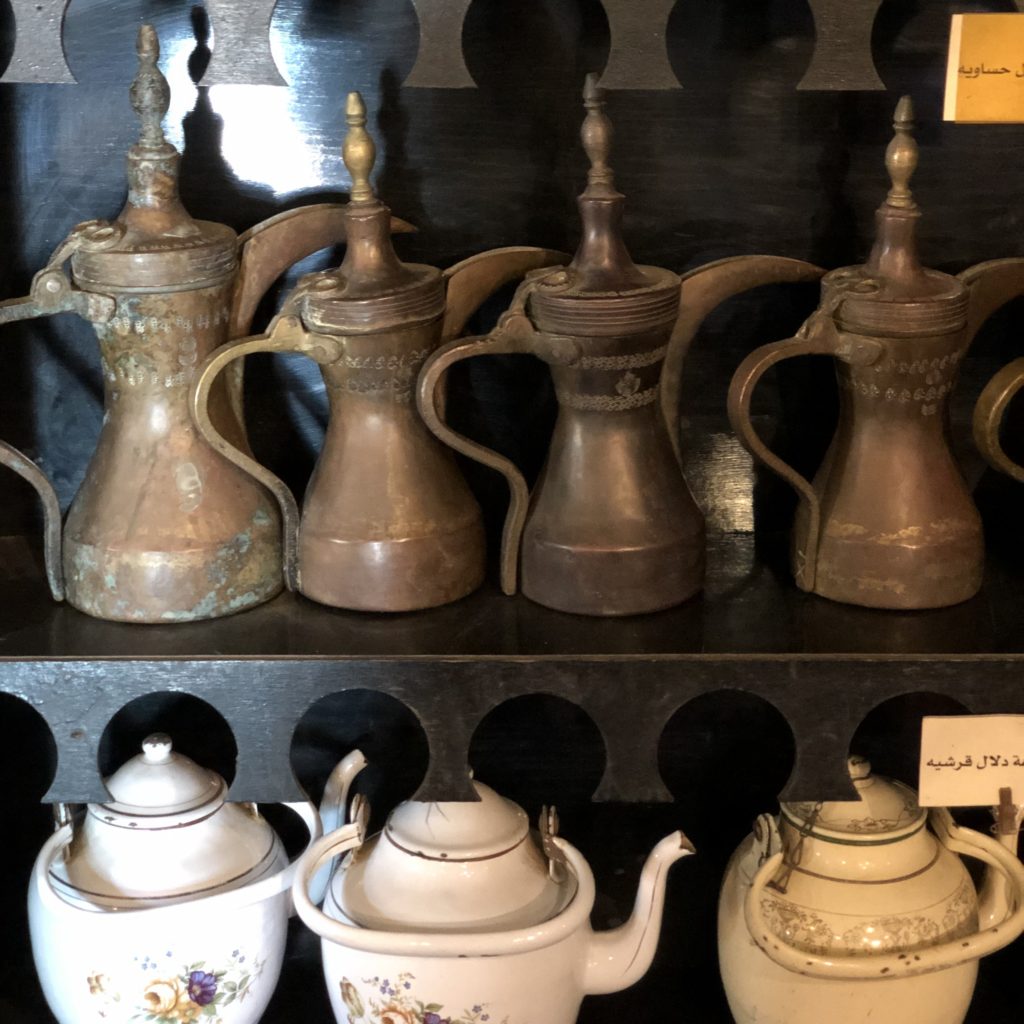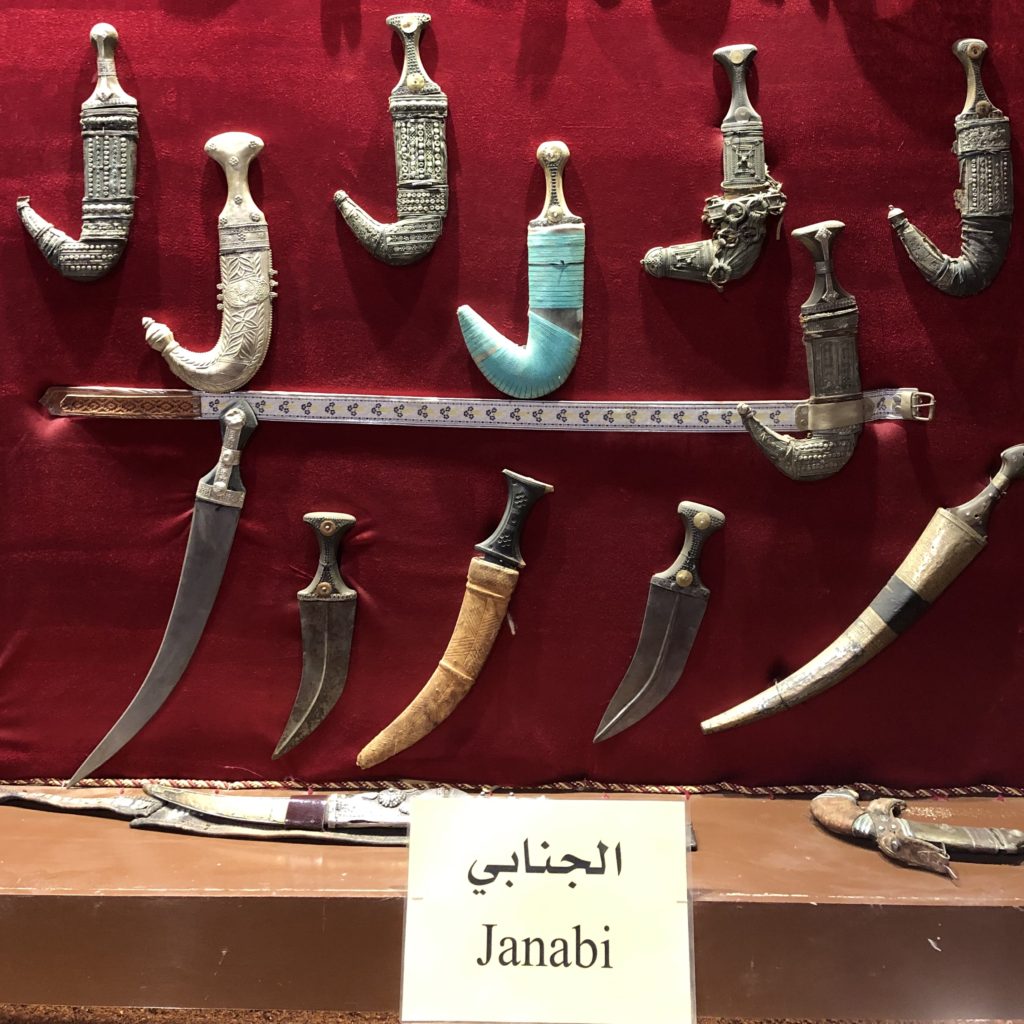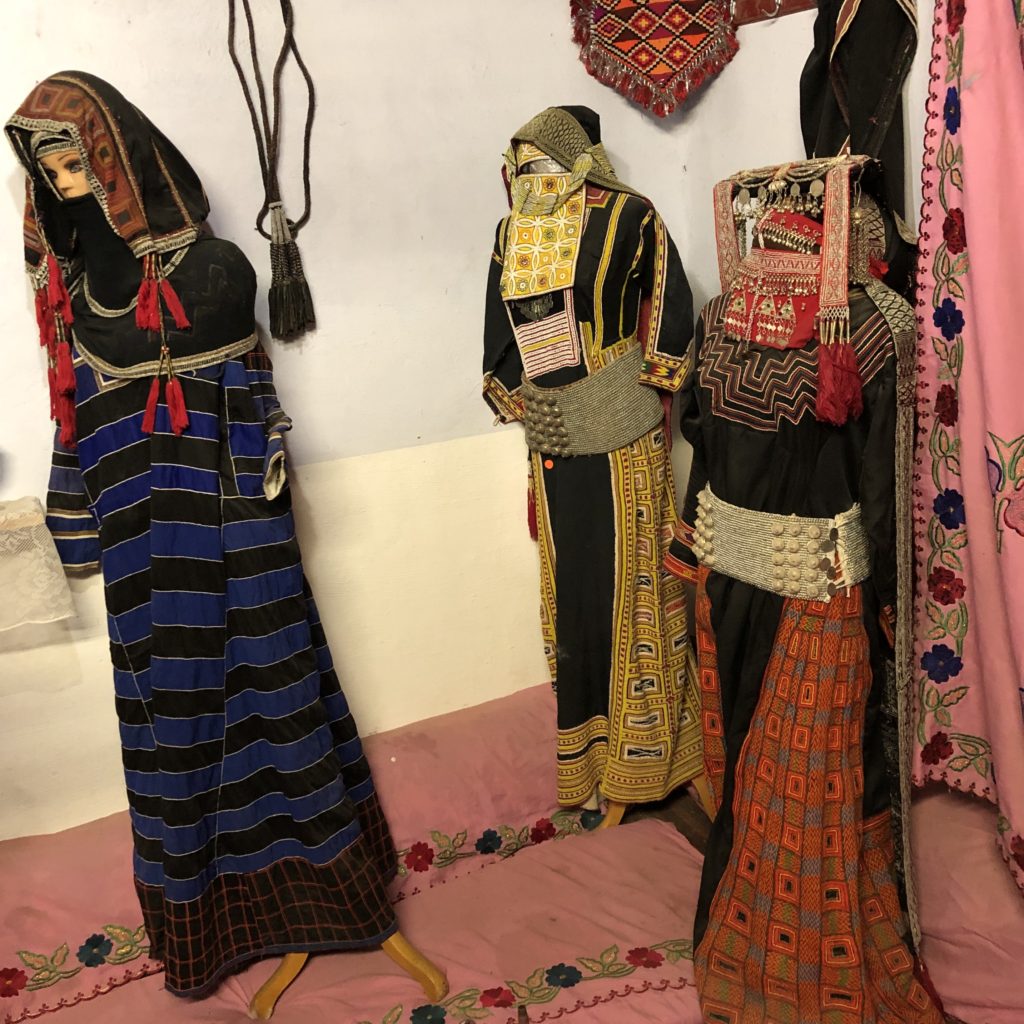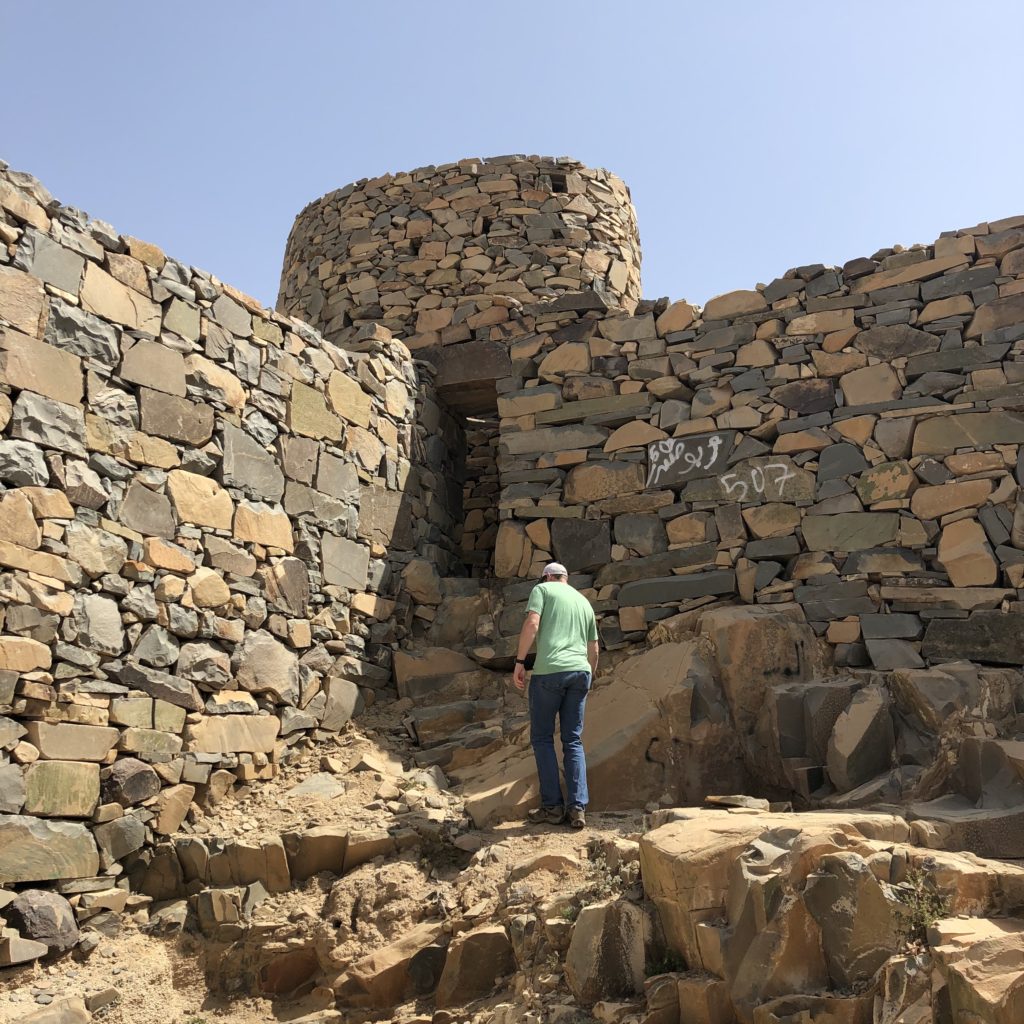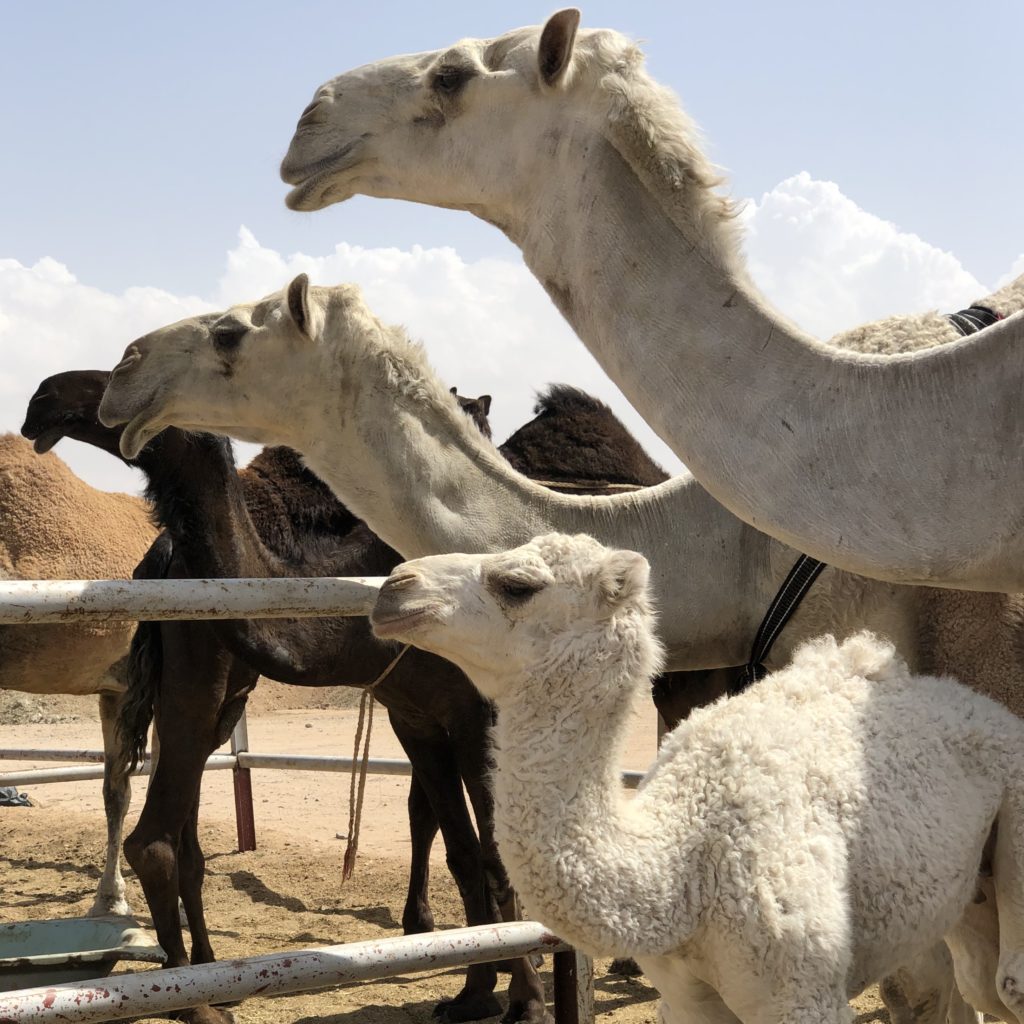 Then it was lunch and nap time before heading out for the evening activities. Just before sunset we headed back towards Al Hada to ride the cable car. This ended up being one of the highlights of the weekend trip. The cable car descends into a valley to the tourist village of Al Kar. The ride is about 20min and if you are scared of heights you will probably scream both on the outside and inside as I did. But the views are amazing as is the village at the bottom. Our visit was timed perfectly with the setting sun which added to the magic. There is a water park complete with water slides at the bottom, and the tourist village has great outdoor space with coffee shops and restaurants. The best part was that they had one of those "Alpine-coasters" which are a cross between a roller coaster and a luge minus the snow. Basically you are in separate sleds that are propelled up a hill by a motor and then at the top you are released and you come down the mountain however fast you choose. Both fun and terrifying at the same time! We then took the cable car back up the mountain and headed off to a private camp where we relaxed for the rest of the evening which is a very traditionally Saudi thing to do.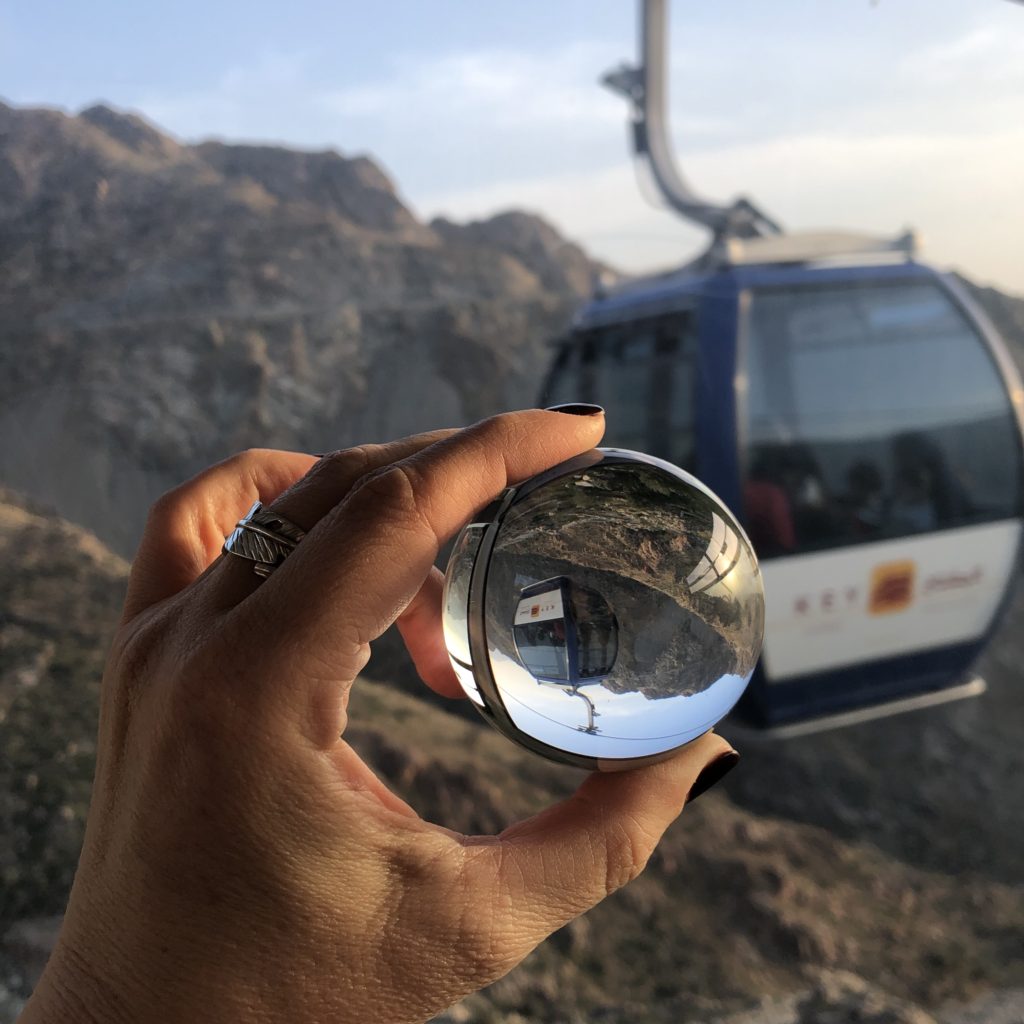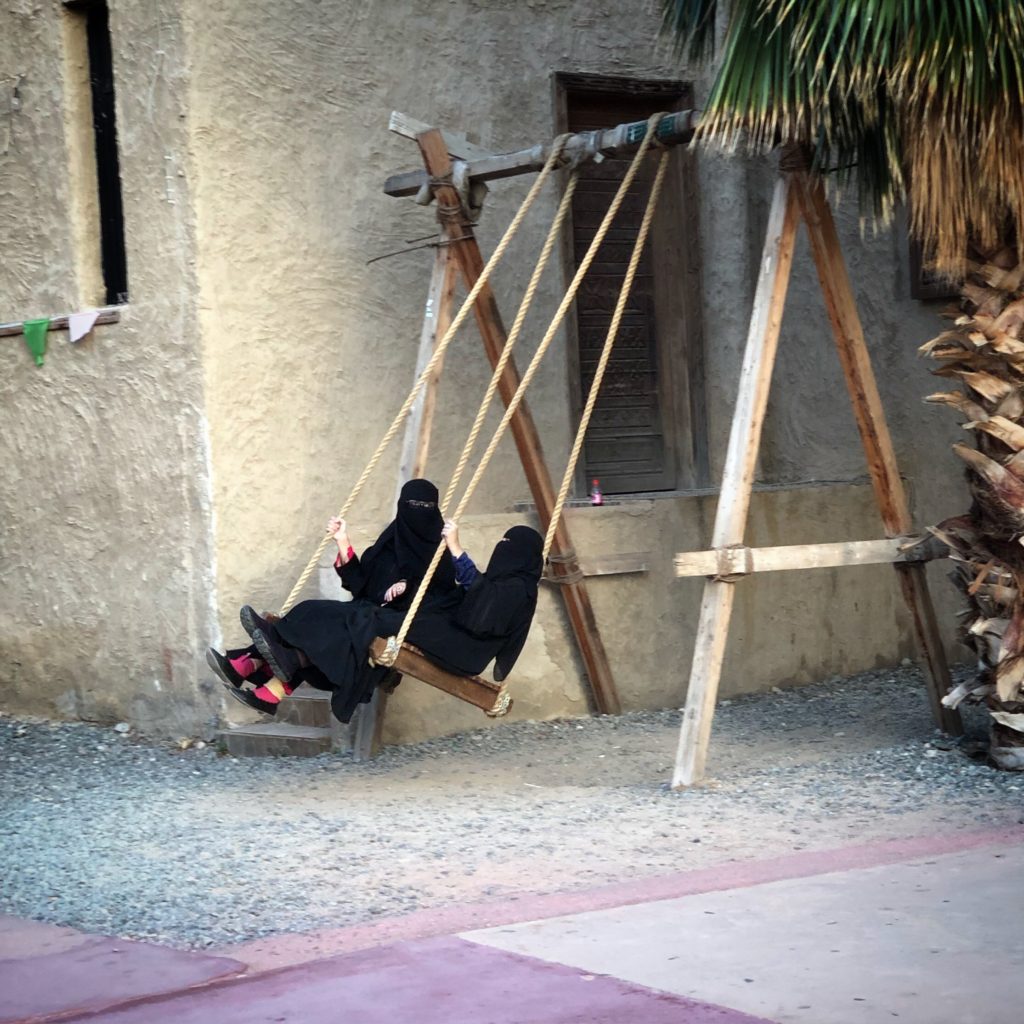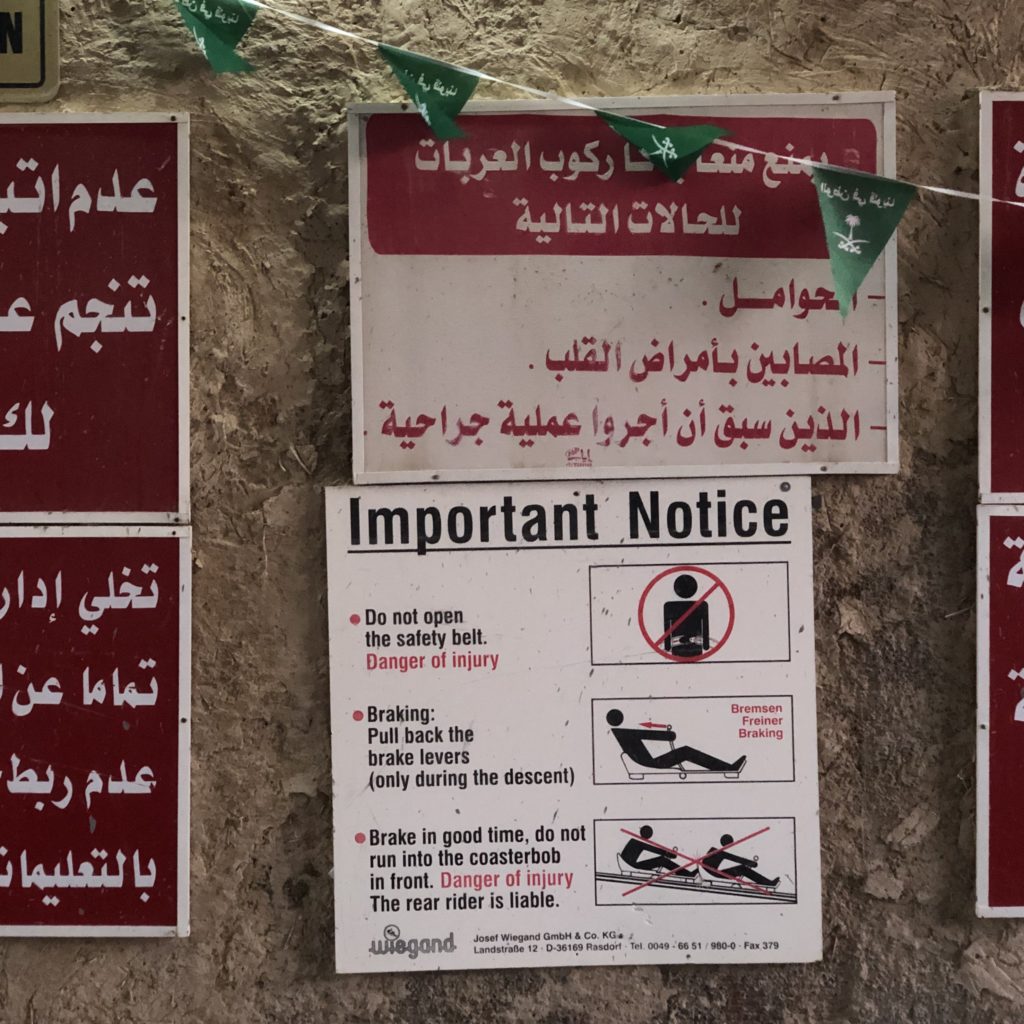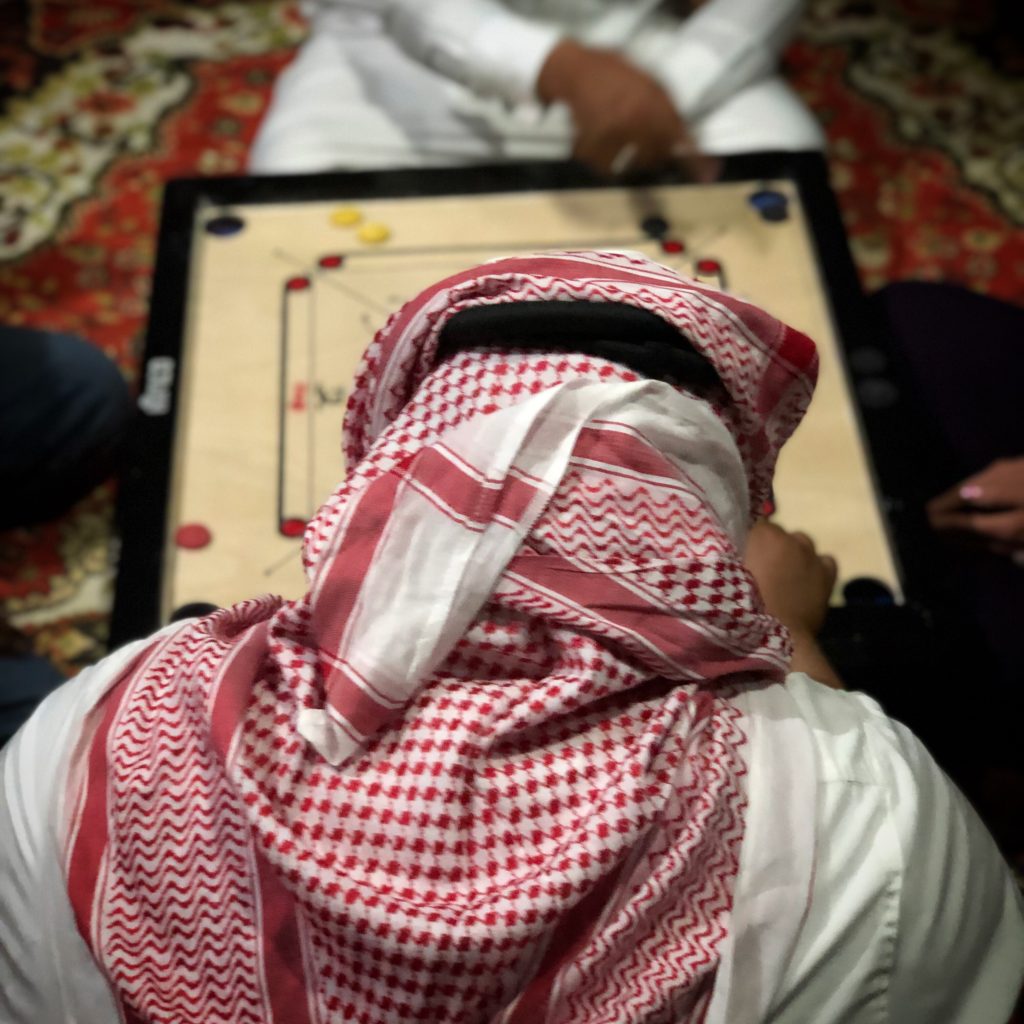 The next morning we headed off early again. This time we headed towards the Al Shafa mountains. We stopped off at another scenic overlook that doubled as baboon feeding ground. Their faces and red bums are equally terrifying, but the view was spectacular. My selfies were on fire. Also if riding things is your thang there were camels and donkeys all colourfully decorated. It was then souvenir shopping time and we visited a different rose distillery. The group let the riyals fly as we bought a wide variety of rose products. We then drove to Taif central market. We explored the honey and gold market and then visited the newly opened artist cooperative where local artist showcase their creative works. Before making a quick dart to the airport we stopped off for lunch for what several people referred to as "the best chicken of my life." We had Yemeni Mandi chicken which is a style of cooking chicken where it is seasoned with special spices and then cooked in an underground pit. It's served on a plate of saffron rice and it's moist and delicious. I would definitely eat Mandi chicken again.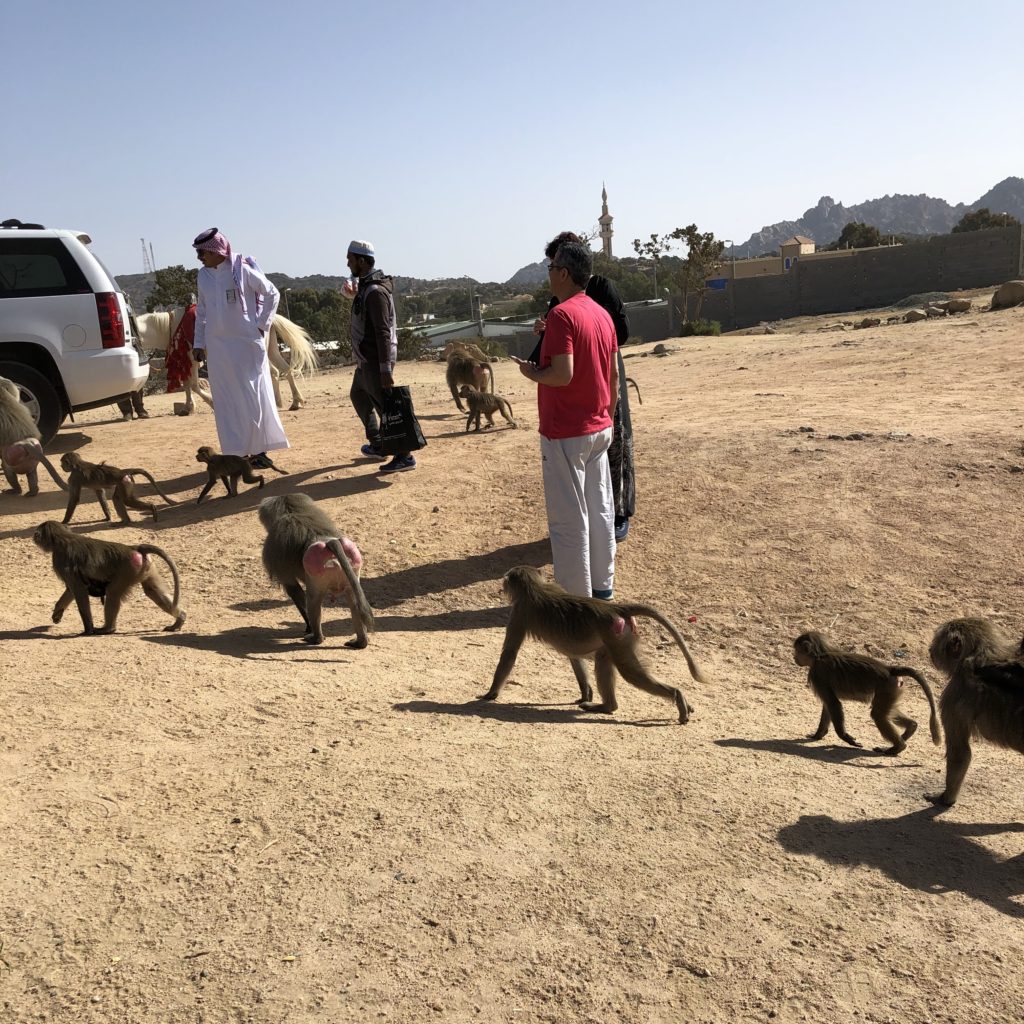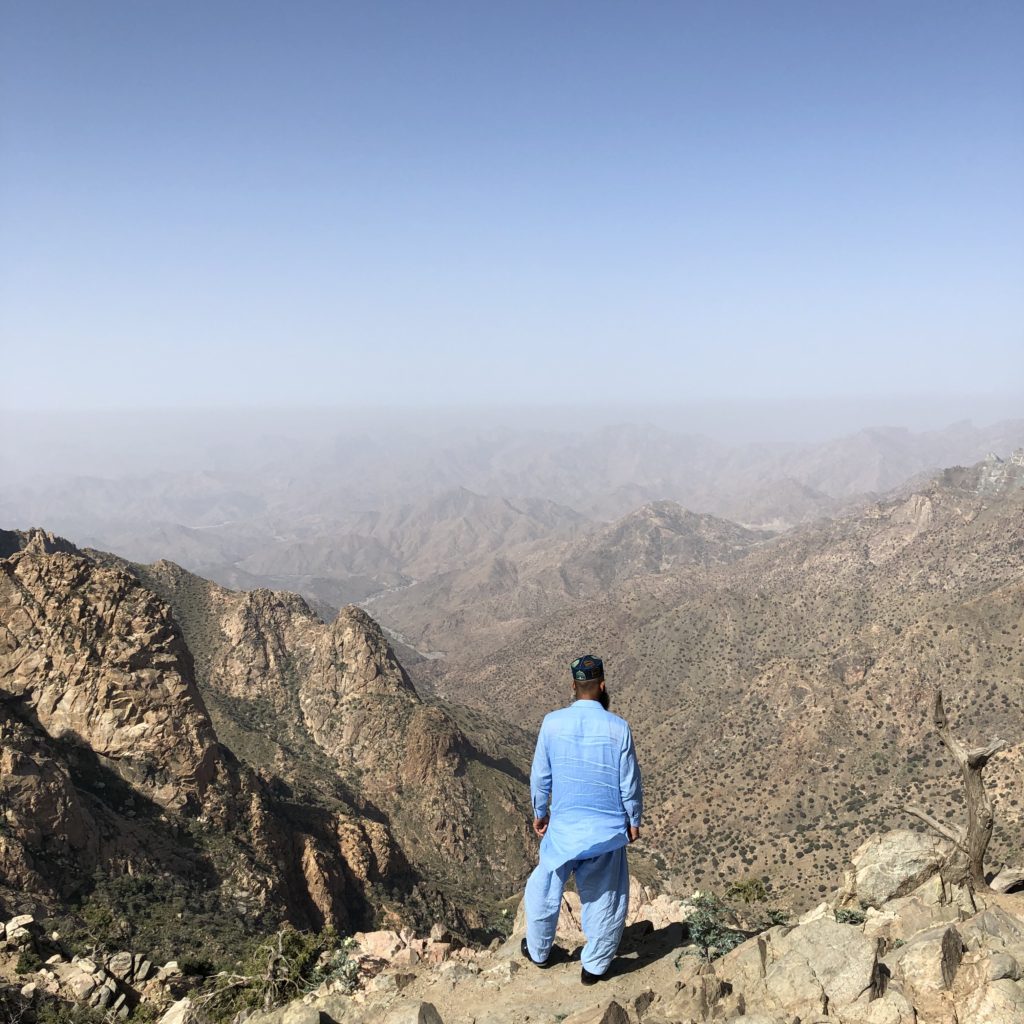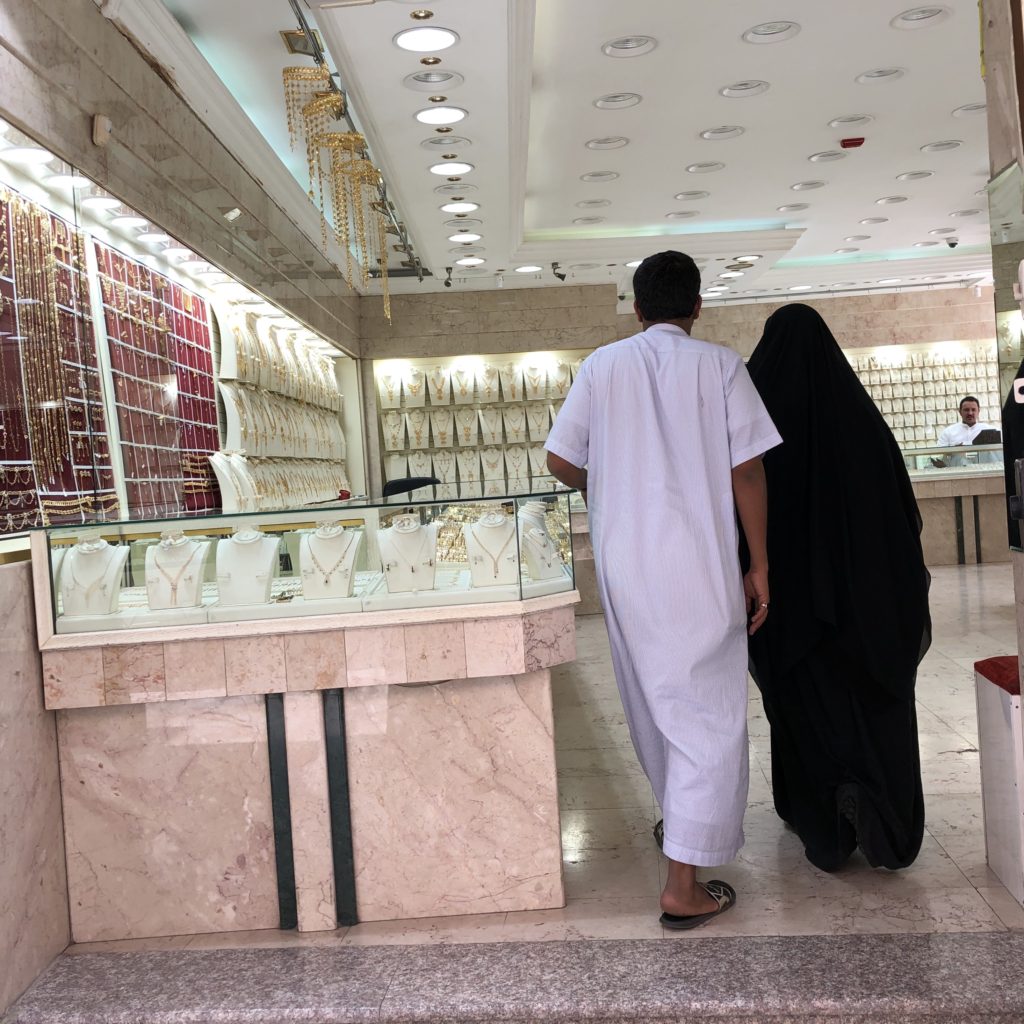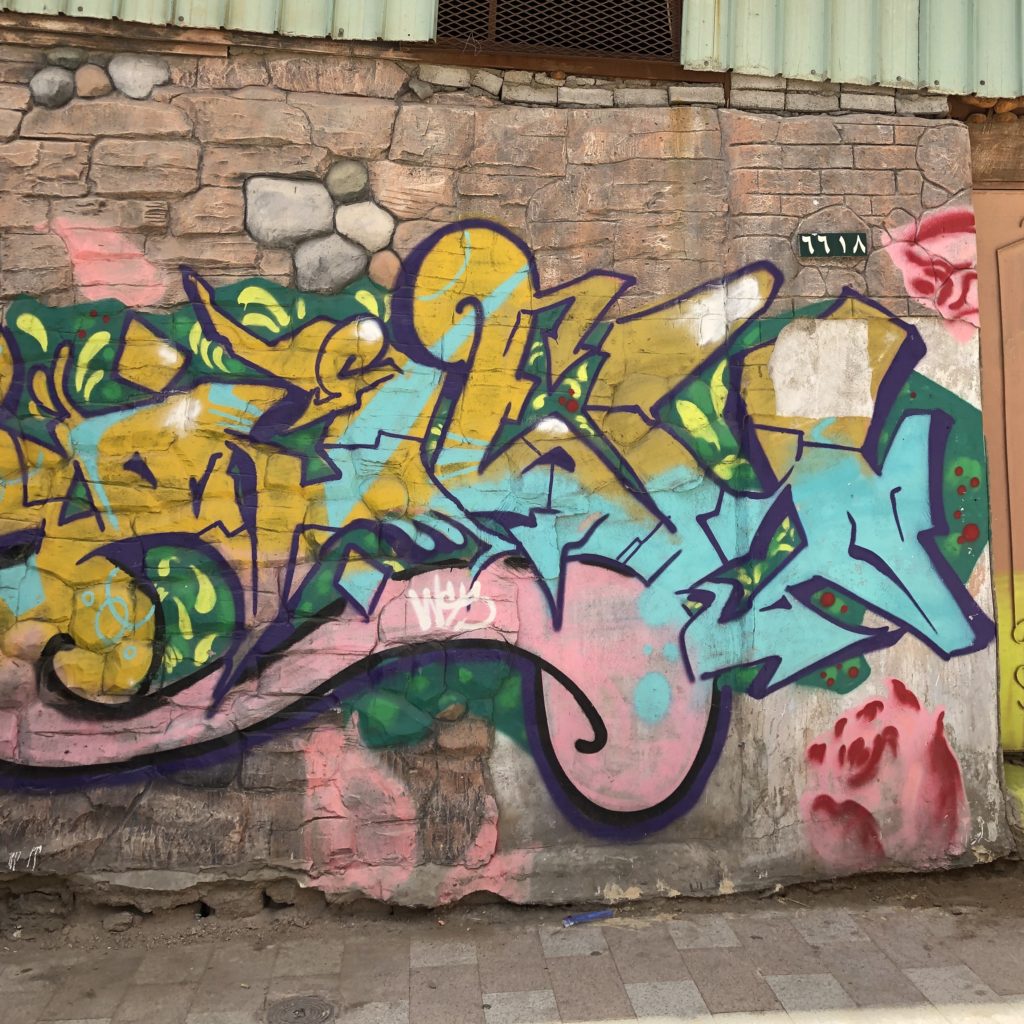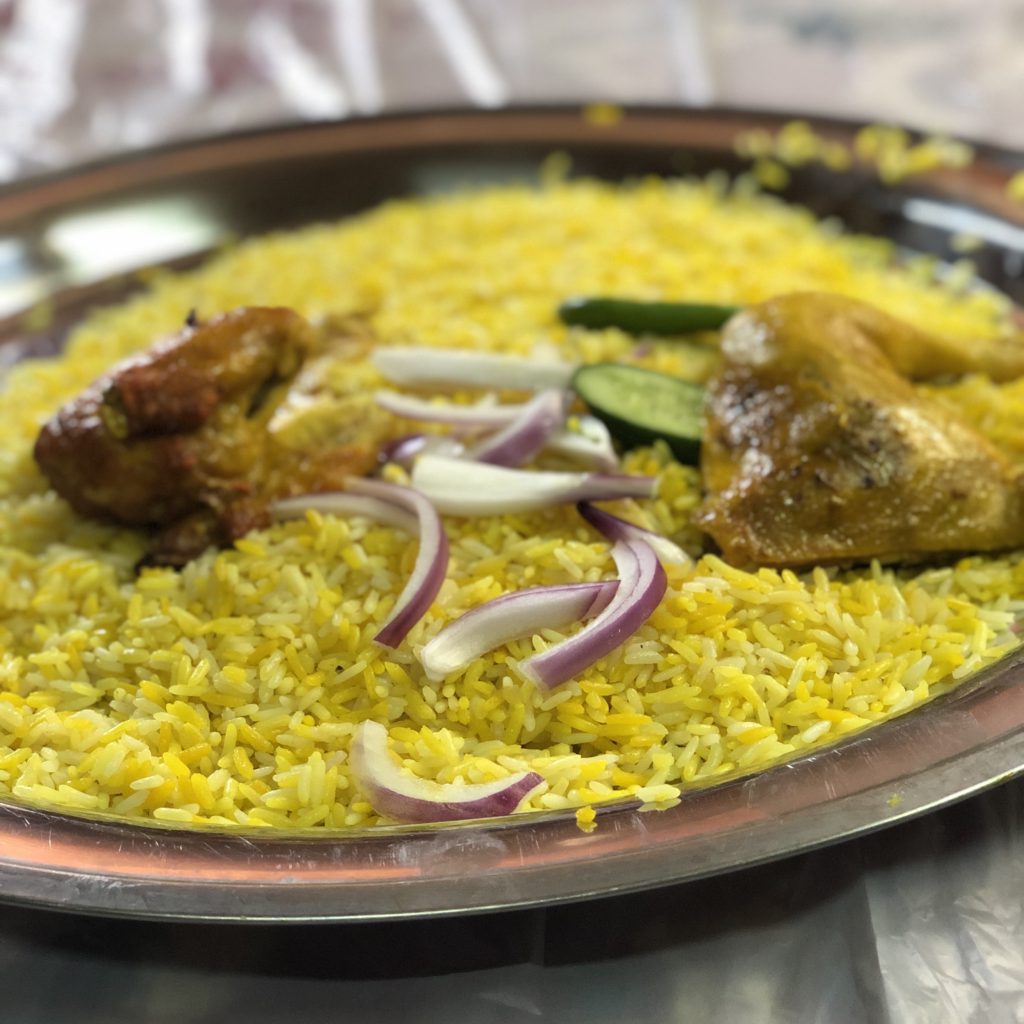 So that wraps up my weekend adventures in Taif. If roses don't really interest you there's still a ton to see and it has a very different feel than Riyadh. And if I don't convey it I would very much recommend having Khalid organize a tour for you!
Get out there and start exploring…..