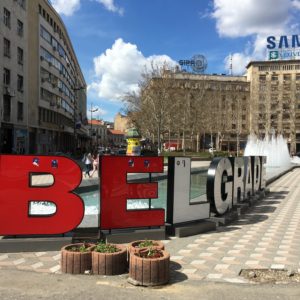 Back in April I spent three weeks touring through Serbia, Kosovo, Macedonia, Albania and Greece. I'm sure some of these sound like really random choices as travel destinations, but I'm a big fan of off the beaten track places, and I really want to visit the few countries in Europe that I've yet to see. This is partly why at the time of writing this post I've just landed in Kiev, Ukraine after spending a few nights in Minsk, Belarus. Plus I had a flight voucher to use up after the epic mess up of my trip to Djibouti, and guess where FlyDubai flies direct to?? Yep Belgrade so off I went. As a side note one of my embassy friends coined this trip my Red Cross tour of Eastern Europe, mostly because he finds my travel plans entertaining.
As per usual I did very little research about what there was to see in Belgrade. Apart from booking myself into a hotel that was central and walking distance to things, I didn't really have much planned. My travel style as of late is to just hit the ground and then make a plan as I go, which seems to work well for me. Normally when I'm traveling to a new city I try and join into a free walking tour as soon as possible- this gives me a basic history of the area and walks me past the top tourist destinations. A great way to get my bearings, and figure out what I want to come back and see on my own. So that's exactly what I did. I arrived to my hotel- went for a lunch (wine) and then joined onto a late afternoon walking tour. I found the architecture in Belgrade to be fascinating. Turn of the century buildings sat juxtaposition next to buildings from the 1960's. Many buildings were in varying state of disrepair and the whole city is littered with urban art (graffiti) of which I'm a huge fan. The walking tour wound its way through the Bohemian section of the city which is home to many breweries and night clubs, past the city's one mosque and then through Kalemegdan Park and Belgrade Fortress.
Funfacts: Belgrade is one of the oldest cities in the world- the first settlers in this area were by the Celts in the 3rd century BC. Serbia was under Ottoman control for nearly 400 years until the Austrians took control of the region in the 1900's. Belgrade was bombed 4 times since the First World War and rebuilt each time- the most recent bombing was in 1999 by NATO during the Kosovo War. There are still protests regarding Kosovo and the US's part in the NATO bombings with signs outside of the Parliament building. The city is built at the confluence of the Sava and Danube rivers- there are excellent views overlooking this from the Fortress.
Probably the most iconic building in the city is the Saint Sava Church. It's a massive church complex with green domed roofs. The inner sanctuary was under construction when I was there, but the roof was visible and painted in gold- this building reminded me a lot of the Hagia Sophia in Istanbul. Below the sanctuary is the crypt. And this is what you're really here for people because I'm pretty sure you've never seen anything quite like it. Now I didn't count but I reckon there are like 100+ paintings of saints and religious figures. All gold and flashy and bedazzled. It's ornate and gaudy at the same time, and reminded me of being in a train station with these arched hallways. Totally worth seeing. I did an underground tour while in Belgrade that took us to a Roman well which served as a dungeon at one time, an underground bunker from Josip Bronz Tito's time (the former President of Yugoslavia), an old Austrian gun powder storage room which used to house a night club and now holds old Roman artifacts, and lastly an underground tavern and wine cellar. On this tour I met two American teachers who lived in Albania who I would later meet up with! That's the great thing about travel- you'll end up with new friends scattered around the globe.
The other cool thing I did in Belgrade was a private walking tour with Olivera from  Still in Belgrade tours. I was really keen to see the many large urban art murals that are painted on the side of buildings around the city and to just wander with a local. One of their tours is called a Hipster tour-so naturally I was sold. We wandered down near the waterfront to the Savamala area which used to be industrial space before artists moved in and cleaned up the area. We visited the contentious waterfront project by a UAE investor who basically bought up waterfront property to turn into a high end apartment, shopping and hotel area. Think Dubai Mall meets eastern Europe. I was not a fan, but we did end up as extras to some TV production that was filming there when we accidentally walked on set trying to find the exit. Hello Hollywood!!  We walked to an area of the city called Lower Dorcal that's full of coffee shops and urban spaces. Since you know I'm a bit of a foodie I'll make one restaurant recommendation in the event you go to Belgrade. Visit Homa restaurant. Do the tasting menu paired with local wines. It's phenomenal. The menu while I was there consisted of tuna tartare, pork belly, adriatic squid to name a few of the small plates. All expertly paired with wine from the region. Worth every penny. Bon appetit.
From Belgrade, Serbia I was planning to travel to Pristina, Kosovo via bus. Travel between the two countries is tricky as Serbia doesn't recognize Kosovo's independence. In fact maps in Serbia show Kosovo as belonging to Serbia. It should be said that if you are planning to travel to Kosovo on the same trip as visiting Serbia you must visit Serbia first. It's easy to travel from Serbia into Kosovo, but not the other direction without first going into say Macedonia, Montenegro or Albania. Of course there are conflicting reports- I've read blog posts about people who have gone the opposite direction and Serbian border officials just crossed out the Kosovo visa in their passport. I didn't want to take that risk which is why I started my trip in Serbia and then traveled into Kosovo. For some reason I was really worried about taking the bus into Kosovo, but it ended up being far easier than I could've imagined. The hardest part was buying the bus ticket in Belgrade which mostly involved me getting lost on the way to the station, but luckily at a crosswalk I met this Serbian student who was also going to buy a bus ticket and she was able to translate for me to buy my ticket. Next up……Kosovo.