Last month I popped over to Sharm el-Sheikh, or "Sharm" as it's referred to by ex-pats and Middle Easterners. I went for 3 nights to celebrate a friend's birthday. Sharm is a resort town on the Sinai peninsula of Egypt, on the Red Sea. It's a quick 2hr flight from Riyadh, and makes a nice weekend get-away. The town itself is mostly full of all-inclusive resorts of varying stars, as well as Saudi, Egyptian, British and Russian tourists. It's known amongst divers as being some of the best waters you can dive in, and there are many dive boats to stay on if that's your thing.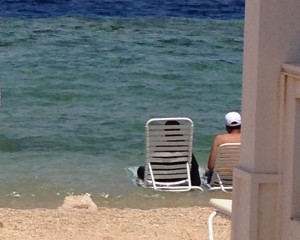 Sharm is a place of contradictions. You will see Muslim women in swim burkinis or their abayas next to British and Russian tourists in the teeniest swimwear your eyes have ever seen. It's bizarre and surreal. Safety wise Sharm el-Sheikh is the only safe place on the Sinai peninsula, but as with most security in the Middle East, this is an ever changing thing, so it's best to follow the situation closely if you're going and be sure to register with your embassy. The last major terror attack in Sharm was in 2005, although the most recent June tourist attack in Tunisia has shed light on Sharm being a target. Security is reportedly on high alert, but to be quite honest I hardly saw any security at all. Maybe they blended in civilian-style, but I've seen more security in Saudi Arabia than we saw here.
I won't actually name the resort we stayed at because it wasn't really that great. We spent our time bouncing between the few pools at the resort, going for dips, reading in the shade, having drinks at the swim up bar, or watching the daily belly-dancing and jazzercise classes. They were hugely entertaining. I had wanted to try scuba diving again, but had been fighting a respiratory bug for the last several weeks (thankfully not MERS) so couldn't do it. The beach area is really rocky so most of the resorts on the bay we stayed on had piers that led out into the ocean to make getting in easier. The water is a beautiful shade of blue with great visibility and tons of fish. The ocean was really rough the time we were there, so while I did go in my fear of water immediately kicked in and I was back out in a matter of minutes.
The best thing we did while there though, was rent a beach cabana and pretend we were high rollers for the day. For $30 we got a private beachfront cabana with a waiter and wifi. It felt like total luxury and I loved every minute of it. Weather wise it's super humid. Riyadh has a dry heat which I've become accustomed to, so Sharm was pretty close to unbearable during the day with temperatures in the mid to upper 40's and humidity in the 50's it was sweltering. The other relaxing thing we did was a 2 hour Egyptian hammam which was classier than my Moroccan hammam experience, but still resulted in me being mostly naked whilst getting a scrub down with my travel mate. Since it was my second experience I felt like quite the experienced hammam-goer.
If you need a weekend away you could do much worse than to fly over to Sharm el-Sheikh. If you love all-inclusives than you will likely love Sharm. If like me, they're not really your thing it still makes for a nice weekend out of the sandbox. Go exploring people…..