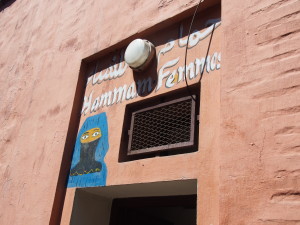 You've never truly solidified a friendship until you've been scrubbed raw by a Moroccan lady while wearing only your underwear with your best mate. That is the mark of a true friendship. Let me set the scene for you……one of the riads that we were staying at asked us if we wanted to visit a local hammam and since I have never had a true hammam experience I was like sure why not?! So off we go to the Moroccan spa. We walk in and the place is quite nice, and we are given robes to wear, and led up to lounge on the rooftop terrace. Which in theory sounds relaxing, but it's like 35C and we're just basically sweating our asses off in one size too small terry-cloth robes. As it turned out the hammam was on the roof, so we're led into this cement room with benches, and asked to lay down. Next thing you know buckets of hot water are being thrown on us. And when I say thrown I really mean thrown. Now the benches are covered in plastic. And as you can imagine plastic when it gets wet is super slippery. Like slip-n-slide slippery.
So we're being doused with buckets of water, and I'm not especially a huge fan of getting my face wet. And also for some silly reason I didn't even think to take off my mascara so now I'm topless with my best friend with 2 Moroccan women and I literally look like a crying Panda bear. It was a real special moment, rest assured. So after we're adequately soaked we're covered in argan oil and left to lounge in the humid hammam for a bit. So we're chatting a little bit and the whole time my brain is thinking "stare into her eyes, DON'T look at her boobs. Oh shit you looked. Eye contact. Maintain eye contact." Sorry J- I accidentally might have looked. My bad.
So the ladies come back in and tell us to turn over. This in and of itself was a major feat, as you can imagine a plastic bench is slippery when wet, but it's slippery as heck when you're covered in oil. I was imagining myself attempting to turn over, but actually propelling myself off the bench and landing on the hammam floor, at the feet of a strange Moroccan lady and then looking up at her like a crying Panda. Thankfully, this did not happen. More buckets of water were thrown at us, and then came the really fun part. The scrubbing. I'm quite certain I've never been cleaner once this lady was done. Basically your skin is scrubbed raw and all the old grey dead skin is left. It's pretty gross. And they scrub everywhere. Including my feet, which trust me really needed it after days spent walking in sandals on the dusty Marrakech streets. But here's the thing. My feet are super ticklish. As in I might accidentally kick you in the head kinda ticklish. Oh, and I giggle the entire time my feet are being touched. So now I'm resembling a half naked giggling Panda. Oh, the levels of humiliation…..
After the scrubbing, more water is thrown at us, and then they braided our hair. Which was a nice touch. Then we were helped into our robes and escorted to our massages. Correction. Couples massage. Yep, same room as my bestie. At this point I'm expecting the day to wrap up with a group shower. Thankfully, this didn't happen.
Have you been to a hammam? Ever had a similar experience??