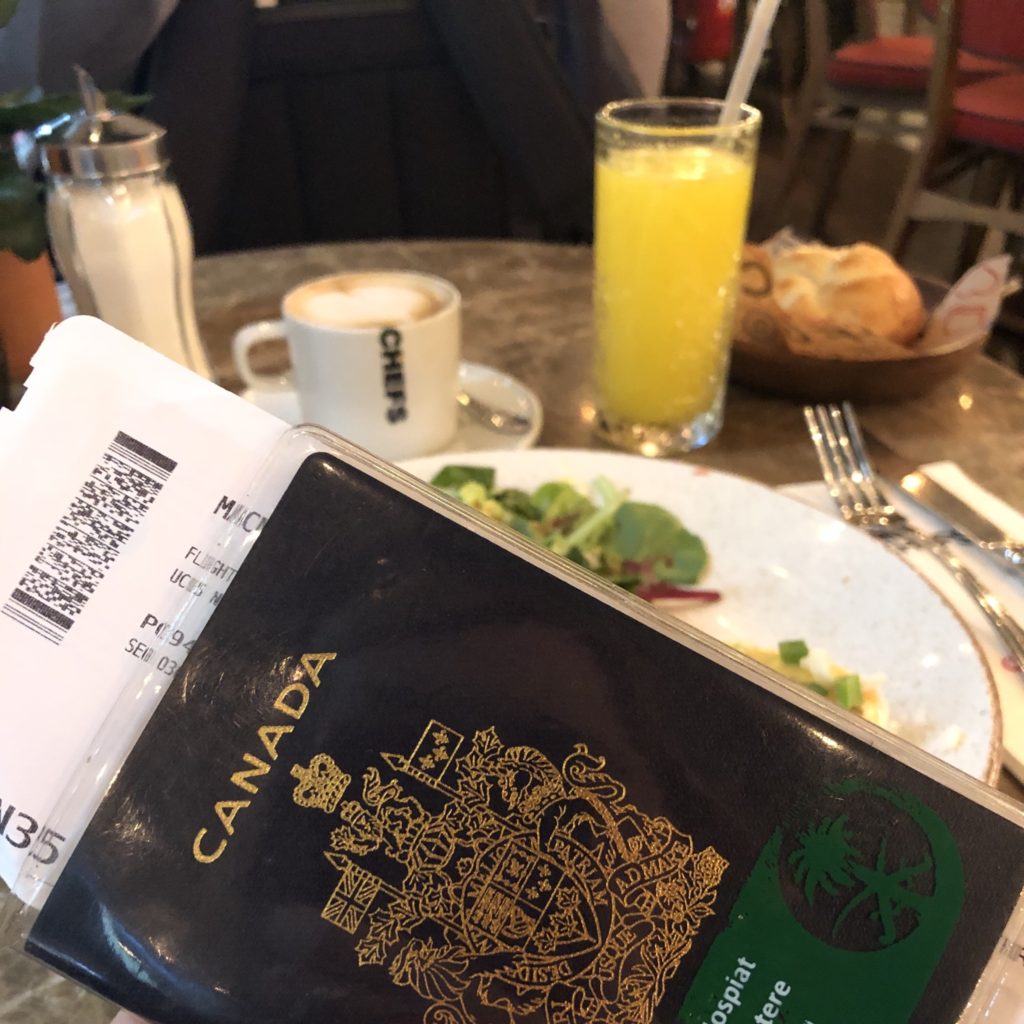 I tend to get asked a lot of questions related to solo travel, so I thought I'd write a guide to how I solo travel. I wouldn't say I'm an expert on solo travel, but I have traveled quite a bit on my own. Earlier this month I visited Liechtenstein my 82th country, and my 35th solo adventure. I've come a long way since my early days of travel.
I can vividly remember how scared I was on my first solo trip. I spent a week in Portugal and for some reason it didn't dawn on me until I was on the airplane that I was flying to a non- English speaking country. Obviously I knew they spoke Portuguese, but like it didn't register. I was also still pretty new to travel in general and didn't yet know that English is literally spoken to some degree everywhere. If you are a native English speaker like me, then it's best to accept that we are privileged. We will never fully understand the trials of travel like those of people whom English is not their first language. People are always telling me how brave I am to travel alone, but the truly brave ones are those whose mother tongue is anything but English.
So here's how I go about deciding where my next trip will be. Once I have leave from work approved I can start the planning process. I often have a top 10 list in my head of places I want to go. That list is compiled of recommendations from other travelers, some cool picture I saw on Instagram, a video some vlogger made and posted to Facebook, or just somewhere off the beaten path place I've always been curious about. I'm also very focused that there are only a few countries left in Europe that I haven't visited, so I'm always trying to fit those in. My current list is Singapore, Laos, the Faroe Islands, Sudan, San Sebastian-Spain, Greenland, Iran, Pakistan, the Seychelles, Madagascar, and Socotra Island in Yemen. Obviously Iran and Yemen are not great ideas right now so they are ruled out. Then I get on google and do a quick visa search to see which places I need a visa for and how complicated it is, and what the weather is like at that time of year. I'm not a very good hot/humid weather traveler, and I try to avoid monsoon season. I also tend to rule out Europe or anywhere touristy during peak season- I'm much more of a shoulder season traveler and prefer the spring or fall vs summer where kids are out of school and line ups for any touristy sites are ridiculous. Then I hit up Kayak and look at airfare.
Generally, I want to travel somewhere that has only one connection, that leaves sometime after midnight (so I can work day shift that day and immediately fly out) and has less that 12hrs of travel time. This rules out several places on my list. Then it really comes down to price and what flight schedule works best, and I'll have a quick look on Booking.com just to make sure accommodations aren't too expensive. Then I just book the damn ticket. Of note: I just use Kayak as a reference for flight prices but I only book either directly with the airline or with Expedia. The reason for this is that a few years ago when I went to Morocco I booked direct with Kayak and a couple days after booking they messaged me and were like "oh your flights were never confirmed and the price went up like $300." And the customer service was shitty so that was the first and only time I ever booked through them, or any of the other websites they use like Vayama. Often this whole flight booking process happens in the course of an afternoon or evening, and I'll call my parents and say "oh hi, so in xxx month I'm going to blah blah blah."
In my older years I tend to be a slower traveler and don't want to move cities/hotels every day. I prefer to stay 2-4nights in a place. I like down time and don't care to pack a million things into my itinerary so I'm busy from breakfast until late at night. In my younger years I could travel like that. Now I want to see a few things but then also sit in a cafe or wine bar and read and just relax. So after booking airfare I'll look at where I'm going to stay. I'll often have a quick look at Booking or Airbnb to see what's available and then use Tripadvisor and read some reviews of recent solo travelers to see what they had to say. I prefer to stay somewhere really central. I don't want to waste a ton of time on public transportation to get into the city center and I want to be close to restaurants and bars in easy walking distance. For me food and wine are a big part of travel and I love going out to eat in nice restaurants. If I'm really tired or staying somewhere sketchy then I'll stay in and order room service- otherwise I want to go out and eat local food.
After the hotel or Airbnb is booked I start planning what I want to see. I generally search to see if there is a "free walking tour" and will make sure to do that on my first or second day in a new place. "Free walking tours" are a godsend. While not technically free (the guides get paid off tips) I find that it's a great way to see the main tourist sites of a city, learn about the history, and meet other travelers if I'm feeling social. All for a $10 tip. These types of tours also give me an idea of what I might want to go back to see, and give me a general lay of the city since I'm navigationally challenged. I highly recommend them.
I'll then google restaurants and wine bars. I will often try and eat at a fancy restaurant each trip- I'm a huge fan of tasting menus since I will literally try anything once and tasting menus often have expertly paired wine menus. There's nothing I love more than someone pairing food and wine together for me! I will also research if there are any art exhibits going on while I'm traveling and add those to my list. I'll usually search "top 10 things to see in such and such" and make a list of the interesting ones and the hours. It's good to note that Monday's most museums are closed and in parts of Europe Sunday's stores are closed so take this into account when planning your itinerary.
Because I'm into kinda weird things I will research if there are any abandoned places nearby that you can visit. While I like to do touristy things I also like to do things that are a little off the beaten path. I love the stories associated with why building were abandoned and I love to see the architecture from those forgotten times. I'm big into urban art and graffiti and will google which parts of the city are known for those and plan those into my visit. Things like this are often coined "dark tourism" and they are becoming very popular- to the point that there are now walking graffiti tours and tours that visit abandoned places.
I then take the list of all the things I might want to see along with the hotel or Airbnb that I'll be staying at and I put them into google maps and save the locations. That way it's very easy to see where things are in relation to where I'm staying, and the map works when I'm offline, and I never feel like I can get lost. You can also download offline maps from maps.me or other apps so you'll always have one with you. I never used to get a data plan and just largely relied on wifi (which is most everywhere) but the last year or so I started getting a data plan while I'm traveling solo- it's just nice from a safety standpoint. And so I can look things up on the fly. And post insta stories as needed.
Earlier this year I wrote a post (vent) about solo female travel and you can read that here. I wanted to share a few quick safety tips that have helped me over the years. I always carry a door stop in my bag. This was a tip that I read about somewhere years ago and it gives me a little extra security. Basically if I'm staying anywhere shady I will use that from the inside of my room to give me an extra sense of protection- granted I realize someone could still bang the door down but it gives me a little extra peace of mind. You can buy door stops online that have an alarm so if the door was pushed open an alarm would ring out and hopefully deter anyone from further pushing in. I also carry only cross-shoulder purses because they are more difficult to steal. Pacsafe makes some great ones and I've owned several over the years- they have special locks so you could lock your bag to a chair to prevent it from being stolen at a cafe and they are slash proof so someone can't just cut the strap and run off with your bag. I also prefer a bag with a good inner zipper and and fold-over top piece. My current bag is this one because I wanted something stylish, but also roomy enough to fit my iPad into. I love it.
In terms of personal safety- I do go out at night when I'm traveling solo, but just not very late. I tend to go for dinner earlier say 6-7pm and am usually back to my hotel by 9pm. While I do visit wine bars I don't tend to go to clubs or anything super late unless I'm staying in a hostel (which rarely happens) and a group of other travelers are going out. If you are someone who likes some nightlife and you are traveling solo I would recommend booking an Airbnb Experience. They now have them in lots of cities and you could join one that is a pub crawl and have the extra safety of a group. When I'm in a taxi solo I always have my address entered into google maps to make sure I'm going the right way. In Uzbekistan I got into a taxi to go meet my guide and his friends for drinks and the taxi driver started driving me literally out of town. I showed him where I needed to go on the map and it turns out there was another place with a similar name so he was in fact not kidnapping me. But better to be safe than sorry. You can also take a picture of the taxi license plate and send it to a family member or friend for extra safety. Once in India I was in the back of a rickshaw in Delhi and I got a really creepy vibe from the driver so I pretended that my phone rang and had this loud conversation (with no one) about how I was at such and such street and would arrive in 10min.
I also tend to lock my passport up if I have the options and split my money and credit cards between a couple spots so in the event I was robbed they wouldn't get everything. Back in the days that I carried a nice camera I would always have a couple SD cards and I would switch them out so that if the camera was stolen I wouldn't lose all the pictures. Once in Japan I had a new camera and accidentally re-formated the memory card and erased all my photos near the end of the trip. That was in 2006 and I still haven't fully recovered.
So that's how I go about planning a trip (solo or otherwise) and a few of my years proven travel tips. I've got loads of updates coming soon, and my yearly top 10 travel destinations post is coming out next week!
Happiest of Holidays