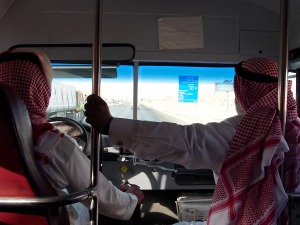 This past weekend the Social Club at the hospital I work at organized an outing to the Red Sands desert to ATV in the sand dunes. I'd never ridden an ATV and since it was on my Saudi bucket list, myself, my kiwi mate, and my American roommate all signed up. We took a bus out of Riyadh with about 20 other employees and luckily this time the driver knew where he was going!! We left the hospital around 7:30am Friday morning (Fridays are the Holy day here) so traffic was very light. On the way we passed some wadi's that were super green with vegetation and then a couple minutes later we were passing rocky canyons. It was very distracting trying to take pictures from one side of the bus while there was something equally as beautiful on the other side. After about an hour we reached the Red Sands and it was pretty cool seeing the sand change from an unexciting beige to the hue this part of the desert is known for.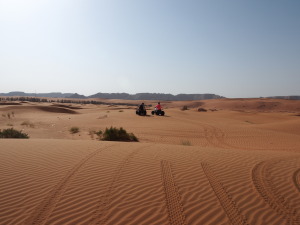 We paid for an hour of time on the ATVs and had the choice between a smaller one and a larger model with gears. Being a chicken I picked the smaller one, but next time I'll be sure to get a larger one. A small group of us set off over the dunes and it was an absolute blast. The only downside was that people throw their garbage all over so what should be a beautiful desert actually resembles a landfill as you drive over water bottles, soda cans, old pieces of clothing, and various other debris (including a full sized couch). Don't get me wrong, it was still beautiful, but would be more so if people respected the environment. The ATVs didn't have a ton of power so if you didn't gun the engine there was a decent chance you'd get stuck on the way up one of the dunes. Trust me. It was pretty easy to get stuck. Coming down the dunes was a little unnerving as you couldn't tell how steep it was until you actually crested the top. Some of the dunes had broken off so you'd end up coming up over the top only to find that the backside of the dune resembled more of a step than a dune. Unfortunately, I found this out the hard way and scraped open my shin on the starter. Oh well, it was still a great time. When we originally booked this trip at the Social Club I asked the organizer if they had helmets for us to wear. He laughed and replied "The sand is soft, so no need." I guess it wasn't as soft as he thought since one of the girls on the trip got thrown off her ATV and broke her collar bone.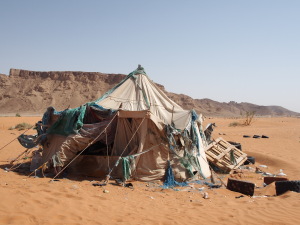 An hour on the ATV was plenty of time because even though it was still relatively early in the morning it was already heating up into the 30'sC. We shared a Saudi breakfast as a group and sat on mats in the desert shaded by a mostly bare tree. After a bit of a rest we walked a short distance to a nearby camel farm. This was where the term #camelselfie was coined. These camels appeared in an absurd amount of selfies and group photos. There were camels photobombing other camels, and camels quite literally smiling for the cameras. They were the friendliest group of camels I've ever seen and I'm pretty confident none of the people in our group got bitten or spit at (which with camels is saying a lot!) Anyways…..here's some camel photos with a bonus camel toe. Your welcome!!