So as of today I've officially been in Saudi for 10 days, and to be honest it feels like its been a month. Between getting over jet lag, acclimating to the heat, and completing hospital orientation, there has been a ton packed into these 10 days. There were a bunch of things that I had wanted to do the first time I was in Saudi, but there never seemed to be enough time. This time I made a bucket list of activities that I wanted to do during my 3 month probation period. For those of you who aren't aware- my first 3 months in Saudi are spent in what I like to refer to as "lock-down" in which we can't leave the country while we wait for our permanent residence cards (Igamas) to come in. This seems to be the most sensible time to knock out my lengthy list of Saudi activities before I'm free to jet set the world!
One of those activities was to visit Najd Village which is a traditional Arabic restaurant. It just so happened that a group outing was organized during our first week of orientation so I signed up. As I previously mentioned, going out in Saudi Arabia is often a challenging endeavor. First, women can't drive, so we're left to rely on a driver (or in this case a bus driver) to get you from A to B. Second, Saudi time is kinda like Island time- so things often don't actually start when they're supposed to. Third, Riyadh traffic is crazy. Seriously. It's absurd, and trust me there will be a whole other post on this topic in the next few weeks. Fourth, you've ALWAYS got to be aware of prayer times and plan accordingly, Anyways, back to the Najd Village adventure…….so a group of maybe 25 of us meet up to take a bus driven by a "new" driver who doesn't speak English to the restaurant which is supposed to be a 15 min drive away. The traffic was quite heavy. After maybe 45 minutes traffic appears to get better and things are looking promising as the organizers keep telling us that "we should be quite close." Clue #1 that things weren't going to plan was the bus doing a U-turn on the highway and us back tracking in the direction we'd just come from. Luckily one of the organizers spoke some Arabic and asked the driver if we were close.  Driver nods and shows 2 fingers which naturally one assumes means two minutes (but now in hindsight might have meant 2 hours). We continue driving and we're now clearly heading out of town. Its suddenly apparent that since we've been on the bus for well over an hour the driver has no idea where he's going, but true to maintaining gender roles in this part of the world he's not about to tell a bus full of ladies that. The only sensible option in his head is to just keep driving. By now we're all growing a little concerned. One of the organizers rings the people in charge of the bus booking. It takes her several minutes to get the dispatcher to understand that no we are not calling to be picked up from the restaurant, but that we haven't even made it to the restaurant. We're still on the bloody bus! The phone is passed to the driver. Another U-turn is made and we head back in the direction that we've just come. Close to an hour and a half after we set out we pulled up to the restaurant, and I'm sure the bus driver was not too impressed by the round of applause and cheering that erupted.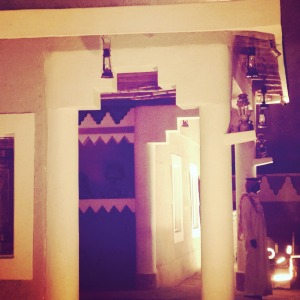 Najd Village rrestaurant is beautiful from the outside with palm trees and ornately painted window shutters. The inside of the restaurant is divided into many private rooms  which are decorated with old antiques, rugs, and cushions. You start off being served Arabic coffee and dates. Dates are hugely popular in Saudi and they are super sweet. I've been told that Arabic coffee is an acquired taste. I have not yet acquired it.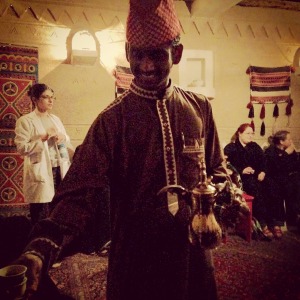 It's strong and potent, and tastes very strongly of cardamom of which I'm not a fan. I am however, a fan of the super cute little cups that it's server in. Sort of like tiny shot glasses for coffee. After dates and coffee the table is prepared by the servers. By "table" I mean floor, as meals here are served in the traditional way where everyone sits on the floor surrounding the food. The food is a mixture of rice with chicken, lamb or prawns, delicious Middle Eastern breads and laban which is a type of Arabic yogurt. The food was good, less spicy than I would've liked, but still good. The atmosphere though is what makes the restaurant such a great experience.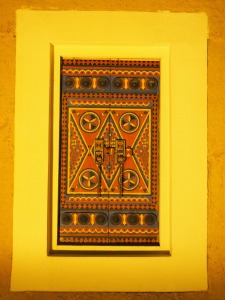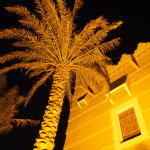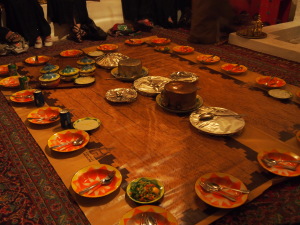 I'm happy to report that we made it back to the compound without incident. The drivers internal GPS seemed to work and there were no U-turns involved!!