Guys. I meant to write about this right after it happened but then Covid happened and I thought who wants to hear about a road trip when the world has shut down?! And then I just never quite made it back to writing about it. Until today. Buckle up as this is going to be a long one…
Come along with me on a Saudi road trip…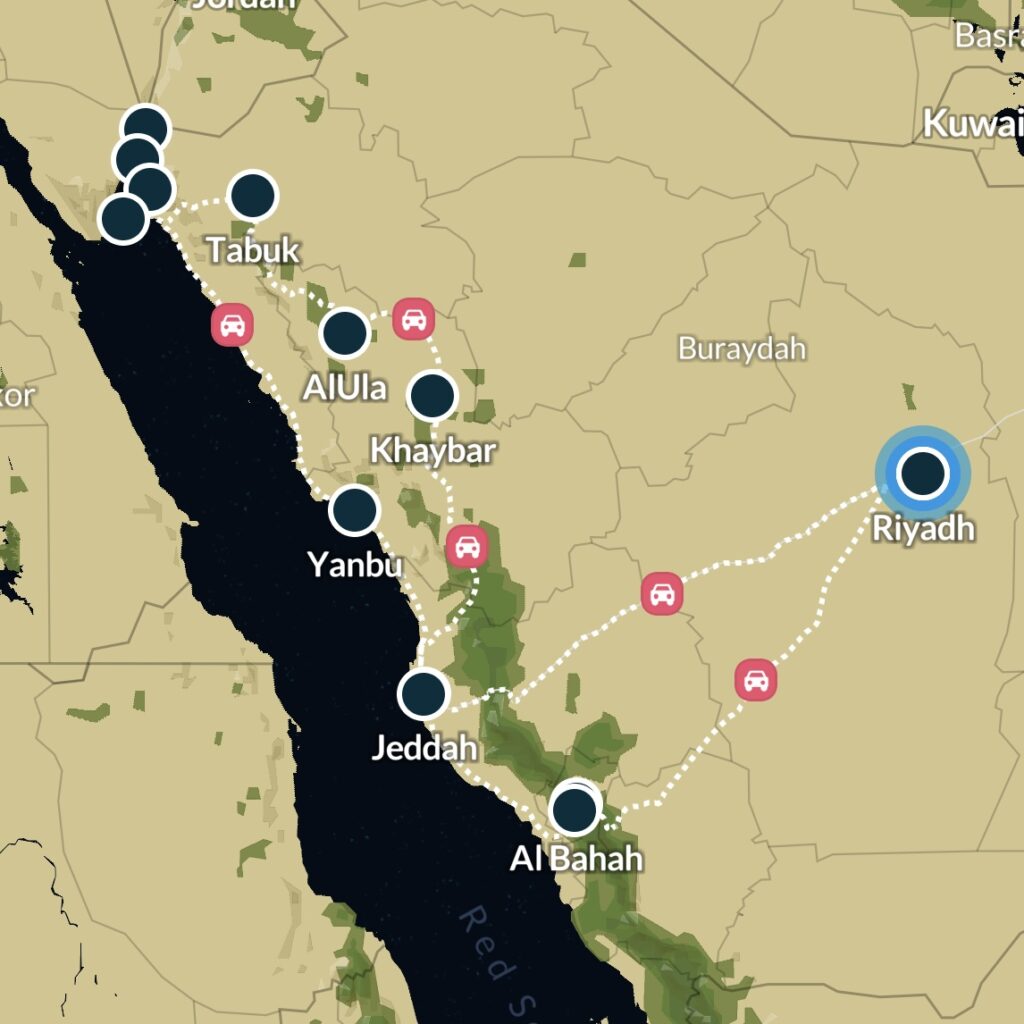 As you probably know (but maybe you don't) I lived in Saudi Arabia a total of 7 years give or take, off and on from 2010 until I left in May 2020. Not that I would officially say I'm an expert on Saudi, but I did see more than the average expat who lived there, and also more than your average Saudi national. Because, lets be honest, most expats never leave the gates of their western compounds except to go to and from work. Western expat men I'm talking specifically to you. It was always wild to me that people would move to a country and never experience any of it. Can you imagine if your entire opinion of a country was based on your co-workers? I'm not judging (ok maybe I am a little bit), but Saudi has changed so much over the decade that I lived there, and I'm sure even more in the 3 years I've been gone.
When I first moved to Saudi you could only visit on a work visa. Tourist visas didn't exist. Muslim travelers were able to see bits of the country if they came for Hajj or Umrah. I'd heard rumors of people getting spouses or family members over, but in those days I didn't know anyone who had. Tourism in those days was a bit like the wild west. My first visit to Mada'in Saleh was with 3 fellow western nurses and we had a police car escort us everywhere. We literally drove and parked directly out front of the tombs and walked right into them. I'm not in anyway endorsing that it should've been like this. Obviously historical sites like this should be preserved, but travel within the country back then was really unique.
At the end of 2019 it was announced that Saudi would start allowing online tourist visas. It had long been a dream of mine to show either my bestie Jen or my family the country I called home for so many years. Thankfully Jen was keen and she flew from the US to Jeddah. Saudi was late to the party in terms of allowing women to drive, but in 2018 women finally got the right. That fall I obtained my Saudi license, so I was road trip ready. I rented a car from the Riyadh airport. I had booked a mid-sized SUV because I wasn't totally sure what the roads were going to be like. What they ended up giving me was a lime-green Hyundai Kona. There was literally no blending in driving it. We announced our foreign-ness every where we went driving it.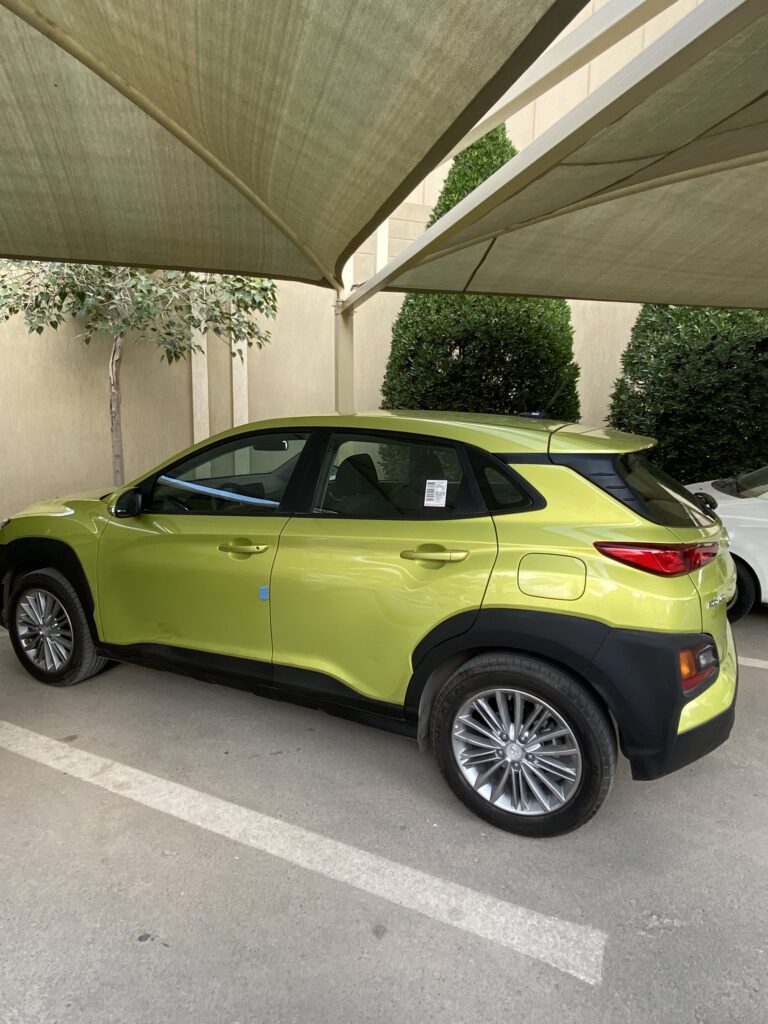 Due to time constraints the plan was to meet Jen in Jeddah. I had a coworker who will forever be known as "Sunshine" for the complete joy she adds to any situation. She was to be the co-pilot on the road trip to Jeddah and then she would fly back to Riyadh, as Jen flew in. We left early one morning and headed to Al Baha (or Al Bahah) which is about 900km from Riyadh. Al Baha is to the southwest of Riyadh in the Sarawat Mountains. We spent one night there. The following morning we headed off for Jeddah with a planned stop off at the village of Dhee Ayn. Now let me tell you that I was unprepared for the 40min drive to the village. That winding mountain road had some of the most scenic views I've ever seen in Saudi. It is well worth the visit in my opinion. I was however, glad I was the driver as I would've been motion sick were I in the back seat. There are pull offs where it is possible to take photos.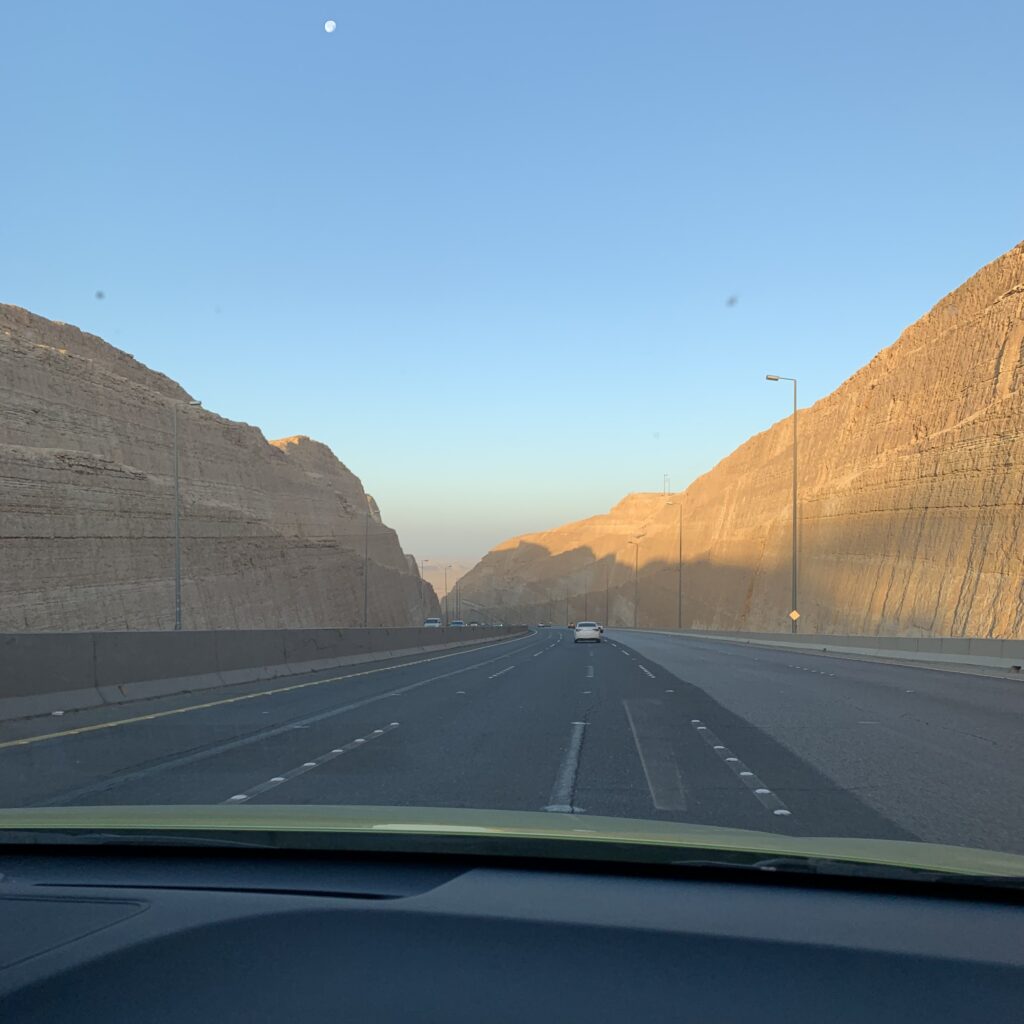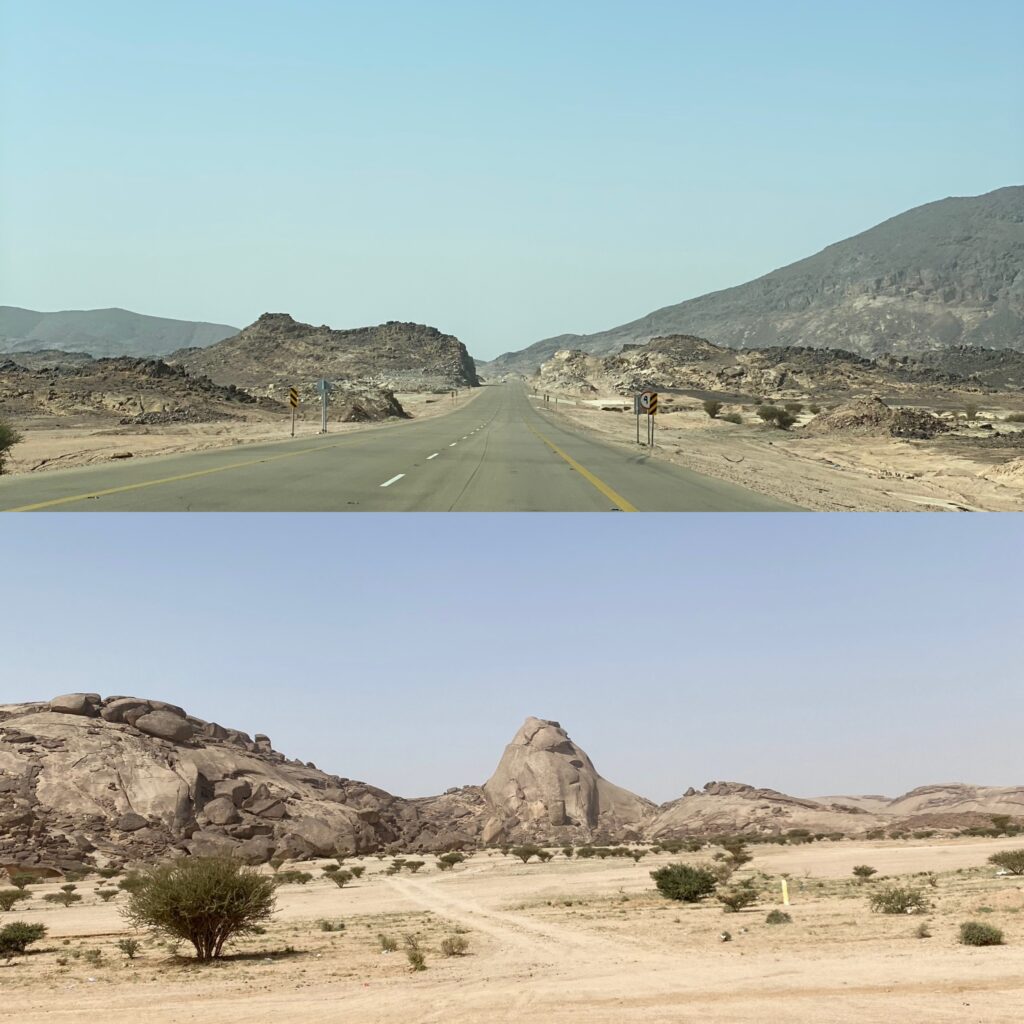 Dhee Ayn (also spelled Thee Ayn or Zee Al-Ayn) is a true hidden gem of Saudi Arabia. It is 400 years old and is built of rock on a huge white marble slab. The village was named after a spring at the bottom of the village and you can hear the water while exploring the village. We got here at 9am and had the entire site to ourselves. The only downside was that the sun was directly behind the village so the village was covered in shadows. Great for beating the heat, terrible for getting good photos. Wear good shoes as there's lots of stairs and climbing involved. There are about 40-ish houses made from stacked flat rocks and slate- they tower over you as you approach from the parking lot. When we visited some of the houses were unlocked so you could go inside of them. The village overlooks the fertile fields below. 10/10 you should visit if you are in the region.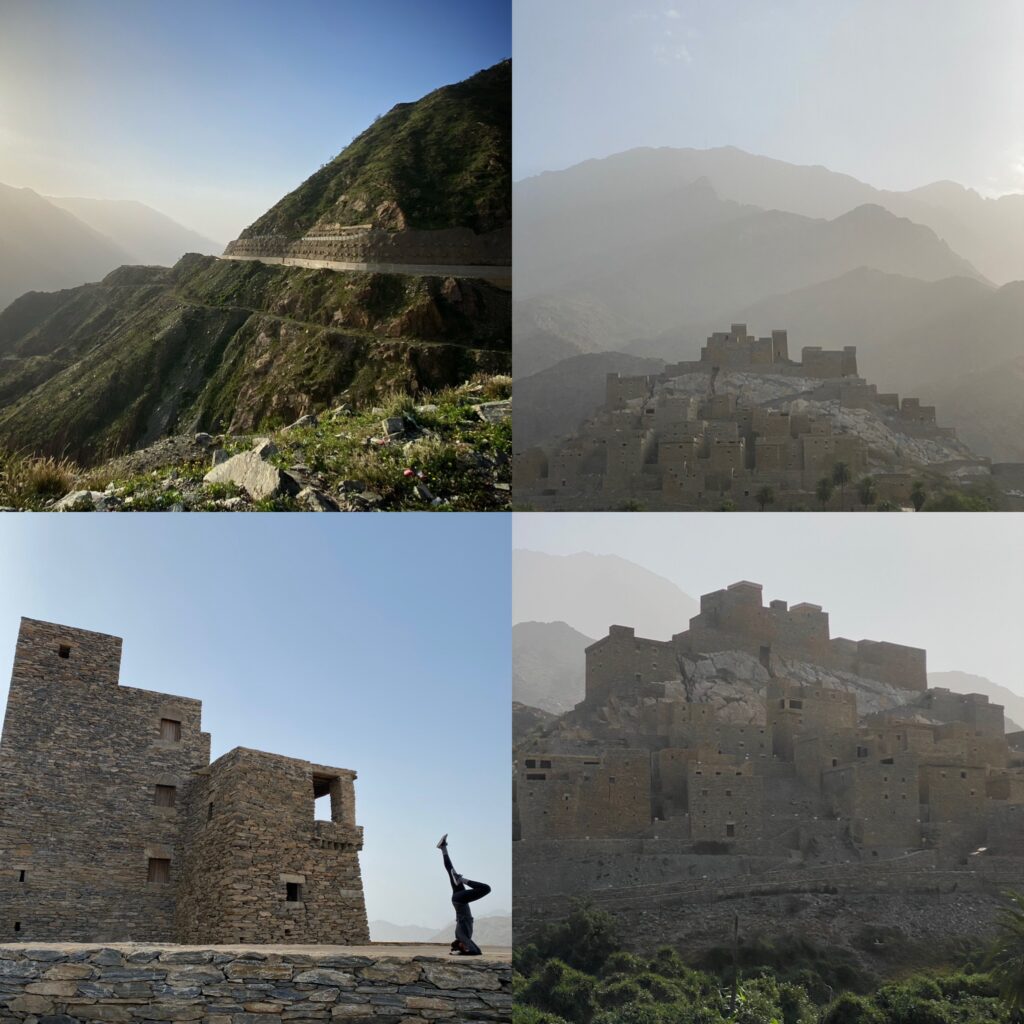 From here we headed for Jeddah about a 400km drive. Just a quick note about road trips in Saudi Arabia. We mapped everything out so we always knew that there would be a gas station so we didn't have to worry about running out of gas. Every road side gas station has a mosque. Every mosque has a bathroom. Voila there are bathrooms everywhere. Just be prepared to perfect your squatty potty skills. And it's a good idea to have tissue with you. And as with bathrooms across the Middle East everything will be dripping water. They give water fight with a super-soaker vibes. If you know you know. Sunshine and I spent the afternoon boutique shopping in Jeddah while waiting for her evening flight back to Riyadh and Jen's flight into Jeddah. Side note Jeddah has some really cool shops, and the best abayas. We spent the night in Jeddah.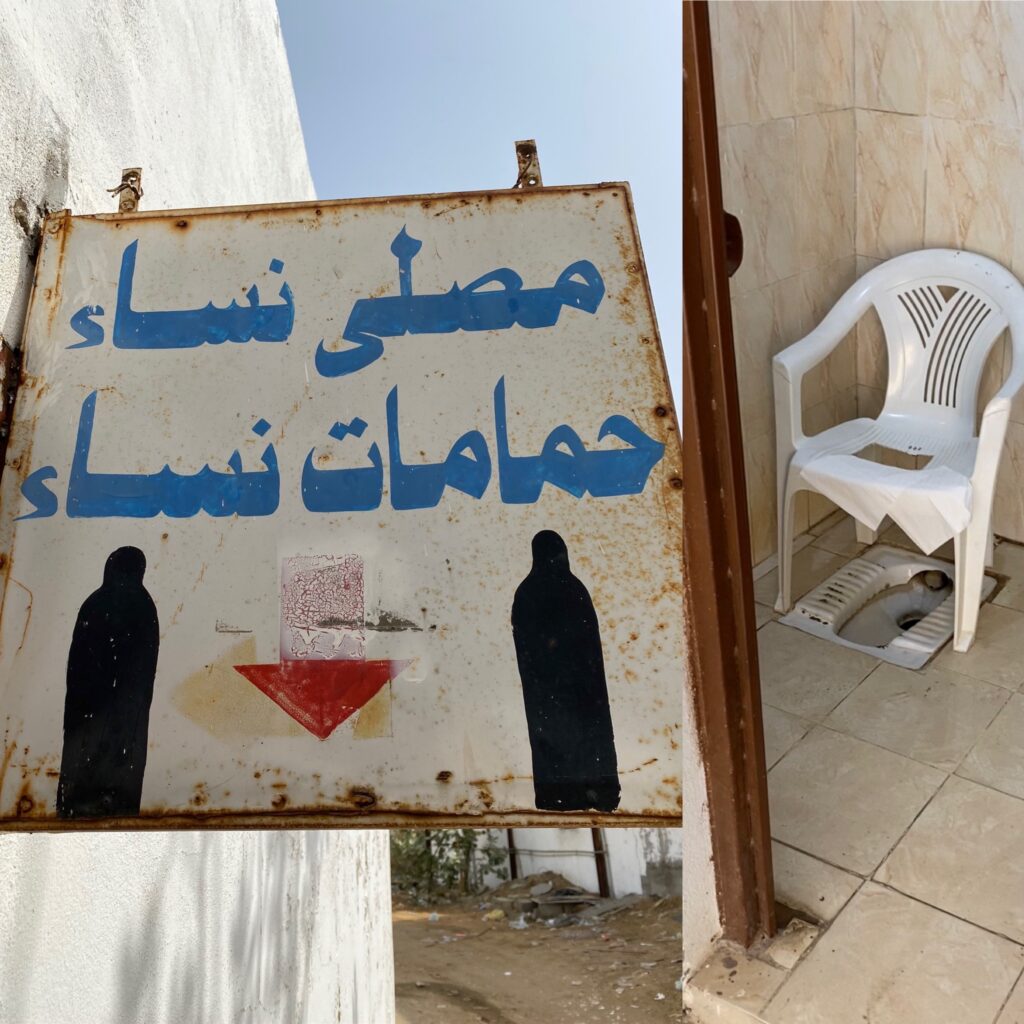 The following morning Jen and I headed to Al Ula about 700km. En route we stopped off at Khaybar (or Khyber) about 90min north of Medina. You know I have a love of abandoned places so I was pretty jazzed to visit after having it recommended by an Instagram follower. The old part of the city is abandoned. It was last inhabited in the 1970's but some of the buildings date from the 1500's. It looks like newer buildings were built on top of old. It has a very movie set vibe and you can just slow cruise through. The city itself is historically significant. It was previously inhabited by Jewish tribes who were pushed out of the area in the Battle of Khaybar in 629AD. On a nearby hill overlooking the old city is the fort. Try as we might we couldn't get our car there on account of recent rain and really muddy tracks. Great pit stop though on the way from Jeddah to Al Ula.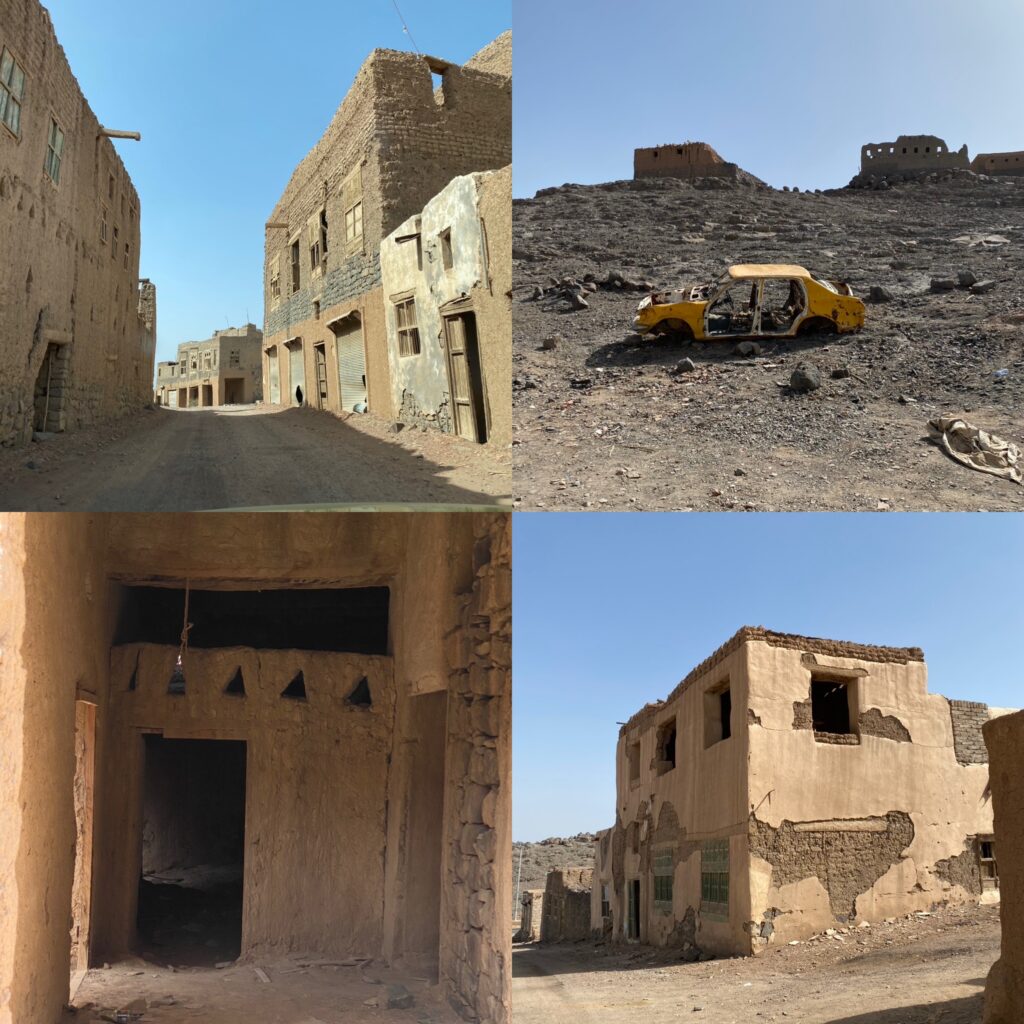 We arrived in Al Ula and stayed in a rented apartment. When we visited it was part of the Winter at Tantora festival. Now there are very high end luxury accommodations that all the ritzy travel influencers are flocking to. We however were on a budget, so Airbnb style it was. Al Ula is the town near the UNESCO site of Mada'in Saleh which is the sister city of Petra. The entire area is known as Hegra and the majority of the 131 tombs date from the Nabatean period (1st century AD). These burial tombs are cut into rock and the fronts are ornately carved. The majority are built into clusters, but the largest tomb Qasr Al-Farid is free standing. This should be top of your list if you visit Saudi Arabia. It won't disappoint. And don't forget to stop off for sunset at Elephant Rock a rock formation made of sandstone that resembles……yep, you guessed it….an elephant. For those history buffs that follow me you can also visit the Al Ula station on the Hejaz railway built by the Ottomans in the early 1900's to connect Damascus to Medina. It was attacked in WWI and never reopened.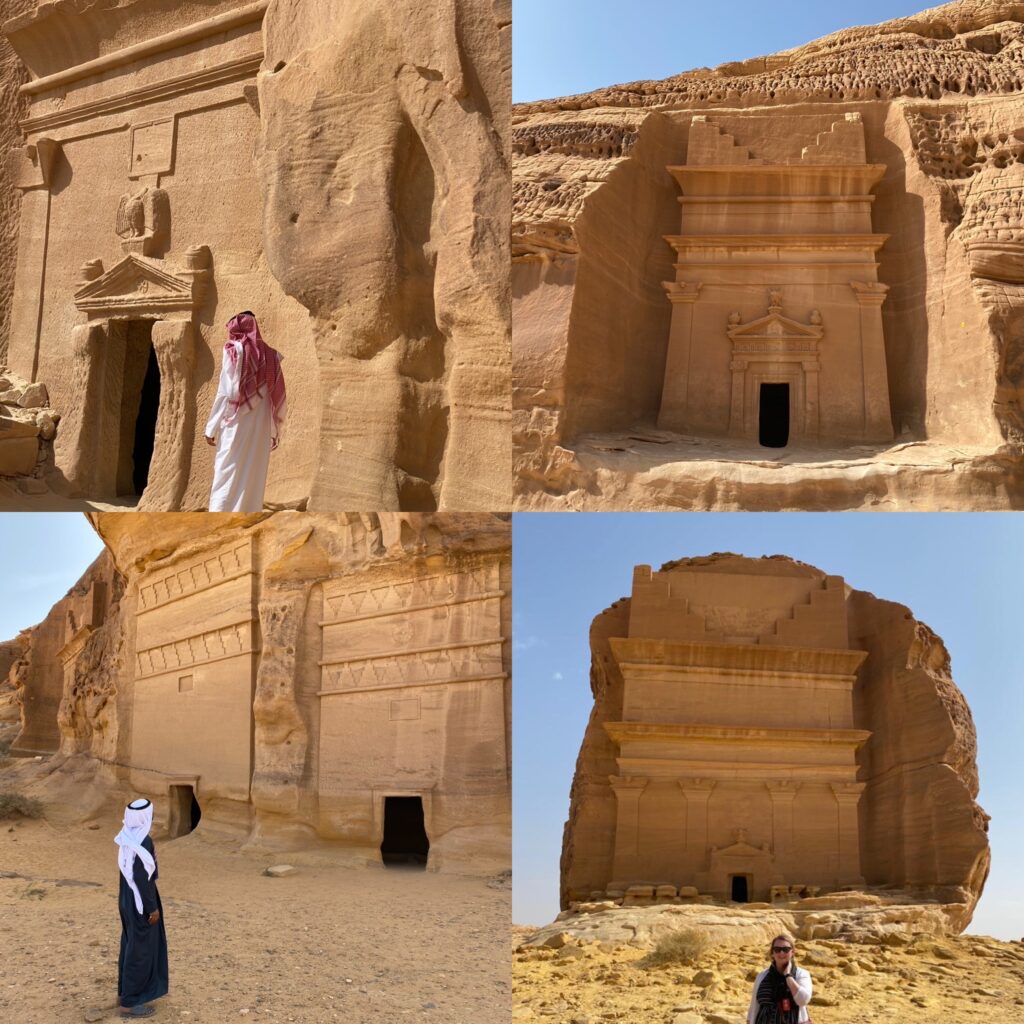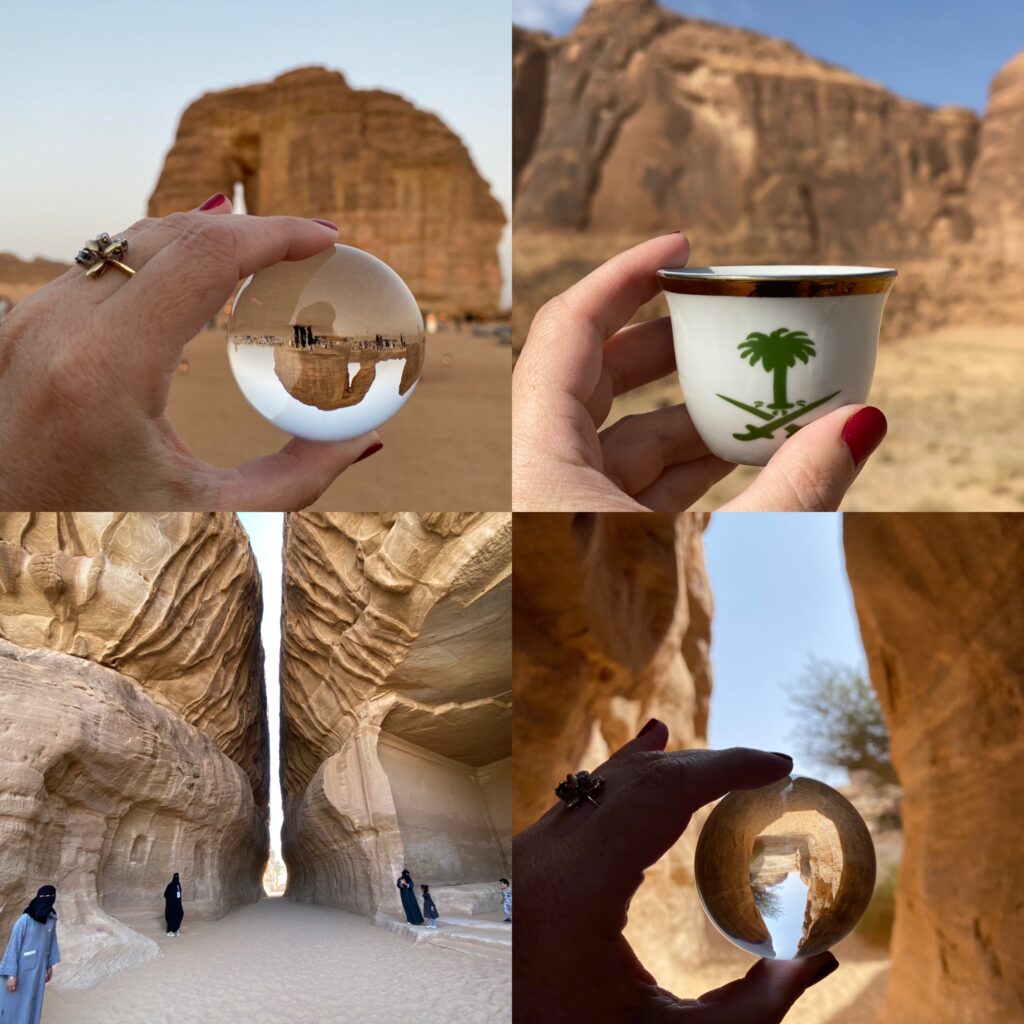 After Mada'in Saleh we headed for Tabuk. What should have been a 3-4hr drive ended up being 6.5hrs after Google maps routed us on a route that was in fact impassable in our Hyundai Kona. This resulted in an absolutely hilarious exchange with 2 Afghani men in traditional outfits who flagged us down to tell us that the road we were on would soon become not a road. Kindness ensued. In Saudi someone will always come to your assistance. Lots and lots of camels on the road so naturally my phone was filled with videos of us calling to the camels as one would call a dog over. Seeing camels never really gets old.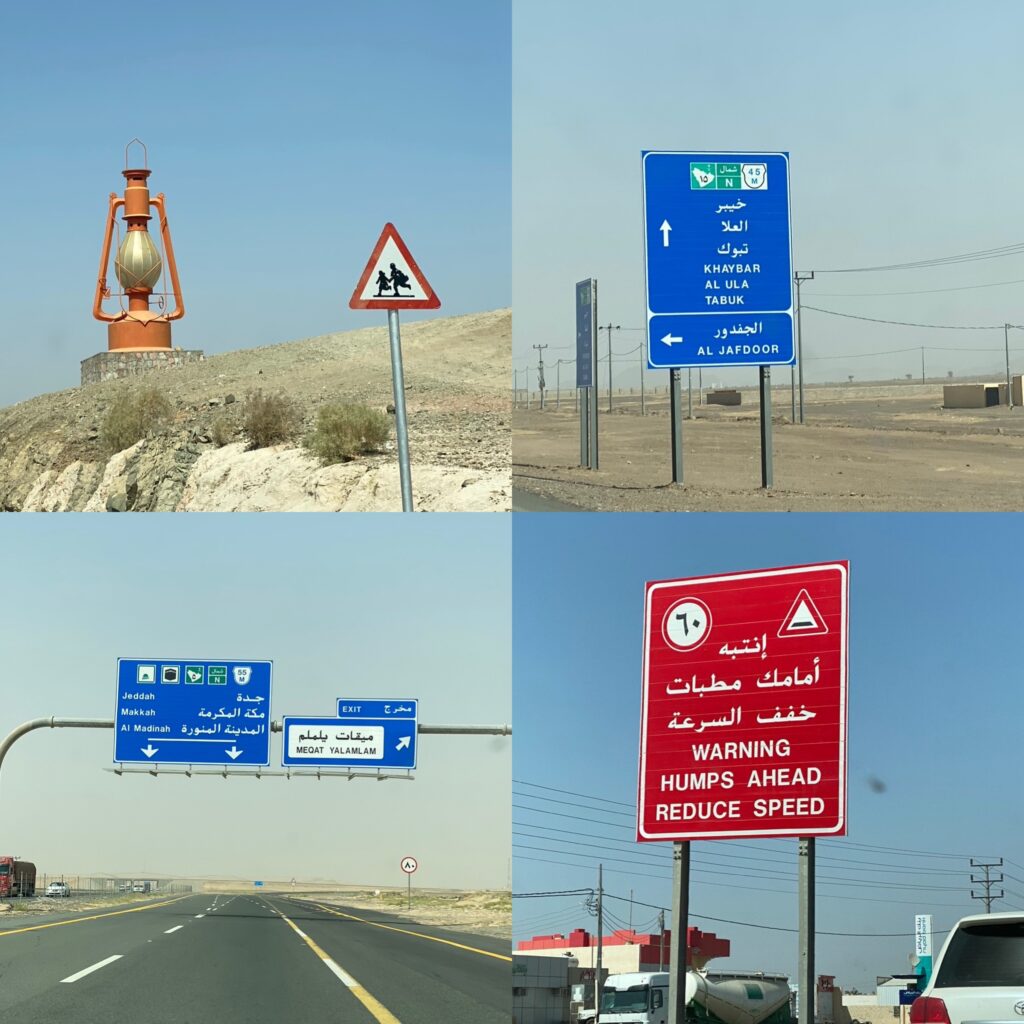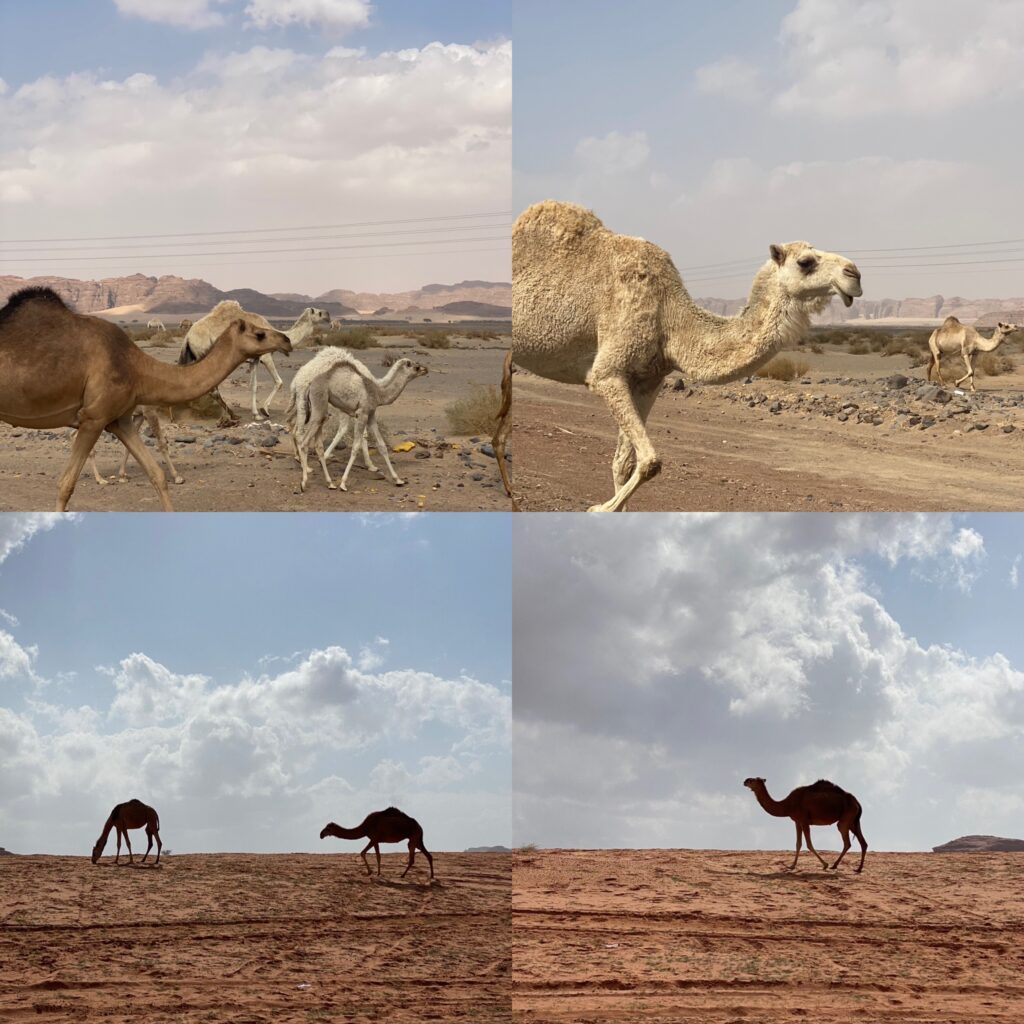 In Tabuk I booked a tour guide to take us on a tour of the province. We started the morning off visiting Tabuk Fort which was build in the mid 1500's, and the attached Hejaz railway museum, and then headed for Wadi Disa (Disah). To say this wadi is stunning would be a massive understatement. It is mars meets Jurassic Park and I would immediately add this to your Saudi travel itinerary. We had a lovely picnic with the canyon walls towering over us and were met by a herd of camels. They just waltzed in and joined our picnic and tried to steal things out of the back of the SUV. It was surreal and terrifying at the same time. This spot is very popular to camp in and we saw many families and groups of men doing so. The other highlight was stopping off to have a chat with some guys at their camp and being invited to have Arabic coffee and dates and taking a ton of photos together. If I haven't made this point before…Saudis are super friendly.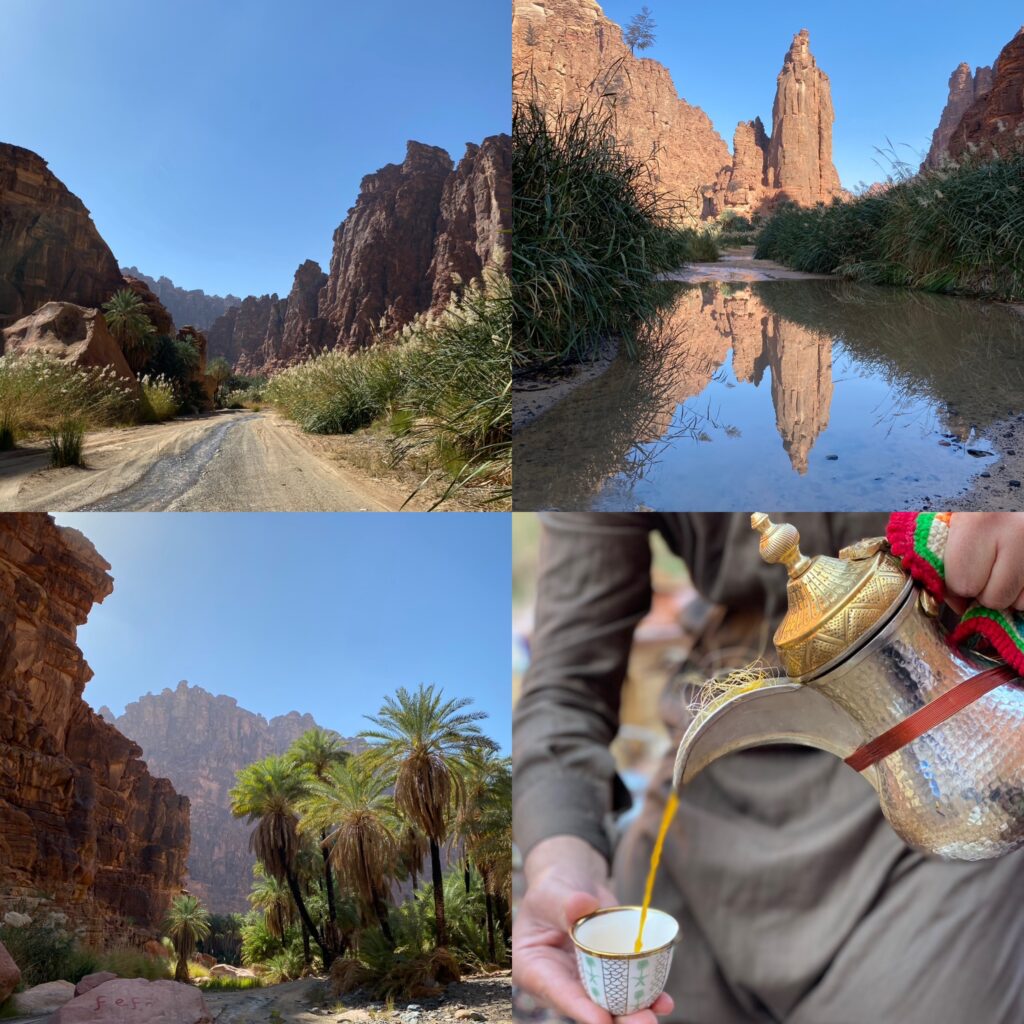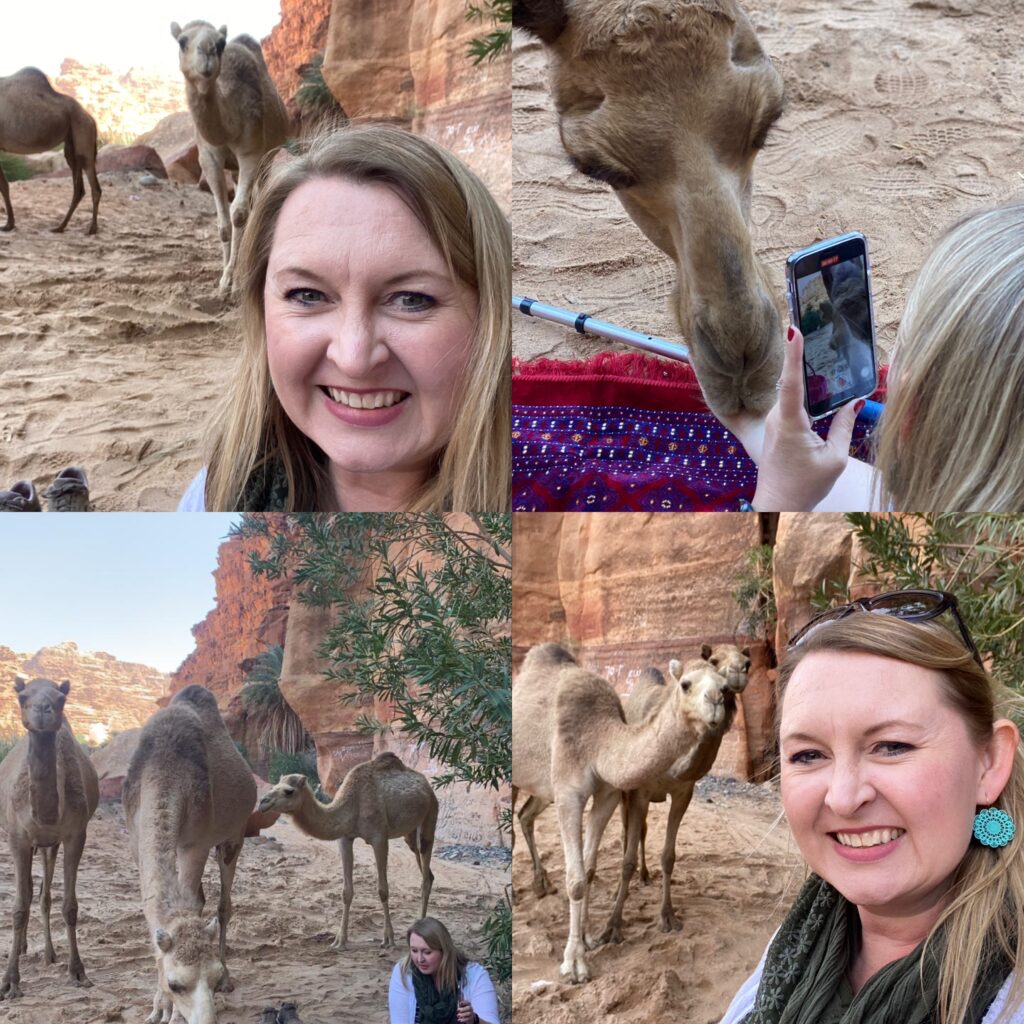 From here we ventured to the western coast of Saudi Arabia. We were on the hunt for 2 wreck sites I'd long seen photos of. About 3hrs from Tabuk on the western most tip of the country is the Catalina seaplane wreck at a place called Ras Alskeikh Hamid. The story is that in 1960 an American (it's always an American) landed his plane on this site….but wait for it….didn't have the proper authorization to do so. The plane was attacked by a group of local Bedouins who believed the plane to be military. The plane was shot some 300 times but the family survived and were taken to Jeddah for an interrogation and later released. The plane has lain there ever since but it is continually deteriorating due to the tide and weather. To get there just google "Catalina Seaplane Wreckage," it's bit off the main road. We made it fine without 4×4 but it wouldn't hurt to have it.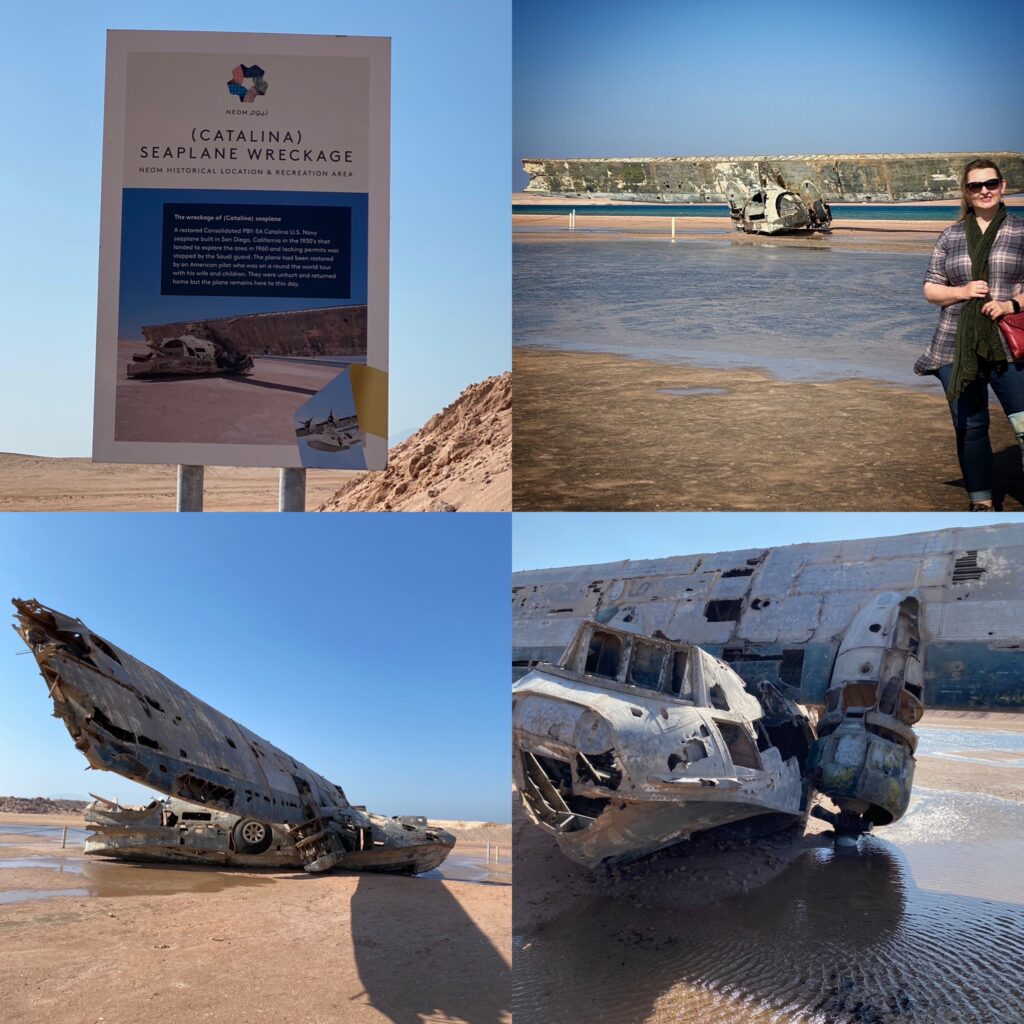 We then visited the town of Al Bad to see the tombs of Magh'ir Shuaib which is also known as the caves of Shuaib, but biblically as Jethro. These tombs are from the same time period as Mada'is Saleh, but not as well preserved. They make a great alternative though as they see far less tourists. There was a tourist office when we visited with signs in English. There were lots of stairs and little shade so I would say good foot wear, a hat, and water are essential. We also packed in a visit to Wadi Tayyib which is a cool spot to get out and stretch your legs. We had hoped to continue north up the coast but the road was closed when we were there. Not sure if it is open now or not. The last highlight of this area was a visit to the Georgios G shipwreck site. It's 30min south of the city of Haql. In the late 1970's it was stranded of the coast of Saudi Arabia and then caught fire which destroyed most of it. It has rested there ever since. Visiting an hour before sunset will give you that perfect golden hour light. You can see across the Gulf of Aqaba to Egypt on a clear day.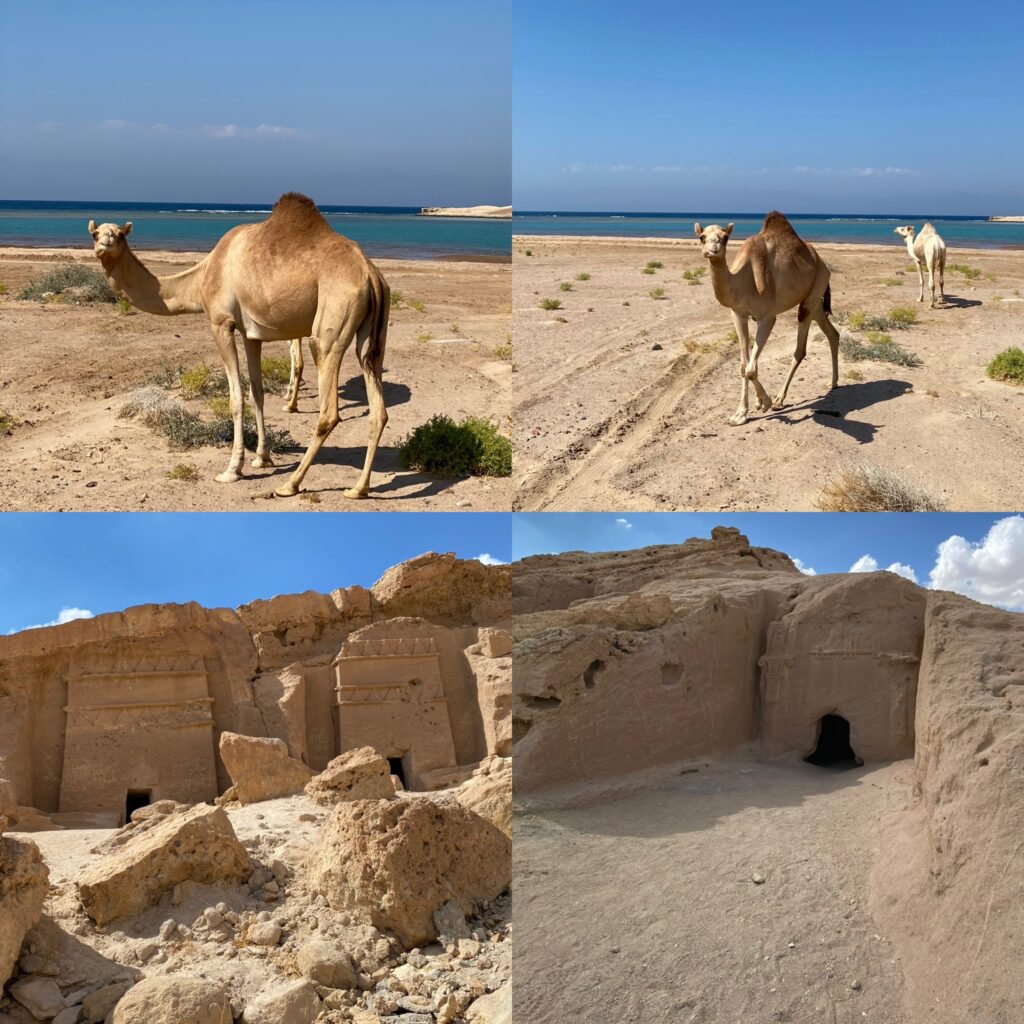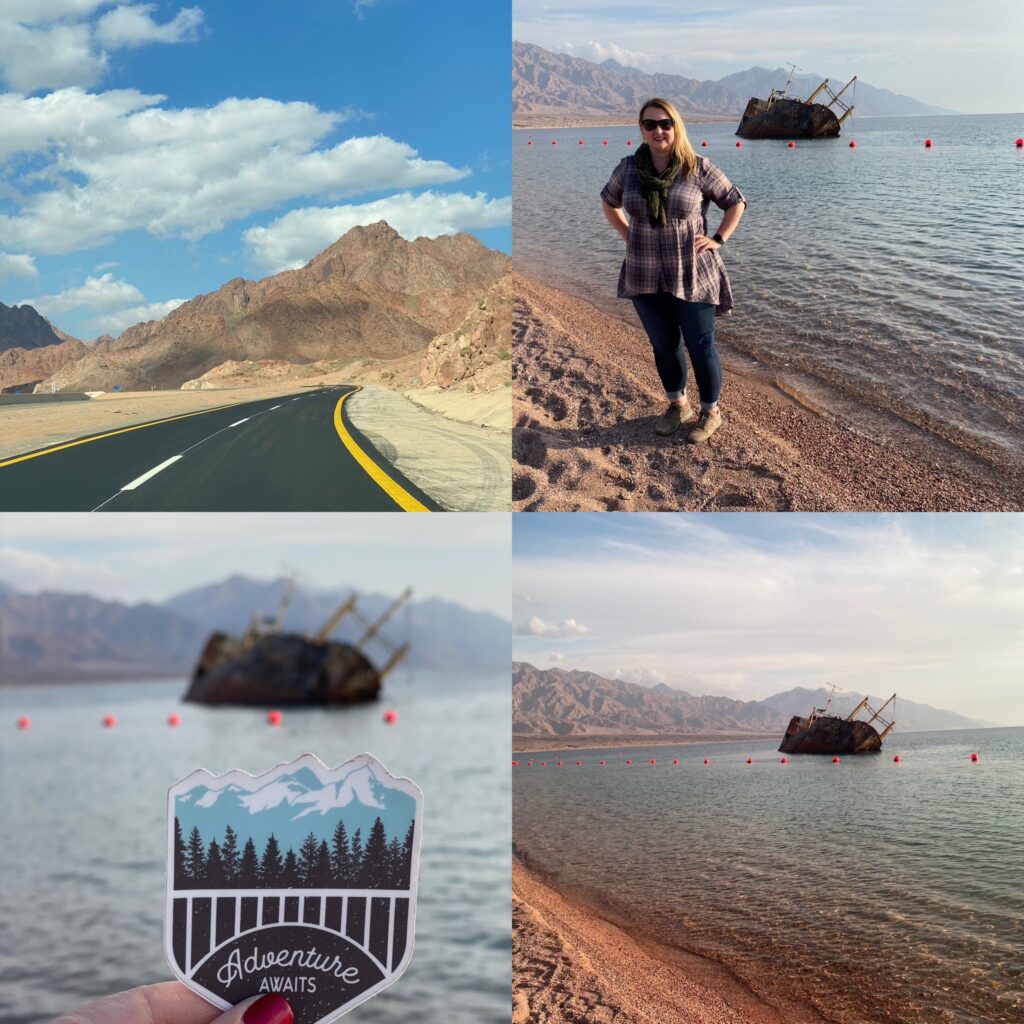 We spend the night in the town of Haql which is about 5km to the border of Jordan. This town has very limited tourist hotels. When we visited in 2020 we were the only tourists staying at the place that we were recommended to stay. Jen and I still laugh about that check-in experience. We were given a room down the hall from the lobby. Directly outside the room the smoke detector was chirping. You know how annoying that noise can be, so we were like "hey could you change the batteries so it stops making that noise?" Oh course this was conveyed with my toddler level Arabic skills and my masters level miming skills. The noise eventually stopped. One of the hotel workers knocked on the door and said "Halas. Mafi Mushkilla," while miming the scissors hand gesture. That basically means "finished, no problem." We looked up to the ceiling to see the wires had been snipped. Problem solved, Saudi style. That will never not be funny.
We then headed back to Jeddah for a night. One of the coolest places we visited was Khuzam Palace. I don't know if it is now open- at the time it was offices but through a contact we were able to get inside. The architecture was super cool- it was built in 1933 and is the place where the agreement to allow oil exploration in the Kingdom was signed. In the event that it is still closed there were great views from the street of the outside so you could do a little drive-by. The other thing you shouldn't miss when visiting Jeddah is the Al Balad area. It dates from the 7th century and is the historical city center. It has UNESCO recognition. It's a mix of old heritage homes from the Hejaz design, (some of which are in completed ruin), mosques and shops. It is a photographers dream with the array of patterns and designs. It is also great people watching. Oh and there are cats. The street cats of Al Balad are infamous. Especially the ones that have one blue eye and one yellow. Lastly, things might have changed since I visited in 2020, but it isn't an area I would've felt comfortable going solo- we received many leering looks that made me feel uncomfortable which was surprising as I always felt safer in Saudi than in most North American cities.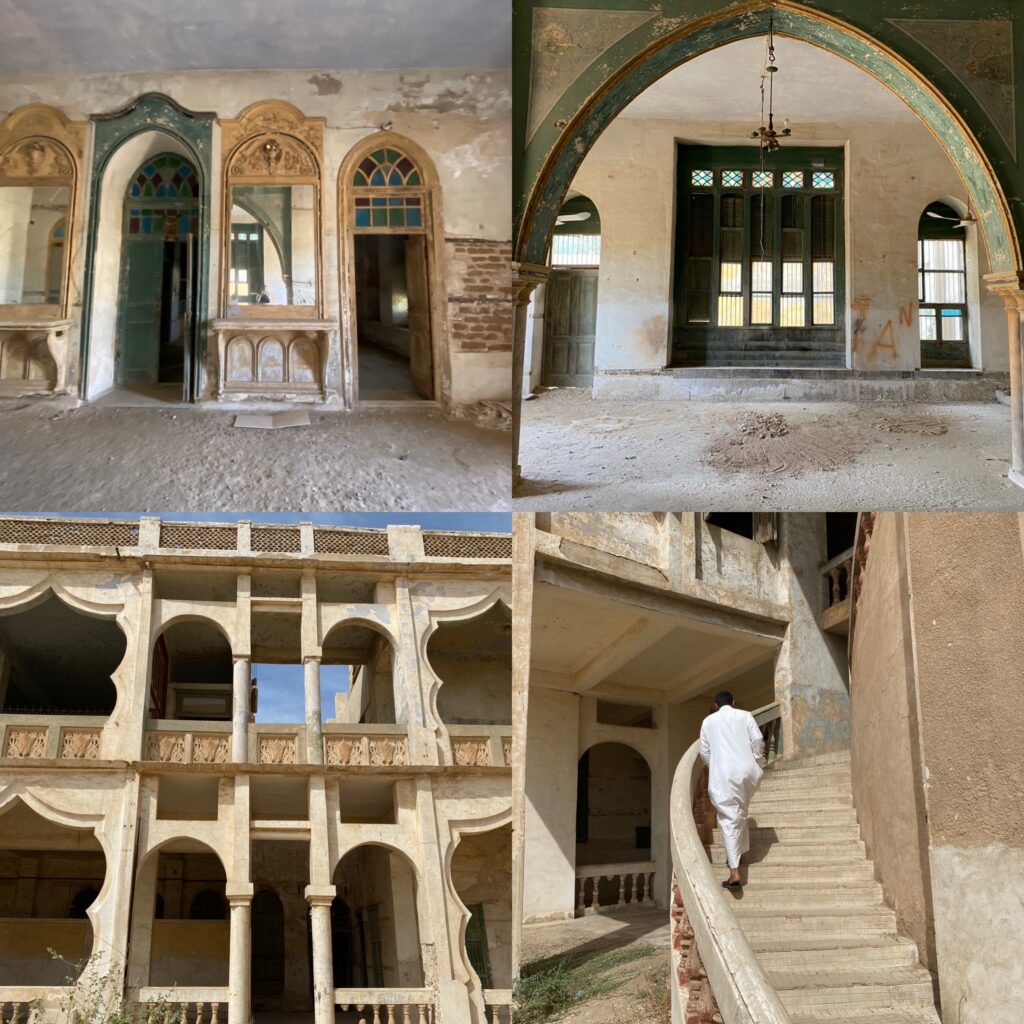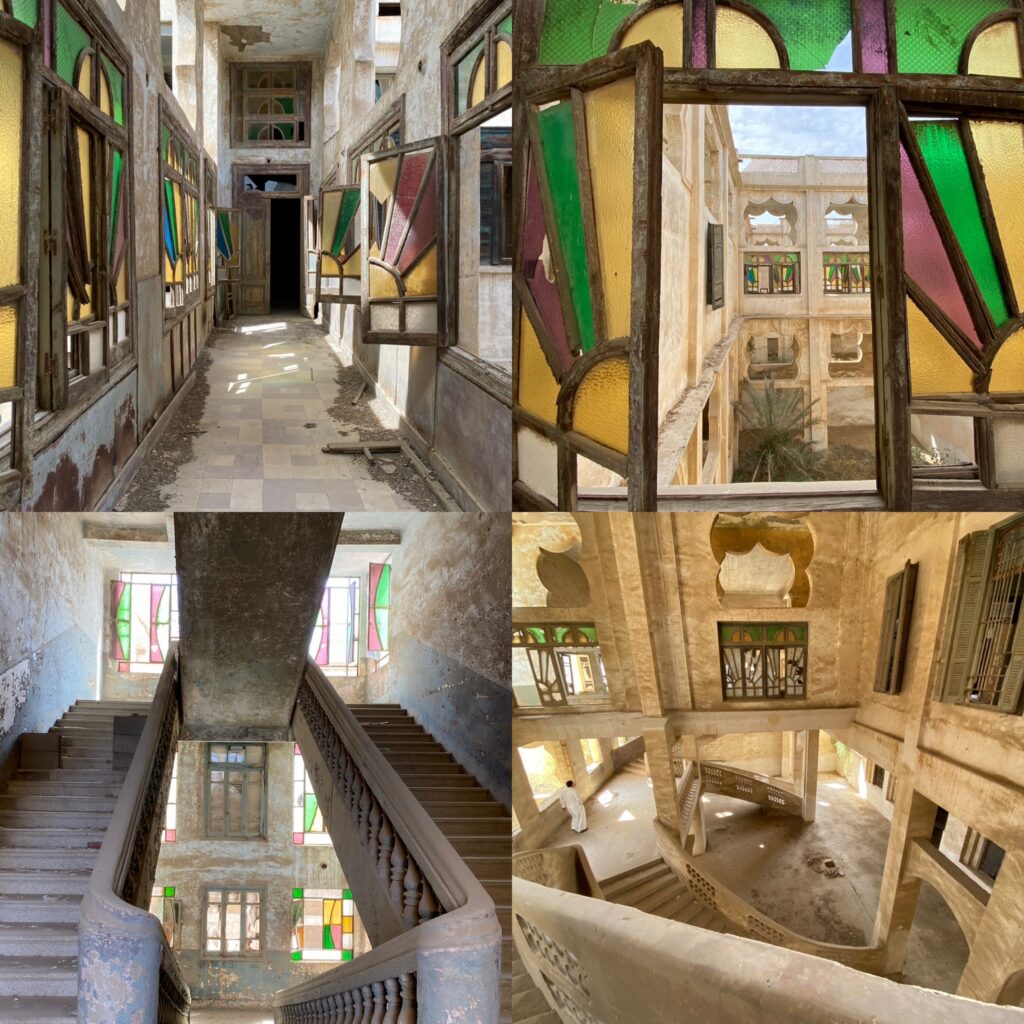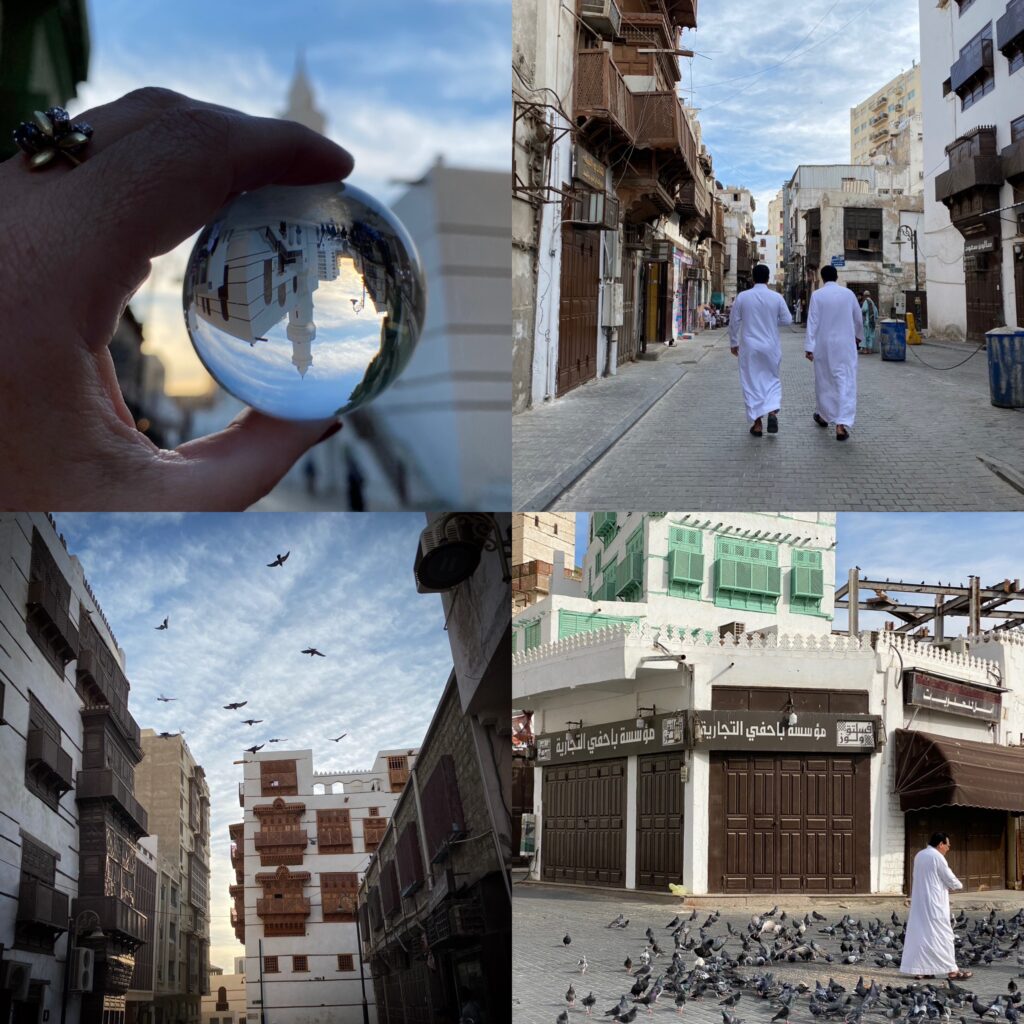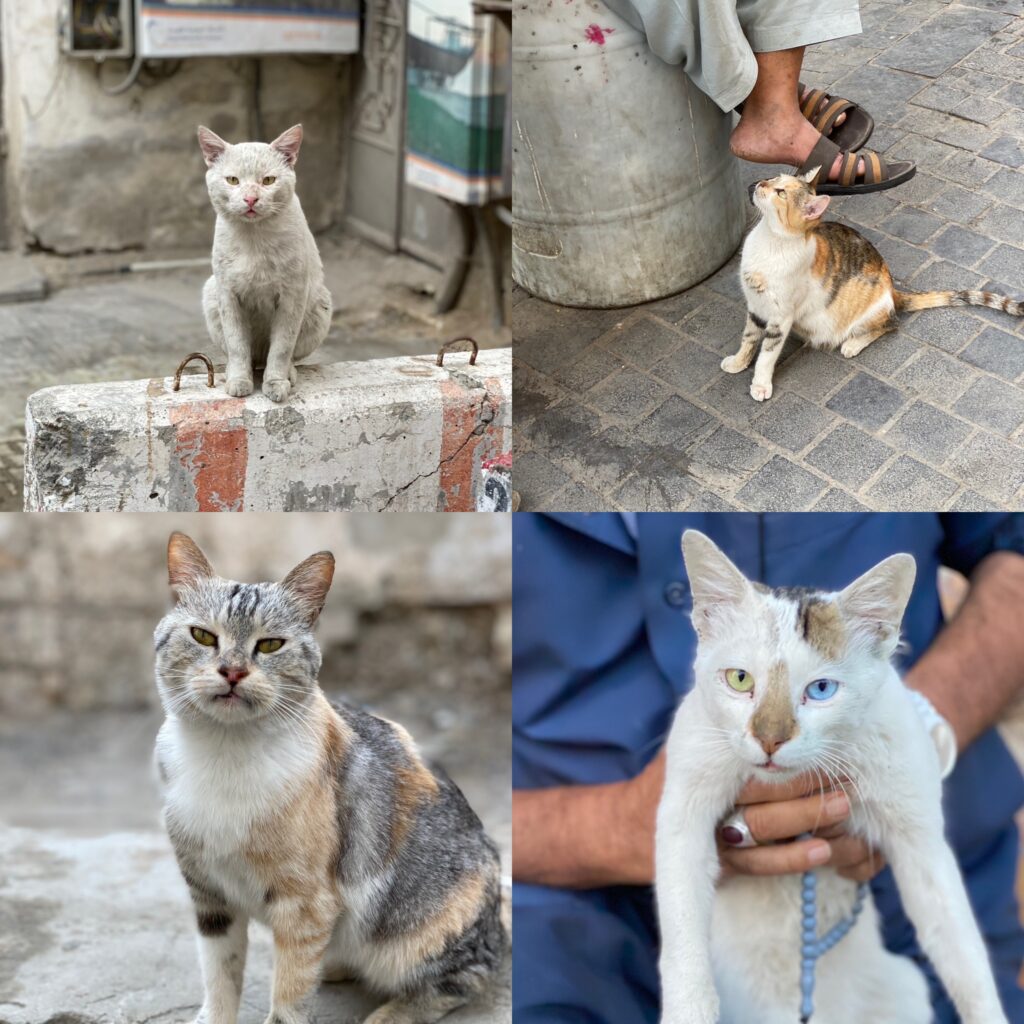 It was then time to return to Riyadh. Word of caution- google maps will route you through Mecca. It doesn't know if you are Muslim or not. There is a separate route to bypass the city for non-believers. I knew of this, but didn't realize google wouldn't take us that way. We missed the bypass, so I stopped at the next checkpoint and waved over a police man who was probably 20 years old. He spoke zero English so I said "shway muskillah brother, mafi Muslim." Which translates to "little problem…." He laughed and said "mafi mushkillah sister" and pointed us to an exit. Phewww. The drive from Jeddah to Riyadh is about 10hrs.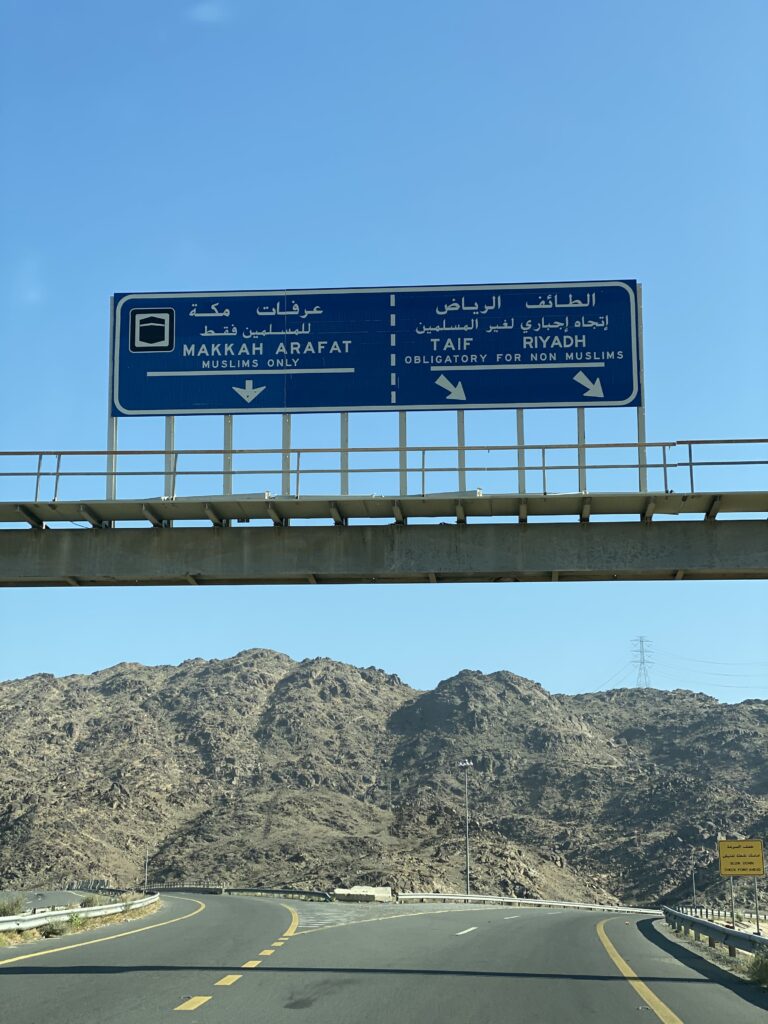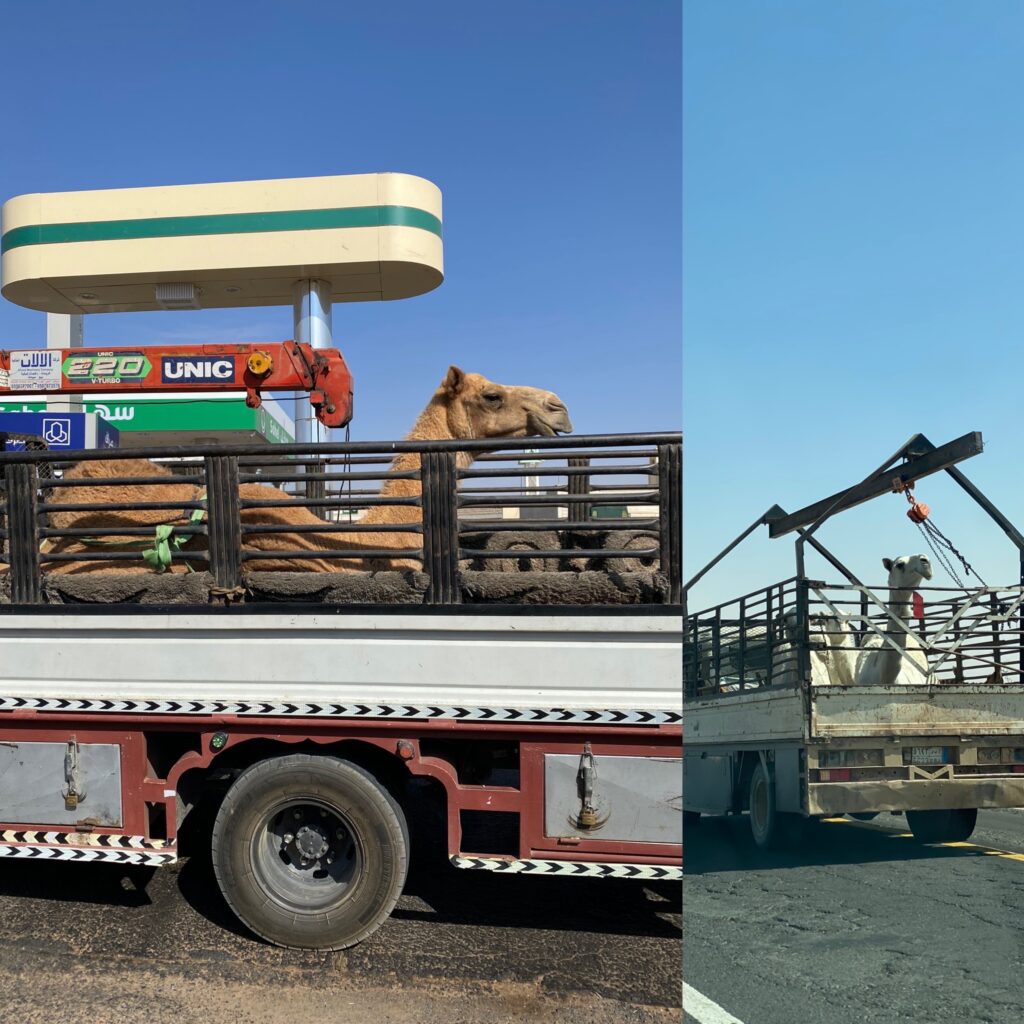 All in all I drove us some 4500km across the country. As anticipated, we had zero problems, although I did wind up getting (one or two) speeding tickets. I would highly recommend a Saudi road trip as a way to truly experience the country.