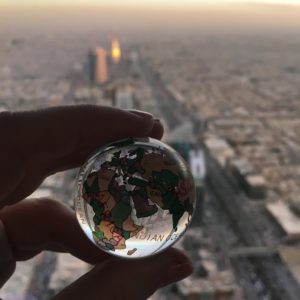 First off I'm sorry. I've been an absolutely terrible blogger as of late. As I mentioned in my last post I've taken on some new responsibilities at work which has affected my schedule- mostly in a positive way, but between work and having a social life there hasn't been much time left over for blogging. With the winter upon us here it means the weather is perfect to be out and about in the day- and the last couple weeks I've been doing some local sightseeing that I wanted to share with you. As many of you know things here in Saudi Arabia are rapidly changing. There is a big push by the new Crown Prince to bring Saudi Arabia into the 21st century, and fast. Mostly, that means opening the country up in terms of women's rights, employment opportunities for Saudis, and tourism. It is planned that tourists visas (although I'm sure on a restricted basis) and women driving will come in 2018. Just this last week it was released that movie theatres will open as early as March 2018. Things are changing. It feels like nearly everyday there is some type of announcement in the news. Enough about that though- lets talk of what I've been exploring here in Riyadh.
If you follow my travels at all you know that I have a love of urban art. One of my favourite parts of travel is stumbling across some artistic graffiti. When I first came to Saudi back in 2010 you would never see this type of thing. Arabic type tagging was common on fences and walls, but actual urban art I can't ever recall seeing. Earlier this year I attended the horse races here and there was a huge painted mural of the first King of Saudi Arabia. That was the first time I had seen art of this type here in the Kingdom. Last week while on Talia street I noticed an entire wall filled with urban art. I immediately made my driver stop and got out to take pictures. As a not especially artsy person I'm jealous of people who can paint and draw. My mom is a water colour artist and she definitely didn't pass those skills down to me. There was a mural of the current King praying, and scene of a man doing his ablutions, and there was a large mural with the Riyadh skyline in the back with a map of Saudi Arabia and some type of reference to the new transit system that is being built all across the city. There was also a lot of Arabic writing that I have no idea what it says, but it looked cool nonetheless.
Last week Kiwi and I embarked on a expedition to visit Salaam Park a huge park with a man-made lake that you can pedal boat on and a local date market. Typical to any adventure in Saudi it did not go quite as planned. For example opening hours here an a mere suggestion. Online the park is listed as opening at 1pm. Yeah, I know it's weird that a park wouldn't just be open all day every day…..but hey, this is Saudi. So a little before 2pm we rock up to the park. Hmmmm- there are like zero other cars in the parking lot. We walk up to the ticket booth- yes ticket booth. It costs 5 riyals to get in (that's like US$1.25). Sign above the ticket both states the opening hours as being……you guessed it 1pm. But really it opens at 3pm. So in the mean time we attempted to visit the large date market and nearby vegetable market to take some photos. Except that google maps instead directed us to a date store- same, same but different. So that was fail numero 2 of the day. So back to the park we went. By this time it was open. We strolled along the path that loops the lake. It's lined with popcorn stalls, and stalls selling trinkets and like a hundred stay cats. Kiwi was in heaven because she calls cats "her people" so she was feeding them food and I was watching the ruckus that ensued.
There is a large fountain in the middle of the lake and plenty of grass spots to lay out a picnic. I would say to go early or go during the week as I'm sure it turns into a packed frenzy on the weekends. Saudis tend to not use garbage cans to dispose of their things- they are more inclined to just leave things on the ground where they fall so the grass was intermittently littered with trash. Apparently after 4pm there are boat tours on the lake. It should be noted that this is not a huge lake- so likely the boat tour is like 5min tops. There are roped off areas to pedal boat in. One for men and a teeny tiny one for the ladies. On our way back to meet our driver Kiwi grabbed my arm and squealed "you aren't going to believe this." I turned my head in the direction she was pointing and there was the best thing I've ever seen in my time in Saudi. Behind a chain link fence was what appeared to be a deflated mechanical bull. Yeah. Let that soak in. Somewhere in a park in Riyadh Saudi Arabia sits a mechanical bull. Now naturally, it wasn't open when we were there, and I'm quite certain adult women are not meant to ride it. But mark my words- ride that bull one day I will. I've just added it to my Saudi bucket list. It's currently activity #16, obviously not by order of importance.
So after we had walked the park we had our driver take us the Kingdom Tower as we wanted the visit the Skywalk. I'd been up there several years ago, but never at sunset- so our driver weaved in and out of traffic to get us there before the sun set. Kingdom Tower is probably Saudi Arabia's most iconic building (after the Holy Kaaba in Mecca.) The tower faces north/south not east to west so you don't really get amazing views of the actual sunset, but as the sun sets the reflecting light in the sky is pretty spectacular. Kiwi and I took tons of pictures and once it was dark we made our way back down and headed to a nearby restaurant I'd been wanting to try.
A while back I'd seen an add pop up on my Facebook feed for this place called Serafina (sometimes having google invade your privacy can turn into a positive thing.) In the add there was a video of some pasta dish that is prepared in a wheel of cheese. I'll just let that sink in for a minute. Pasta. Wheel of Cheese. So Kiwi and I go and that's the only thing I'm planning to order- except it's not on the menu. So I ask the waiter and he's like- "mam, we have. Is special dish. For 2-3 people." And Kiwi and I are like "challenge accepted!" So the meal comes and it's wheeled over on a cart. On one side of the cart is an enormous cheese wheel and the other side is like a hot plate with a pan full of pasta in a cream sauce. And the guy takes a knife and breaks up some of the cheese on the inside of the cheese wheel and then pours the hot pasta in and stirs it around. And it was the best. I mean how could pasta swirled in a cheese wheel not be anything short of delicious right?! So for my Riyadh readers if you haven't been you should definitely go and gain about 5lbs from cheese and pasta. I highly recommend it.
So that's a little bit about what I've been up to. I also went desert diamond hunting with some friends last week which I will tell you more about in an upcoming post. For those of you celebrating the holidays I'm wishing you a very Merry Christmas and an upcoming year full of adventure. xoxo