On our 6th day in Cyprus we left the comfort of the lovely flat we rented in Limassol and headed towards the town of Lemona. The day was cool, dark, and rainy, but we wanted to visit a winery we had read about. Tsangarides winery is just off the main road at Limona. We called ahead to make sure they were open as February is considered the off-season in Cyprus and some things are closed. Thankfully, this winery was!! Back home my family lives in a major wine region in Canada, and this winery reminded me of being home. It's a smaller winery, but the tasting room is beautifully crafted with the tables and chairs designed out of wine barrels. We sampled quite a few (well rather I did as my Kiwi travel partner was in charge of the driving.) We bought a bottle of the Red and the Rose for our consumption later. From here we stopped off at an abandoned village not far from Lemona. As we pulled up it started to rain really hard, which only added to the eeriness. The village became abandoned after an earthquake in 1969. There are several toppled homes in the area, some roaming goats, and an abandoned church which appears unscathed from the outside.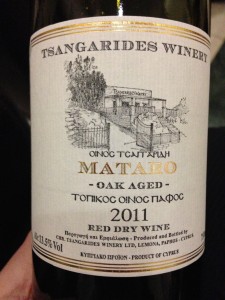 After getting completely drenched and trying to not ruin my camera while taking photos of the ghost town we stopped off at Chrysorroyiatissa Monastery which had a sign out front warning of not entering if scantily dressed. We found it a little too hilarious as we basically looked like soaked cats in our rain gear and couldn't have been further from being scantily dressed. The monastery itself is pretty plain as compared to Kykkos monastery. With no sign of the rain letting up, we headed in search of food. We read about a restaurant called Maria's Place in Fyti in my Lonely Planet guidebook, and it was on our way to Paphos. Maria's place is in the center of the village and we found it full of locals looking to stay dry in the rain and 3 ex-pat olderish Brits looking to spend the afternoon getting drunk (and they were well on their way!) Maria was nowhere to be found but someone called her and she arrived and served us delicious pork roast and hot tea. She was lovely, and her home cooking skills are legit.
We then drove onwards towards Paphos. Paphos is about 50km west of Limassol. It's a coastal town with a beautiful harbour, a castle, and several archeological ruins. In fact, the entire city of Paphos is classified as a UNESCO site. We checked into a middle range hotel that primarily serves as a long term hotel for British and Russian tourists. We were very young compared to the 50 shades of grey hair on the other hotel guests, and as an added bonus our mattresses had plastic covers that crinkled every time one of us turned over. These "incontinence pads" as we called them provided endless jokes for our time in Paphos and led to much speculation between me and my kiwi mate over breakfast as to which hotel guests they had saved the night for. I never claimed to be very mature..
One of the really cool things you should see in Paphos is the Tombs of the Kings. It's a large site with underground tombs dating from the 4th century BC. I loved it, and the coastal views are beautiful. As I've already mentioned the weather never really cooperated with us most of the time we were in Cyprus, but this day the rain was kept at bay even though the sky looked really dark and stormy which made for very dramatic photos. Have I mentioned yet how much photography is a huge part of travel for me? It's my only real artistic form of expression and I love the way the world looks thru the lens of a camera. The Tombs of Kings is a photographers dream site.
Paphos also has a great harbour area with a promenade with cafes and shops lined up. There is also a castle on one end of the harbour with great rooftop views of the stormy sea. We spend an afternoon drinking  wine and later coffee watching the choppiness of the sea. Later in the evening we visited the recommended Kiniras Garden restaurant. They serve traditional Cypriotic food and the owner Georgios was our server that night. We ordered based off his recommendations and the food and wine were very food. Well worth a visit. From Paphos we traveled to Nicosia.
Feel free to follow me on Instagram!