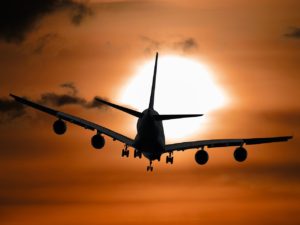 The following post is a guest post from Alex over at Currency UK. They are a UK based company that specializes in foreign exchange and international payments for my UK readers, but they also have some great resources for anyone wanting to become an expat or considering making a move abroad.
How's the checklist going? Got everything packed, tickets booked? It can seem like moving abroad is just one long list of things to be checked off, but there are certain services that no expat should ever be without. We've compiled the top five essential services, so check you've got these covered before taking that first step onto the plane!
Expat app
Once upon a time, becoming an expat involved a huge amount of logistics & paper work. But thanks to the internet, smart phones and tablets, traveling abroad is becoming easier to research & follow through with and there's now a large number of helpful apps that can help you adjust to life abroad.
Learn the language – Apps like Duolingo have a range of languages to choose from and activities to help you get to grips with basic words, phrases and useful sentences of your host country.
Hear what other travellers think – Community apps such as Trip Advisor can suggest the best places to eat, stay and visit in your country to help you get a bit more acquainted.
Stay healthy – One of the most important things about living abroad is having access to healthcare. Doctoralia is one the apps that allow you to locate the nearest pharmacy or surgery to your location.
Legal advice
Moving abroad invariably involves a lot of legal processes, therefore It's important to understand both the processes in your home country and the country you're moving to. Some of the big legal issues that need to covered include:
Tax – it is essential to research tax requirements in your new home country as well as tie up proceedings in your previous one before you leave. A tax lawyer or solicitor may be the best bet.
Will – Many retirees choose the expat life, therefore it is important to get a will and corresponding legalities sorted out before you leave.
Pensions/Income – If your pension will be paid from abroad, it is essential to arrange regular payments with your pension provider in your new currency – lest you be without income.
Documentation covering your new house – it is extremely important to ensure all paperwork regarding your new property is accounted for.
Currency exchange rates – You may need to transfer cash to friends or relatives abroad, which is why you will need a decent foreign exchange broker with low rates & fees.
When in doubt, always consult a lawyer or professional who is not linked to an estate agent and speaks English (and preferably the language of the country you're moving to). You can find a helpful list of English speaking lawyers abroad on GOV.uk.
Health insurance
If you're moving abroad permanently, you won't be entitled to healthcare on the NHS. This means that finding a good health insurance plan should be near the top of your to-do list. Make sure to check out the healthcare available in your new country. Remember also to include a healthcare budget in your financial plan; your health is one area where you don't want to skimp on! GOV.uk has a country guide list for British nationals living abroad, and NHS Choices have a country guide both for countries in and out of the European Economic Area.
As well as finding great health insurers, do your research prior to moving countries:
Are there any local illnesses or health warnings near the are you're moving to?
Do you need injections?
Have you got copies of your medical records?
Start researching sooner rather than later. You don't want to get caught with a stomach bug with no healthcare plan in place!
Moving companies
There's a lot to take with you abroad. Even if you're going with a minimum amount of furniture and clothes, it's important to have an organised plan about when how and where your luggage is getting to your new country! Have a look around before deciding on a moving company. Ask friends for recommendations, check out customer reviews for each company, and ask for a price estimation before booking a company.
Also consider hiring help for other aspects of your move. It can be less stressful to simply book a car to drive you to and from the airport on the big day, so you can focus on checking you've got everything you need. You might even be able to catch a cheeky nap on your way to conserve your energy!
Expat community
Moving abroad is a big experience, and at first it can seem overwhelming. Don't be afraid of reaching out to fellow expats – there's no shame in wanting to hear a familiar language or share the expat blues with someone who knows what it feels like!
There might be a local expat community in your local area, but even if there isn't, there are plenty of online forums and publications where you can get in touch and share your experiences.
But also remember, your new community doesn't just have to be made up of other expats! Part of the experience of moving abroad is integrating into a new culture. Join a club, take a class, or simply take the local transport; you'd be surprised how easy it is to meet new people just by getting out and about.
Conclusion
Remember that although there are plenty of things to worry about when moving abroad, there are certain things that you can't do without. If you've got the most important bases covered, like health, finances, and emotional support, moving abroad and settling into your new life won't seem quite so huge.
For those of you who are expats what other services did you find helpful?