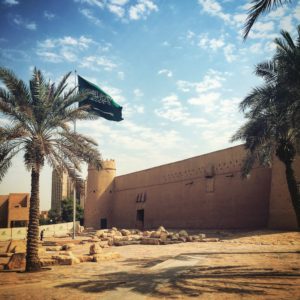 Masmak Fort or Al-Masmak as it is known in Arabic is one of Riyadh's top tourist attractions. Oddly, I hadn't heard of it until recently, but as my time here in Saudi is wrapping up I'm trying to pack in a bunch of things in the event that I don't come back. One of them was touring this old fort which is located in the center of Riyadh in Dirah souk area so it's very easy to find. Earlier this week I set off to explore it with a friend of mine. My driver had never heard of the fort, but once I told him it was the museum in Dirah he immediately knew what I was talking about.
Masmak Fort was built in  the later part of the 1800s. The fort itself was built out of clay, hay and mud. Bits of hay are visible throughout the inside of the fort. The outside walls are very thick and there are four 18ft high watchtowers which give it a very striking appearance. The clay/hay/mud walls are meant to act as insulation from the cold and heat, but honestly the parts of the fort that weren't air conditioned were unbearably hot- it was hard to imagine trying to sleep in those rooms in the summer months. There is significant history behind this fort. It was built under the reign of a man named Mohammed ibn Abdullah ibn Rasheed who previously took control of the city from the Al Saud clan. In 1902 the fort was recaptured by a young prince who had been living in exile in Kuwait named Abdulaziz bin Abdul Rahman bin Faisal Al Saud. (It should be noted that many Saudi names are like this basically so and so of so and so's father and grandfather.) Anyways this young prince would go on to become King Abdulaziz (also known as Ibn Saud the founder of Saudi Arabia) and would reign until his death in 1953. He reportedly fathered 45 sons, and all Saudi Kings since have have been his sons. Masmuk Fort was used by King Abdulaziz until 1938 when the royal court was moved to the nearby Murabba Palace.
As you pull up the fort is quite an impressive sight- the courtyard area out front with the towering palm trees and the enormous Saudi Arabian flag make a great photo with the fort in the back drop. There was only one other Saudi family visiting the fort while we were there, and the security guard and one of the Saudi staff members that worked there were very excited to see 2 western girls. In fact they untied a roped off area and let us in to explore and take photos. Sadly, when we left I was unable to convince the security guard to let us up to the restricted rooftop area of the fort, but I give myself an A+ for effort. The inside of the fort is a museum on the history of the third Saudi state during the period before and after Riyadh was conquered by Ibn Saud. The highlights for me were the beautifully painted traditional Arabic doors found throughout the fort, the array of old photos showing what Riyadh looked like in the ealry/mid 1900's, and the maps and the display cases of weapons and traditional male clothing from that time period.
After exploring the fort we drove thru the narrow streets of the Dirah area. I had seen crumbling old mud houses on previous trips to that area of the city and wanted to get a closer look. My driver took us to a more run down area of the city- he was happy to drive us around, but not keen to let us out of the vehicle and made a point of locking the doors incase someone might try and accost us. Luckily, this did not happen. We did get to see how the other half lives in Riyadh. We drove thru very dilapidated areas with houses falling apart, and fully covered women sitting on the corners chatting. There were couches outside of many houses which I found confusing as to why they had been disposed of there, until my friend mentioned that the residents probably sat on them in the evening when the temperatures were cooler. From here we  headed back to the crumbling mud houses-they are uninhabitable and used mostly as a dumping site. The area is fenced off and difficult to get into- I'm unclear as to whether they are completely demolishing them as the only entrance we could find was roped off with a guard out front. I still was keen to explore so I jumped out of the car and asked the guard if I could take some photos. He appeared unfazed. Like literally everyday a western woman shows up and asks if she can go in and take a look. He actually followed me in curiousity about what it was that I was taking photos of. When I left he excitedly asked me "Italian?? Italy." And I laughed to myself and said "no. Canada." And he gave me the thumbs up sign which made me laugh some more. So that was our morning of adventure.
The fort is open daily, however; the times vary and there are separate times for women and families. As best as I can tell its open 8am-12pm and then again from 4pm till 10pm. It may be closed on Friday but I've read varying reports about that. We went at 9am on a Sunday and it was open. It's free to visit. There's also a cute gift store with traditional Arabic jewelry, household items and antiques. Well worth a look!
And don't forget you can follow me on Facebook here, Twitter here and Instagram here……..