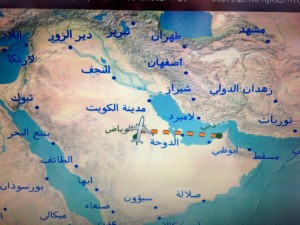 Last month I spent 2 nights in Dubai prior to traveling to the Maldives, and 3 nights there on my way back to Riyadh. Dubai is awesome. To be fair, most places feel awesome after being confined in Saudi after any length of time, but I suspect had I visited from somewhere else I would've still loved it. Dubai is a booming city, with construction taking place everywhere you look. It is consumerism at it's best and worst. It is completely man-made, there is nothing natural about it. Those are probably it's biggest faults. Compared to Saudi it's a taste of freedom. There is alcohol and bars to visit. Women can, and do drive. There are movie theatres, and women can try on clothing when shopping. What a revelation! And here's the best part for all you Canadians out there…….there are Tim Horton's all over the place. Literally everywhere, and it's exactly the same as back home. In fact, that may be my favourite thing about being in Dubai was that it felt so dang familiar to me. It was like a trip back to Canada and the US all rolled into one. So many of my favourite shops and restaurants, places that we just don't have in Riyadh.
I'm not a huge shopper. In fact, normally when it comes to shopping I'm a get in and get out kinda gal. Usually after about an hour at the mall my eyes glaze over and I'm eying up the exits. You can imagine my surprise then that we spent the vast majority of our time at Dubai Mall. Mostly shopping. I know. We also saw a couple movies, and paid extra to watch Furious 7, VIP style. What's VIP style you might ask? Well basically you get a reclining lazyboy chair with a blanket and a pillow and a waitress comes to you and takes your order. It's pretty awesome. But don't get too excited- booze are not available at the movies. Dubai I think you should look into this.
Besides being delighted by Dubai Mall we did the obligatory touristy things like having High Tea at the Burj Al Arab in the Jumeirah area. It was pricey, but lovely. Don't make the same mistake as we did- arrive early as that's your best change for getting a window seat with the best views. We were a little tardy, so missed out on this. By pricey, I mean it will cost you 620UAE ($170US). Yep I know it's a little absurd. But I feel like it's a you only live once kinda thing so we went. The service as you would expect was impeccable. Ours started out with stuffed dates and a strawberry pastry paired with a glass of Brut Champagne. This was followed by a tray of teeny tiny sandwiches, followed by a towering tray of pastries. It was very nice. The best part is that you get unlimited non-alcoholic drinks. Bottled water, soda, fresh fruit juices, any type of coffee, and a huge assortment of tea. The mint and the rose bud tea were my favourites. Then there is the view. The High Tea is held in the Skyview Bar on the top floor of the Burj. You have views of the Dubai skyline, as well as the Atlantis and The Palms, and the beach area below. It wasn't a very clear day the afternoon we were there, but it was still impressive. High Tea is from 4pm-6pm, so you get to see the sunset. After tea we wandered around the over-the-top lobby of the Burj and took the obligatory tourist photos.
We spent a night out at a roof-top hookah bar called iKandy at the Shangri-La Hotel. It was far too trendy for us, so we took the party somewhere more our style and went to the Irish Village for the later part of an evening. The Irish Village is relaxed with tons of outdoor seating. Well worth the visit. The best thing we did though, was go to Friday brunch at Feast. It's Dubai's newest brunch place so be sure to make reservations if you go! It's at the Sheraton Grand Hotel, and offers 3 different brunch options depending on if you want alcohol, and what type of alcohol you want. Naturally, we opted for the Moet champagne package which included any of the alcohol they serve and as much of it as you can consume. It will set you back 495UAE ($135US) and trust me, this is the first brunch I've ever been to that I feel I got my money's worth. Service was on-point. We quickly informed our servers that we lived in Saudi Arabia and that based on that fact our glasses should never be empty. We normally had at least 3 glasses of some sort of alcohol topped up for our sipping pleasure. Now I know what you're thinking……mixing alcohol is a recipe for disaster. And, you'd be dead right. But at the time, this was of little concern to me. The food is amazing. Fresh oysters. Fresh sushi station. Some lamb thingy that comes with23 types of garnishes. To be honest that's all I remember trying, and there was a ton of other stations where they cooked everything up in front of you. They also paired wine with whatever food you were trying. I was basically in a food and wine heaven. I was also the most day-drunk I have been in recent history, and any plans for doing anything else that day were thwarted by the worst hangover I can remember in recent history. You win some, you lose some…..
So that's Dubai. I have no doubt that I will return, in fact am already planning to do so in July. It's such a lovely weekend break from Saudi, and feels like a little bit of normalcy. And obviously, I have unfinished business with Friday brunch at Feast, although hopefully this time I will learn from last time and go with the more food/less drink game plan!!! Next up………The Maldives………