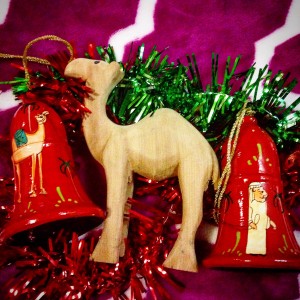 This year Christmas was a weird one. Normally I'm super jazzed about Christmas. It's always been my favourite holiday. This might have to do with the fact that I'm a December baby also. I mean if Jesus and I share the same birthday month I'm pretty sure that's reason enough to be excited. Except, I wasn't this year. I'm sure it had something to do with the fact that I was home earlier in the month and celebrated with friends and family then. I spent American Thanksgiving with my best friends extended family and let's be honest, American Thanksgiving feels a whole lot like Christmas to me. There's booze and turkey and everyone is in good spirits. Then I flew to Germany and visited the Christmas Market in Frankfurt. So it's no wonder that by the time I got back to Saudi Arabia it felt like the holiday was over.
I was supposed to spend Christmas in Dubai. Supposed to, because as with many things in Saudi we were thrown a curve ball. I have blogged about the numerous absurd paperwork nightmares involved with living in Saudi. This one affected my Kiwi travel mate and so we were inadvertently grounded. Basically, to make a long long story short, to work as a nurse in Saudi you have to have this thing called Saudi Health Council which means they have checked your credentialing and you are actually a registered nurse in your home country. You then get a card which means you can work here- but really you're actually working off your nursing license in your home country, but that's another story. So anyways, she applied for this thing when we first arrived 15 months ago. Yep 15. MONTHS. So she never got the card. Instead she got a paper copy of the registration which is pretty much good to use as toilet paper because it's meaningless with out the card. So she's been to the office to request said card like a hundred times and the answer is always "inshallah this week." (Because they only go to the main office where the cards are once a week). Or, "we have requested another card." "Or come back tomorrow inshallah." As a side note it's a Christmas miracle no one was murdered in the making of this tale. So anyways said card never bloody shows up. Which would only just be annoying except that we had this trip to Dubai planned. And she needed to apply for a travel visa so we could leave the country. And to go to Dubai requires that you bring your passport and your Igama (Saudi residency card). And your Igama must be good for 3 months. Which hers wasn't, so she needed to renew it before they would issue the travel visa. And to renew your Igama you need………drumroll………yep! You need your Saudi Health Council card. Shit. Double shit.
So the week before she went to the main office and was able to get something that would suffice and rushed back to the hospital to apply for her Igama, and they "rush" processed it. By rush I mean it actually took longer to come back then if they hadn't "rushed" it. Of course. So like 2 days before we were supposed to go we pulled the plug on it because we knew we  would be more mad to have to cancel it the day before and we re-booked for February. Thankfully, we had other plans and were invited to parties on both Christmas Eve and Christmas Day so it wasn't a total wash. Although it was super annoying.  I've said it before and I'll say it again "Saudi is one huge lesson in patience."
So stay in Saudi we did. And then a few other things happened leading up to Christmas. My brother's girlfriend's Dad was involved in an awful accident and is in the ICU. My Dad went to Mexico to spend the holidays with my aunt and ended up getting sick. And then my Opa passed away Christmas Eve. It's so difficult being in Saudi when things are happening back home and the people you care about are sick, or having a difficult time. My Opa (Grandfather in German) was old, and I didn't really have much of a relationship with him or my Oma. In fact, I can't actually remember the last time I saw them. They always lived on the other side of the country and never really visited us. We would chat on the phone on birthdays or the major holidays and I would send postcards from my many trips. Then a few years ago they were moved to a nursing home as their minds and bodies started to fail. My Opa's body more than mind and the opposite for my Oma. Last week he started to decline and my mom flew out to be there with him. And my heart aches for her. It's never easy to be present with someone in their last moments. To see them struggle for breaths. To hear the noises they make. To resist every urge in you that makes you want to run away and instead be present. To not flee. To bear witness to a life that is transitioning. It's a huge honour to be with someone as they take their final breath, but also an emotional burden. It's hard enough to do this, let alone when you are alone on Christmas Eve. Mom- I'm so very proud of you and thankful that you were there with him. That his hands were one of the first you would feel at the beginning of your life, and your hand was the last one he held as his ended. It's a true testament to your courage and kindness.
So, Happy Holidays and a late Merry Christmas.