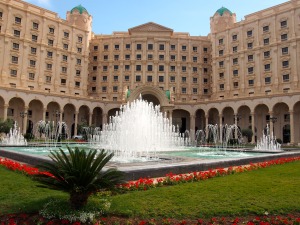 This past weekend I had the chance to go to Friday brunch at the Ritz Carlton. Friday and Saturday are considered the weekend here, so most of the fancy brunches take place on Friday after the noontime prayer. The Ritz Carlton was built 3 years ago so it wasn't open the last time I was here. The hotel is set on 52 acres of land right next to the King Abdul Aziz Conference Centre. The hotel is, as you can imagine, a very magnificent building. It's very, very fancy. Our driver Shahbaz dropped us off and we met up with our group in the lobby- which was huge, and open, and naturally being Saudi Arabia there were meeting areas for single men, separate from the meeting areas for families and women.
So we check in for brunch just after 12:30 and the place is mostly empty, which is perfect because all the food is beautifully displayed! There was so much food. An entire section dedicated to all things smoked salmon, and another one full of seafood (prawns, octopus, lobster tail, mussels). Are you hungry yet? There were tons of salads to choose from, an Asian section with noodles that you could have freshly cooked and a sushi bar. There was a fresh pasta bar, delicious prime rib, cheese plates, and then the desserts. Literally tables of desserts. Including an ice cream sundae bar and my personal favourite…..the chocolate fountain. Fresh juices are included in the 325riyal price ($86US or $100CDN.) Now brunches are always a little stressful because there is so much to choose from I never quite know where to begin, and am always afraid of missing out. I want someone to hand me a map or tell me what the game plan is, but this never happens. So I filled a plate with smoked salmon and seafood. Then I followed that up with some sushi and a piece of prime rib. Then I left room for dessert. We were finished around 2:30, but you could easily sit there until the brunch finishes at 4pm to really get your money's worth. I however, had other plans for us because I wanted a guided tour of the hotel.
So we asked could we have a tour? And the response was "yes mam" and a bubbly Filipino guy named Jaime took us around. First stop was to see the pool area which sadly, is only for men. Same goes for the spa and hair dresser. The pool was empty which meant we could go down and have a looksie. The pool area is indoors and surrounded by large windows and the ceiling is painted to look like the sky which gives it a really relaxing natural light. The pool is surrounded by upholstered baby-blue chaise lounge chairs which seems a little odd given that if you're lounging near the pool you are most likely going to be wet, but its all very opulent. The pool area is over looked by the 2 other restaurants in the Ritz- an Italian restaurant and and Asian one. After we finished taking photos of ourselves relaxing in our abayas on the poolside furniture we toured the hotel rooms. The hotel is designed in an "X" with great care taken into ensuring the security of its guests, as members of the Royal Family stay here, as do diplomats and neighbouring countries royals. Basically this means that floors or wings can be blocked off if need be. So the basic rooms are nice- pretty much what you'd expect from a high-end hotel. Then there are the executive suites and 40 some-odd Royal Suites. And these suites are fancy- like you definitely have servants if you're staying in a place like this, kind of fancy. It costs 25000riyals/night for the Royal Suites- more than my current monthly salary (around $6600US or $7600CDN.) So its unlikely that I'll be glamming it up there anytime soon. These suites only sleep 4 people, but have a huge dining area, office, kitchen, enormous seating area, and wall to wall marble. The square footage of these suites is over 4000 sq ft so larger than many peoples homes.
So if 5 star glam is your thing- The Ritz won't disappoint!! If like me, your tastes are more simple, or less extravagant than you should go to the brunch. Like this Friday. But, have a game plan so your stomach isn't full before your eyes take in all the food options. And lastly, many thanks to Jaime for our top notch tour!!