First off, I'm not expert on security, even though I tend to be very aware of my surroundings at all times. I even carry a whistle with me, which thankfully saved mine and my Kiwi mate's asses one time with a pack of stray dogs in Burma, and which I'm equally thankful I've never used regarding my safety being threatened by another person. But that's not really what this post is about. When I was here in 2010/2011 things were far from what I would call "safe". At that time demonstrations and protests were taking place throughout the Middle East in what became known as the Arab Springs. The majority of these protests and the violence that ensued took place outside of Saudi Arabia, however; during this time Westerners were warned to take precautions especially after the noontime prayer on Fridays. Then there was the Florida preacher Terry Jones who threatened to burn the Koran which lead to protests and deaths in Muslim countries around the world. And then there was the killing of Bin Laden. If memory serves me correct embassy events in Riyadh were cancelled during the week Bin Laden was killed. There were always rumors of incidents against female hospital employees while off the hospital compound. Warnings passed from nurse to nurse regarding assaults in taxis or at markets. I recall an incident making the news regarding some western women having stones thrown at them outside of Kingdom Mall.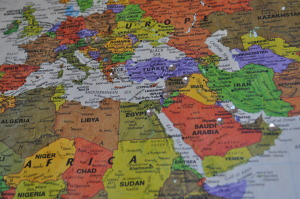 One of the biggest fears I had about returning to Saudi Arabia this time was that events in Iraq and Syria would start to spill over. One only needs look at a map to see how close Saudi Arabia is to the action. It shares some reported 900km border with Iraq. Canada updated their travel report related to Saudi Arabia last week and currently advises travelers to Saudi Arabia to exercise a high degree of caution. The US Department of State urges its citizens to carefully consider the risks while traveling in Saudi Arabia. In October, an American was killed in Riyadh in an incident that reportedly stemmed from a workplace incident. A couple weeks ago a Danish man was shot in the shoulder in an attack that prompted the cancelling of embassy events in Riyadh. His attackers have since been arrested and its been reported that they have ties to terrorist organizations. Then the following week a Canadian man was stabbed in another part of Saudi Arabia. This was also deemed a random incident although the attacker was apprehended. Then, just this past week was the murder of an American woman in a mall bathroom in Abu Dhabi. The female attacker in this case is being dubbed as a lone terrorist.
This past week fighter jets could be seen and heard flying over the city. I'm not certain that this means anything in regards to the current security situation (for all I know they could be practicing) but the noise is hard to ignore. On Thursday I flew to Al Ula and to my amazement I actually boarded a place without my ID even being checked. Went thru security and no one asked for ID or even to see my boarding card. So security is in place in some cases and not in others. Over the weekend I spent 2 nights in Al Ula visiting the area and getting to see Madain Saleh and while we were there it was required that we have a police escort. In actual fact this consisted of very young unarmed Saudi policemen who sometimes escorted us and sometimes were no where to be found. It was hard to believe that in the unlikely chance we might find ourselves in need of security what exactly these teenagers would be able to do to protect us.
So what does all this really mean? I still feel safe within my limited knowledge of the security situation. I don't feel unsafe when I go out in public. I do believe that random incidents could happen here and just as easily back home. I'm not changing my behaviour, or isolating myself inside, but I'm more aware when I go out. I've put "just in case" numbers into my phone. And I've accepted that my being here is subject to a variety of circumstances that are beyond my control. I'll keep you all posted……