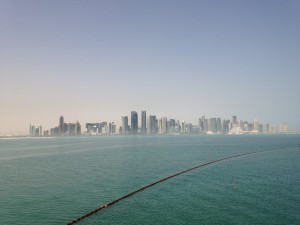 In February on the way back to Saudi from Cyprus, I had a stop over in Qatar. One of my goals while living in the Middle East is that I would eventually like to visit every Middle Eastern country. Yemen for obvious reasons is out, and I was lucky enough to visit Syria back in 2010 before the war. The only countries I had yet to see where Qatar, Kuwait, Israel, Iran, and Iraq. For obvious reasons, Iraq is also a no-go, and if I visited Israel I'd have a heck of a time explaining that stamp in my passport on my return to Saudi, so Qatar was a safe bet! The only land border Qatar shares is with Saudi Arabia to the southwest, and is otherwise surrounded by the Persian gulf. It is geographically very close to Bahrain and is the world's richest country. Yes, the richest. Richer than the UAE and Saudi Arabia combined.
Qatari fashion is similar to Saudi fashion in many ways, except that the Abaya is not mandatory. As with any Middle Eastern country it's respectful to dress conservatively, but western clothes are perfectly acceptable and you aren't required to cover your hair. Many Qatari women did wear an Abaya, or had their hair covered. Many Qatari men also wore traditional dress which consists of a thobe (the white garment worn by many men throughout the Middle East) and either the white or red checkered head scarf, or a white "skull cap" which I'm unable to Google the proper name of. Being a Muslim country, alcohol is not readily available, but can be purchased in restaurants in the major hotels, or via permit for ex-pats living there.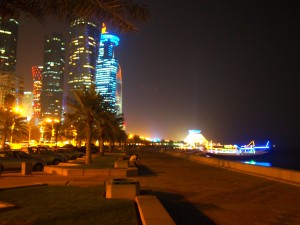 We flew into Doha, and I was surprised that the city was quite a bit smaller than I had expected it to be. Riyadh has a population of around 4 million people, by comparison Doha has around 800,000 people living there. The main downtown area is full of tall brightly lit buildings clustered around the coast. There is a corniche that hugs the Doha Bay with a walking and cycling path. We drove past it and it was full of people exercising and enjoying the warm evening breeze. Temperatures in Doha are similar to that of Riyadh except that they there is the humidity factor of being on the coast, which makes it feel a great deal warmer in the summer.
We visited The Pearl which is a residential/commercial project involving a man-made island so named because it was build on the site of a major pearl diving site. We were in search of a movie theatre, which I'm sure sounds absurd to those of you living outside of Saudi. There are no movie theatres in Saudi Arabia, where it would be considered illegal to have men and women mixing in the darkness of a movie theatre. I love, love, love going to the movies, so whenever I'm traveling outside of Saudi I always try to fit in a movie. Our movie mission was very successful after we eventually found the theatre. The Pearl is a huge development and getting from one end to the other is quite a distance.
The following day we ventured out to Souq Waqif which has a very "traditional Arabia" feel to it. It's full of restaurants, and curving alleyways that open into shops. We ate breakfast outdoors at one of the many cafes. I was pretty jazzed to order my favourite Arabic breakfast dish called shakshouka consisting of eggs, tomatoes, chili peppers, and onions served with Arabic bread. Yumm.
After this we headed to the Islamic Arts Museum, which was the real highlight of Doha for me. First off, the building is very aesthetically pleasing. It's on the Doha Bay with great views of the Doha skyline. Second, I love Islamic Art. I love the patterns, and the textures, and Arabic is a really beautiful written language. The museum has an amazing flow to it. I am often very overwhelmed in museums that don't flow well, I sort of wander around aimlessly, and often times don't really take too much in as the feeling of being overwhelmed often turns to being anxious. Not here. The museum is spacious, and well lit, and has a very calming atmosphere about it. Oh, and it's free to get in. Yes. Free. I especially like free. There is art from neighbouring Middle Eastern countries spanning the 7th to 19th century. Exhibits include ceramics, textiles, and metal and wood work. When you're done touring the museum there is a fantastic gift shop and a cafe with floor to ceiling views of the skyline. It's well worth a visit.
So, for those of you in Saudi Arabia, looking for a quick weekend getaway, Doha Qatar is a good option when you need to get out of the sandbox! I intend to return as we really only scratched the surface and there's much more to see and do. And when I go back I'll likely return to the Islamic Arts Museum. That's how much I liked it!!