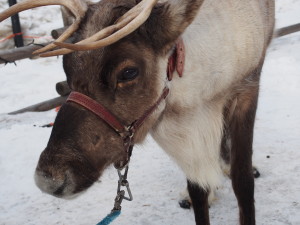 After spending 3 nights in Sweden we crossed the border into Finland. We traveled by bus to Rovaniemi from the border city of Haparanda/Tornio. Rovaniemi is famous the world over for being the home of Santa Claus- in fact he lives just north of the town center on the Arctic Circle. (More on this later). The other reason we wanted to visit Finnish Lapland (apart from Santa) was that we wanted to spend a night in a glass igloo, and more importantly, I wanted to see the Northern Lights from the inside of a glass igloo!!
Originally, we had planned to travel to the very northern area in Finland to stay in these igloos. If you spend any time on Instagram or Pinterest then I'm sure you've seen the photos. Sadly, we were running out of time to make the trek there so we opted for a different igloo experience closer to Rovaniemi. We spent 1 night at the Arctic Snow Hotel which is about a 30 min taxi ride from the town center. The Snow Hotel was a bit of a let down after spending a night at the Ice Hotel in Sweden, but the glass igloos where super cool. The were all self sufficient with a domed glass ceiling with picturesque views of the sky. Ours had 2 super comfy twin beds, with a decent sized bathroom and shower. Insider tip: the beds are electronic, so they can be adjusted into chair positions which unfortunately we didn't find out until the following morning, but would have been really cool to gaze at the northern lights in.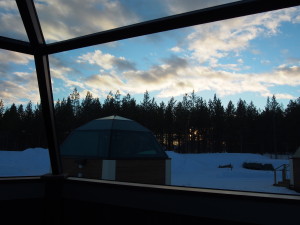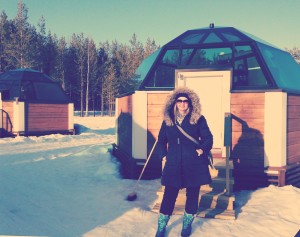 On site is the Snow Hotel (duh) which had that kinda yellow colouring of old snow. The bar and snow restaurant on the inside were pretty neat. There are a couple hot tubs, and saunas which you have to book in advance. There are also a few different dining options depending on whether you want to eat dinner in a cottage near the lake, or in the Snow Hotel. You can also borrow snowshoes, or try your hand at ice fishing while there. We were really, really lucky the night we spent there because we were able to see an amazing display of the Northern Lights. I also got to teach my winter-naive kiwi sidekick how to chill a bottle of wine in a snow bank in the middle of a Finnish winter without the availability of a fridge. It might have literally blown her mind!!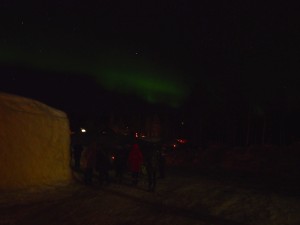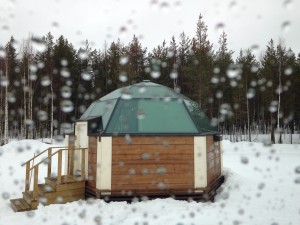 After our night of Northern Lights bliss we headed back to the town of Rovaniemi which was to be our base for another 3 nights. This was March 2nd and there was a very visible solar eclipse that I nearly went blind from taking photos of and was pretty cool to witness. Don't worry Mom my eyesight is back to normal now! The first thing we did once we got back to Rovaniemi was go visit our boy Santa. Anyone who knows me knows I love Christmas. Like seriously love it. I was pumped to visit Santa's workshop and wander in the Christmas Village. And then we got there. And surprise, surprise there were like a million tourists and tourist buses. And while Santa was great, the lines, and general kitchiness of the place was a major let down. But we did get our photo taken with Santa and asked him to bring us both husbands for Christmas. And we did get our photo taken straddling the Arctic Circle. And the coolest thing of all was that you can mail postcards that have the official Santa's Village stamp. Well I thought it was cool……
We spent the rest of our time in Rovaniemi wandering the town. We spent an afternoon at Arktikum Museum which tells the story of the Arctic Circle and is also a science center. We spent a morning dog-sledding which is something I've wanted to do for a while. We got to drive the sled with 5 mischievous dogs. It was freezing cold (about -10C) and we spent about an hour and a half outside. Thankfully, winter clothes were provided so it wasn't super unpleasant. After dog sledding over snowy trails and frozen lakes, we got to visit the kennels and cuddle some baby huskies. They melted my nearly frozen heart. And I seriously had to resist the urge to steal a couple of them.
The Finnish Lapland is a magical place. I mean if it's good enough for Santa it's well worth the visit!! From here we flew to Copenhagen……..