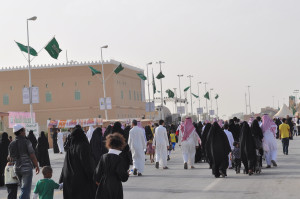 People are endlessly curious about what being an ex-pat in Saudi Arabia is like and what it entails. Often I get contacted regarding what it's like to live in the Middle East and how to go about getting a job here, so I thought I would discuss the pros and cons to living in the Kingdom of Saudi Arabia. My perspective is that of a western woman. If you've been reading my blog for anytime you likely know that I'm a Canadian educated nurse and that I've spent most of my career working in large U.S. hospitals. I'm currently working in Riyadh the capitol of Saudi Arabia in a large teaching hospital. So here are my top 10 reasons why you should consider working in the Kingdom:
1. You will most likely save money. Money is the #1 reason most people come to the Middle East. The income you make is most likely tax free depending on your residency status and tax laws in your home country. For many ex-pats housing is included with their hiring package, so no rent=more money in your pocket. Also the cost of living is WAY lower than any western country, which also makes it easy to save money assuming you're not blowing it on designer shoes and first class plane tickets. I should note that at least for most western nurses the myth that "you're making huge money in Saudi Arabia" is a flat out lie. What I make tax free is pretty darn close to what I made in Canada or the U.S. taxed. But I don't pay rent or have a car payment, so at the end of the day I come out ahead. But I'm required to work about 32hrs more a month than I would back home so essentially hourly I'm actually making less, although monthly I'm making more.
2. You will meet many awesome people. Ex-pats are super fun, and also maybe a little bit crazy. I'm sure there are studies proving this. You will make friends from all over the world. New Zealand. Australia. Malaysia. The Philippines. You have to be a bit of an adventurer to want to uproot your life and move to Saudi Arabia. You will also meet people who are extremely passionate about traveling. Or salsa if that's your thing. Or running. Or tennis. Whatever you're into, rest assured you will find people with similar interests here.
3. You can travel the world. I get 54 vacation days per contract. Yes. 54. No joke. That's a lot of vacation time. In fact in the year I've been here I've already visited Qatar, Cyprus, Denmark, Sweden, Finland, Norway, the UAE, the Maldives, Bahrain, Morocco, Egypt, Indonesia, Malaysia and Germany. The last time I worked here I traveled to Hungry, Austria, Jordan, Syria, Lebanon, Sri Lanka, Portugal, Oman, India, Turkey and Greece. You can pack a lot in in a one-year contract. Trust me. I'm a professional at it. And depending on where you're from it's so much cheaper to travel from Saudi Arabia than it will ever be back home. For $500 the only place I can get to from the west coast of Canada is the U.S. and maybe Mexico if I found a great deal. From Riyadh I can get to Europe, the Indian subcontinent, Africa as well as Asia.
4. This is the only way you will get to see Saudi Arabia. Unless of course you're Muslim. Cause they aren't issuing tourist visas. So it's quite a privilege to get to see a country and culture so vastly different than your western one. Working here gives you a perspective on a country and culture that is separate from what western media leads us to believe. Not every local you meet wants to kill you or convert you. Did you know that Saudi's are actually very funny people? Granted sometimes they don't get my sense of humor, but if I'm honest I laugh a lot at work. Many of my Saudi co-workers are very light-hearted. In fact, I refer to most of our male Saudi co-workers as my "brothers." Also, being in Saudi Arabia allows you to see parts of the country that you otherwise wouldn't be able to. Did you know that the famous site of Petra in Jordan has a sister site in northwestern Saudi Arabia? Have you ever been to a camel race? Did you know that camel beauty pageants are actually a thing? Take a job in Saudi Arabia and see for yourself.
5. Your life will be anything but dull. Especially if you happen to be a blond western woman like me. Trip to the grocery store=marriage proposals. Go to the bank to deposit money= getting offered tea and cookies by the male teller. Going out for dinner could turn into a full-on photo shoot with a group of local girls. Earlier this week I walked into my patients room and the patients mother held up her hands and yelled "beautiful" and then pinched my cheeks. Trust me. This kindof stuff never happened to me in North America. It's pretty entertaining how the most seemingly easy thing can turn into some strange encounter. I personally live for this type of daily entertainment.
6. Arabic to English translations are funny. And vice versa. Quite often when I attempt to speak Arabic my patient or their family will start giggling and then clapping like they are congratulating a toddler for using the toilet. I'm not joking. It's ridiculous. Also accents and poor language skills can lead to some pretty funny misunderstandings. The first time I was in Saudi I worked with a Finnish girl who with a thick accent would say she needed to go "shart" when she was saying she needed to chart. Trust me for 15 months this was never, not funny. Every time she said it my kiwi-sidekick and I would laugh. She probably hated to work with us. Another time an Arabic doctor came up to me and asked me a question. What I heard was him asking me "Do you have painful urination?" That's seriously what I thought he said. I must've replied "what?" to him 3 times because I couldn't believe he was asking me that. Turns out on the 4th time when he spoke v e r y   s l o w l y, that he was actually asking me "Do you have pen for donation?" I'm quite certain he never asked to borrow a pen from a western nurse like that again.
7. Ladies. You will grow to love your abaya. So yes it is true that anytime you leave your housing compound you will need to don your little black dress aka your abaya. The only exception to this is if by some amazing stroke of luck you find yourself living on the DQ (Diplomatic Quarters.) If you do then I'm super jealous, and can we please be friends. Stat. Anyways, back to the abaya. It literally takes humming and hawing over what to wear out of the picture. Going for dinner with friends and not sure what to wear under your abaya? Ummm PJs. Or yoga pants. Or nothing at all. Cause who's going to know- you're covered in a head to toe black dress anyways. Going shopping. Same outfit. No one but you will ever know.
8 Learning Arabic will become your party trick when you return back home. After you've lived in Saudi and you get asked that stupid question during an interview "Tell us one unique thing about you?" I speak Arabic bitches. That's what. BOOM. No one will be expecting that. After I left Saudi the first time I returned to my previous job at a large hospital in Seattle. We got a lot of Somali patients, and often we would get Saudi English students from the university in the ER. One time they couldn't find an Arabic interpreter. So I was all casually like "I can try and help." And the doctor was like "What now?" Yep. Basic medical Arabic is my party trick.
9. Embassy Parties. When was the last time you went to a Ball or Gala? Never. Work in Saudi Arabia and that will likely change. All those bridesmaids dresses you were led to believe you could wear again. Well pack one and some dancing shoes because you'll likely need em. Also it's fun to have the chance to celebrate 4th of July at the U.S. embassy, or St Pats at the Irish, or Bastille Day at the French.
10. Bragging Rights. How many people can look back on their lives and say "Remember that one time I lived in Saudi Arabia….." You, that's who if you take an adventure as an ex-pat in Saudi. The downside is that when you are old and in a nursing home chances are people will just think you have dementia, not that you actually did live in Saudi Arabia. But either way you'll be entertaining someone with your tales.
UPDATE August 2017: Here's a recent link to a blog post I wrote about working as a nurse in Saudi Arabia.