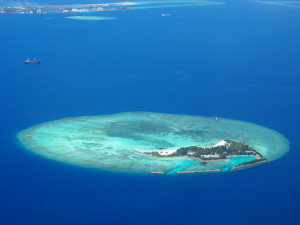 At the end of April I spent 6 blissful nights in the Maldives. The Maldives are an archipelago of some 1190 islands in the Indian Ocean spread out over 90 000sq km. It is the lowest country in the world with an average elevation of 1.5m  which has major implications with global warming and the rising of sea level. 80 % of the country actually lies less than 1m above  sea level. Some reports state that these islands could disappear in the next 50 years resulting in the displacement of any entire country. The Maldives is a Muslim country that prior to converting practiced Buddhism. Given it's natural beauty it's no surprise that tourism is it's main economy.
We flew into Colombo Sri Lanka, and then took a 90 min flight to the capital city of Male. From here we took a 20min seaplane flight to Veligandu Island Resort which was to be our home for 5 nights. The Maldives are synonymous with luxury travel. Most accommodations in the Maldives requires a seaplane or speedboat transfer to reach your resort. Often this adds on hundreds of dollars to the price of the hotel, which trust me is anything but cheap. I traveled with my kiwi sidekick and we booked 3 nights in a water bungalow with an all inclusive option and then 2 nights in a beach bungalow. There ended up being an issue with our original booking so we were upgraded to a water bungalow with a jacuzzi for the entire time. Too bad we weren't on our honeymoon cause this place was super duper romantic, and obviously bursting at the seems with couples in love. So here we were 2 single gals just wanting to get our relax and drink on.
The bungalow we stayed in was gorgeous. We had a balcony with a couple lounge chairs and stairs that led into the water. We had a fully stocked mini bar, and all you could drink at the 2 bars on the resort. This was my first experience with an all-inclusive resort, and while it's really not my thing I fully embraced all it had to offer. Champagne for breakfast? Yes, please. Mam, you want drinks at the pool? Yes. Please. More wine? Yes. The answer is always going to be yes. So I spent my time split between laying by the pool, swimming in the pool, or relaxing on our back balcony. We begrudgingly did all the romantic couple things like having dinner overlooking the beach by candle light, or taking a sunset dolphin cruise. To be completely honest it was such a beautiful vacation, but being around couples 24/7 took it's toll. I'd like to say I rose above it, but sometimes I wanted to just yell at them to "get a room" and secretly took pleasure when some of them got irritated with each other. I'm not especially proud of this, but it's just how I felt after spending 5 days on other people's honeymoons.
We saw some of the most beautiful sunsets I've ever witnessed, and cherished the calm evening sound of the Indian Ocean brushing against our bungalow. We took a boat excursion to a local village and wandered in the alleyways listening to children recite the alphabet. We saw pods of dolphins doing acrobatics and playing with our boat. The water was so blue I'll forever think of that colour blue as Maldivian Blue. We had some much needed down time, and I was able to reflect on where I've been, and where I hope I'm heading. I attempted to overcome my fear of water, and surprised myself (more on this in an upcoming post.)
Our last night in the Maldives was spent at a budget hotel on the same island as the international airport. It's a quick 10 min ferry ride to the jam packed island capital of Male. This section of the Maldives is in a conservative Muslim area so alcohol is not allowed, and it's recommended to dress a little more conservatively. It was nice to spend a night with the locals. There are a ton of budget hotels here, but I wouldn't recommend staying here for more than a night or 2 as you have to take a speedboat to the western beaches if one wants to swim in the sea in what we consider a normal swimsuit. We didn't get to explore the capital city of Male, which I would've like to have done had we more time. Pictures of the city show that literally ever square foot of it is taken up, and would've been interesting to explore. So that's the Maldives. It's so very worth seeing. But go with your lover, and not your best mate as you might be like me, and find all that newlywed gushy love a tad bit nauseating…..